'Why is there selective anonymity?'
SC 'terrorism' query on electoral bonds
The apex court asked attorney-general K.K. Venugopal why the government had allowed 'anonymity' to those who buy these bonds and donate to political parties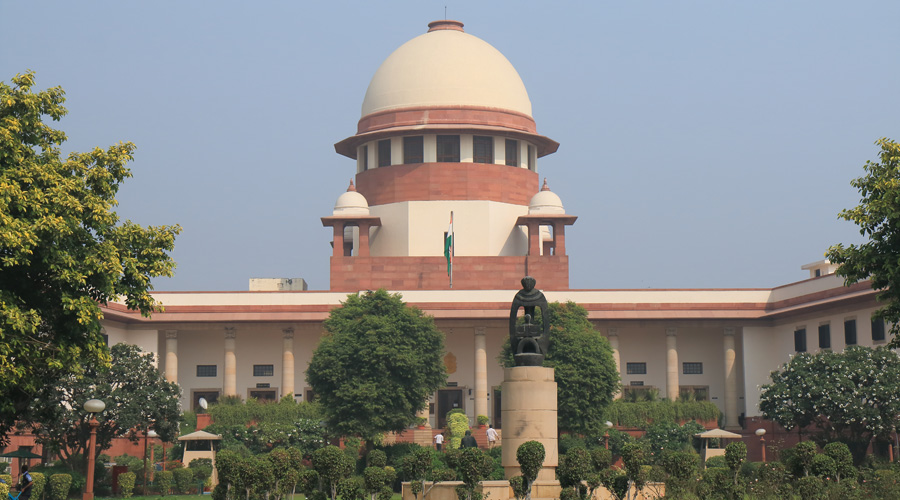 Supreme Court of India
File picture
---
New Delhi
|
Published 25.03.21, 01:03 AM
|
---
The Supreme Court on Wednesday sought an assurance from the Centre that the electoral bonds it plans to release in poll season would not be used for terrorism or other violent acts, while reserving its order on a plea to halt the bond release.
A bench headed by Chief Justice of India S.A. Bobde also asked attorney-general K.K. Venugopal why the government had allowed "anonymity" to those who buy these bonds and donate to political parties.
"Can someone buy (electoral) bonds in these 10 days and fund terrorist operations?" Justice Bobde asked, referring to the April 1-10 window during which the government plans to release the bonds. "We are sure there are political parties who have violence on their agenda."
Venugopal said only registered political parties that had secured at least one per cent of the vote in the most recent Lok Sabha or Assembly elections could cash the bonds.
"We don't want to get into politics and comment on any party, but can't a party receive bonds and then fund a protest which turns violent? What is the control of the government on what use the money is put to?" Justice Bobde asked.
Electoral bonds, started in 2018, are promissory notes that any Indian citizen or company can buy and donate to an eligible political party of their choice. The bonds do not bear the donor's name, a situation that has led to charges of opaque political funding, of an influx of black money, and of big companies "bribing" political parties.
According to the petitioner, Association for Democratic Rights (ADR), the ruling BJP has received more than 60 per cent, by value, of the electoral bonds issued till now.
After elaborate arguments, the bench of Justices Bobde, A.S. Bopanna and V. Ramasubramanian reserved its verdict by observing: "We will pass orders.... But this angle of misuse of funds for illegal purposes, for purposes of terrorism, we would like you as a government to look into. It is not to suggest that political parties have violence on their agenda."
ADR has sought a halt on the sale of electoral bonds ahead of and during the upcoming Assembly polls. The Bengal polls are already said to be flush with money.
Black and white
"Tell us why is there selective anonymity?" the court asked, alluding to other kinds of bonds not allowing buyers such anonymity.
Venugopal said the money collected was all white money that went through banks and were paid by cheque.
Advocate Prashant Bhushan, appearing for the ADR, countered that a subsequent buyer could purchase the bond from the original buyer against cash.
"You are not telling us about the anonymity," Justice Bobde said, to which Venugopal confirmed that an electoral bond "does not disclose who received it or purchased it".
But he added: "Mr Arun Jaitley (the late finance minister) decided that black money is a tremendous menace (and) Mr Jaitley devised this (scheme)."Venugopal said every party had to file its income-tax returns. "It was after your Lordships' judgment (in 2019) that all started filing. So now the question of such misuse cannot arise," he said.
"Terrorism is not funded by white money. It is only funded by black money."
Earlier, Bhushan had pleaded that even the Reserve Bank governor had written to the Centre expressing discomfiture about the electoral bonds, saying they would affect India's financial system.
"RBI said this will put them at reputational risk. Here bribing has been made through government channels. Apart from bank no one will know who is the donor, not even ECI. The RBI and ECI had both raised strong reservations. This is unprecedented and has not happened anywhere in the world," Bhushan said."What they have done is open the way for large corporations, through shell companies, (to pay) bribes."
"Bribes to political parties?" Justice Bobde asked.
When Bhushan said these were essentially bribes to ruling parties, the Chief Justice remarked: "Why only a ruling party?"
"The ruling party is the one which can fulfil the needs," Bhushan said, for Justice Bobde to reply: "It can also be given to a party which may come to power in the upcoming election."
The ADR says that almost 99 per cent of the more than Rs 6,500 crore worth of electoral bonds sold were worth Rs 1 crore or Rs 10 lakh, suggesting large corporations rather than individuals are buying them to try and wangle favours from the government.