Assembly polls 2021: EC issues ad to back EVMs
The uncharacteristic blitz came a day after PM Modi took a dig at Bengal CM Mamata Banerjee's fears of machines being rigged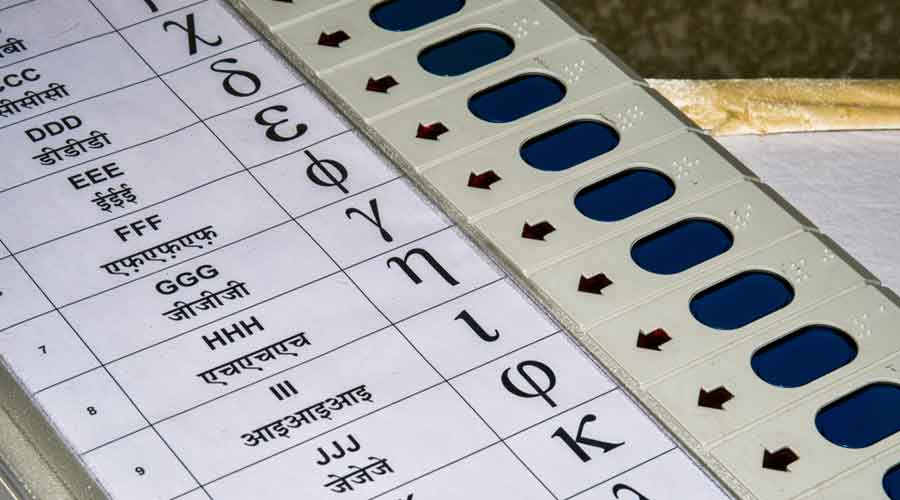 ---
New Delhi
|
Published 23.03.21, 01:06 AM
|
---
The Election Commission of India on Monday published full-page advertisements in leading dailies as well as tweeted a graphic of poll results since 2004 to bolster credentials of the electronic voting machines.
The uncharacteristic blitz came a day after Prime Minister Narendra Modi took a dig at Bengal chief minister Mamata Banerjee's fears of EVM's being rigged.
Former chief election commissioner S.Y. Quraishi, who weathered a storm of EVM skepticism during his tenure, said it was better to allay concerns through traditional means of outreach like news conferences.
The EC's full-page ads on Monday list the various parties that won the highest number of seats in 127 Assembly polls and four Lok Sabha elections which were conducted with EVMs since 2004. In large fonts, the ad says that 325 crore voters have used EVMs since 2004, and 98 crore voters have used voter-verified paper audit trail (VVPAT) machines too since 2017. R.K. Laxman's Common Man character says: "I am an empowered voter," in the advertisement, with the slogan: "Pride of Indian Democracy EVM & VVPAT."
The logical fallacy in the statement is that the EC has counted the total number of votes cast and not the number of voters. In the 2019 Lok Sabha polls, almost 61.47 crore people voted. The ad does not touch upon the most serious doubt over the machines, that is bureaucrat Kannan Gopinathan's claim in 2019 that paper trail machines were vulnerable to being used as Trojan horses to rig the voting machines.
The outreach came a day after the Prime Minister told a rally in Bankura on Sunday: "Didi is alleging EVM rigging and manipulation; and this even before elections have begun. She is sensing imminent defeat and is readying an excuse already."
Modi's statement was preceded by Mamata's charge that the "BJP goons will try to rig EVMs", and her party's demand for a 100 per cent tally of VVPATs with corresponding EVMs — in effect a return to paper ballot. This demand was echoed by CPM general secretary Sitaram Yechury in a letter to chief election commissioner Sunil Arora on Monday in which he cited a recent report on EVMs by a group of former civil servants, academics and journalists, headed by former Supreme Court judge Madan B. Lokur.
The Supreme Court had rejected demands of a 50 per cent paper trail count in 2019. Congress leader Rahul Gandhi also said at a meeting in Thoothukudi last month: "I don't believe EVMs are cent per cent secure as they are not accessible and are kept out of the reach of political parties."
The first volume of the NGO, Citizens' Commission on Elections, report released in January reiterated Gopinathan's claim, and says: "Due to the absence of End-to-End (E2E) verifiability, the present EVM/VVPAT system is not verifiable and therefore is unfit for democratic elections. It recommends that "The electronic voting system should be redesigned to be software and hardware independent in order to be verifiable or auditable."
Quraishi was CEC in 2012 when the BJP released G.V.L. Narasimha Rao's book on EVMs titled Democracy at Risk, and when Subramanian Swamy, now a BJP MP, moved court to introduce the paper trail — which the SC ordered the following year.
Quraishi told The Telegraph: "We were always open to the media, called news conferences on the issues and held all-party meetings to explain EVMs to them. Chief electoral officers (of states and Union Territories) placed ads on how to use an EVM, but the EC did not advertise for support for EVMs. I have said repeatedly that the best response to criticism is to quickly call a news conference, repeatedly if required, and address the concerns."
He added: "The EC's argument that different parties have won through EVMs is valid, but did not require an ad. This ad does not even answer Kannan's objections. A news conference could have been called with technical experts who could have been asked to defend EVMs. We need to take people along because once public trust fades, even ads or news conferences won't work. The public trusts the EC enough that if we accept our mistakes, they will not suspect us of covering anything up."
Quraishi has questioned the silence of the EC's technical experts from IITs, which the poll panel had called an "attempt to sully their reputation", and said it was impractical for them to go public at every instance.