Assam bans sale of gutka for one year
Any other chewing material containing tobacco or nicotine would also come under the purview of the ban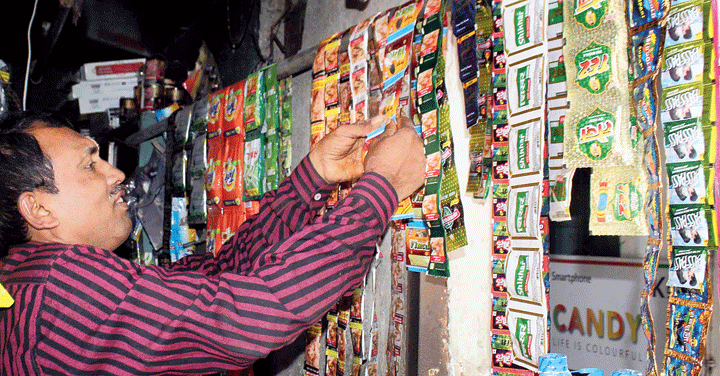 ---
|
Guwahati
|
Published 27.11.19, 08:56 PM
---
The Assam government has banned manufacture, distribution, storage, sale, transportation and display of paan masala and gutka, which contains tobacco and nicotine, for a year.
The Consumers' Legal Protection Forum, Assam (CLPF) and the Consumer VOICE, New Delhi, on Wednesday welcomed the government's move to support the initiative of banning chewing tobacco, gutka and paan masala.
The ban, which comes into immediate effect, follows an order issued by the food safety department under Clause (a) of sub-section 2 of Section 30 of Food Safety and Security Act, 2006.
The notification, signed by Assam's commissioner of food safety on November 22, said the prohibition comes under regulations 2, 3 and 4 of the Food Safety and Standards (Prohibition and Restrictions on Sales) Regulation, 2011.
Besides paan masala and gutka, any other chewing material containing tobacco or nicotine would also come under the purview of the ban, the notification said.
The director of B. Borooah Cancer Institute, Amal Chandra Kataki, said, "This initiative to ban gutka and paan masala in Assam is significant in view of the high prevalence of tobacco consumption (48.2 per cent) in the state. It is the single major important risk factor for cancer. It is also responsible for cardiovascular disease to stroke, chronic respiratory disease."
CLPF secretary Ajoy Hazarika said, "The rise in number of tobacco users, especially smokeless, is a cause of worry because it is easily accessible to children and youth. We are working in the state through our programmes to protect the public, especially youth and children, from exposure to tobacco use."
According to the Global Adult Tobacco Survey (GATS) in 2016-2017, the use of tobacco decreased in India from 34.6 per cent to 28.6 per cent but it increased in Assam from 39.3 per cent to 48.2 per cent in five years.
Leader of the Opposition in Assam Assembly Debabrata Saikia told reporters on Wednesday that the government should also ban gutka production companies, otherwise illegal business will start.
He said gutka is produced in Assam and if it is produced, it will need to be sold too. If the companies are not banned, an illegal gutka syndicate will grow. He said the BJP-led state government had proposed to ban gutka earlier too.