BJP leader Ashwani Upadhyay leads anti-muslim protest in New Delhi
At the Jantar Mantar rally, Anmol Pritam, a reporter with YouTube channel National Dastak, was roughed up and told to chant 'Jai Shri Ram', which he refused to do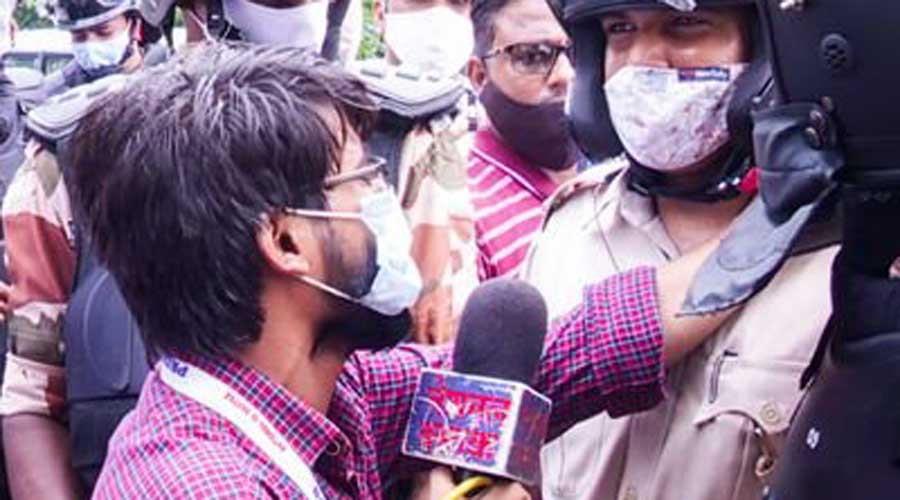 Anmol Pritam
(twitter.com/anmolpritamND)
---
New Delhi
|
Published 10.08.21, 02:40 AM
|
---
While most of India was savouring on Sunday the hangover of one of its finest sporting moments, a group drunk on hate, if not power, sought to mainstream an agenda that has been gathering momentum in recent years.
"Jab mulle kaate jayenge, Ram-Ram chillayenge (When the Muslims are slaughtered, they will scream 'Ram, Ram')."
"Band karo, band karo, mulle ka vyapar band karo (Shut down, shut down, shut down Muslims' businesses)."
"Hindustan mein rehna hoga, 'Jai Shri Ram' kehna hoga (If you want to live in India, you have to chant, 'Jai Shri Ram')."
These slogans were ringing out not in the hinterland or a clandestine setting. Footage suggested the venue was Jantar Mantar in the heart of the national capital and literally within the earshot of the seat of power that governs the Union of India.
The rally was organised by former Delhi BJP spokesperson Ashwani Upadhyay under the umbrella of the Bharat Jodo Movement, demanding the end of colonial-era laws by implementing a uniform civil code. Upadhyay on Monday sought to dissociate himself from the sloganeering.
Anmol Pritam, a reporter with the YouTube channel National Dastak, was roughed up and told to chant "Jai Shri Ram", which he refused to do under duress.
"When I asked them about why issues like unemployment or food security do not elicit such public protests from them, one youth started yelling that I am from a jihadi channel that hates Modi and Yogi," Pritam told The Telegraph on Monday.
"It was scary as I was suddenly gheraoed by about 150 people. One large man put his arm around me and said, 'Tere muh mein dahi jam gayi hai ki 'Jai Shri Ram' nahi bolega (Is your mouth stuffed with curd that you won't say, 'Jai Shri Ram')?'"
Pritam is seen in a video clip he has tweeted, saying: "I will say, 'Jai Shri Ram' when I like. I won't be forced to say it. If so many of you gherao me, I won't say it."
तथाकथित नक़ली हिंदू संगठनों ने बहुजन पत्रकार @anmolpritamND को धमकाने की कोशिश की।

इस घटना से यही प्रतीत होता है कि यह तथाकथित हिंदू संगठन दलित, ओबीसी समाज से आने वाले लोगों को हिंदू नही मानते हैं।

नेशनल दस्तक टीम इस घटना की निंदा करती हैं।#bahujanmedia pic.twitter.com/ArT6PswjUo

— National Dastak (@NationalDastak) August 8, 2021
Pritam said policemen remained mute spectators when he was assaulted.
On Monday, Delhi police, now led by the controversial former CBI officer Rakesh Asthana, stirred from the perceived stupor.
The police registered an FIR against "unknown" persons. The police said the event was held without permission — in what was supposed to be one of the most secure cities in the world.
No one had been arrested till Monday evening. The Delhi police report to the Union home ministry, now headed by Amit Shah.
Civil rights defender Harsh Mander tweeted: "Runaway hate speech spouting venom against Indian Muslim citizens by rallyists and that too in the vicinity of Parliament. The police does nothing to detain or punish them. This is the character of the ruling establishment."
Runaway hate speech spouting venom against Indian Muslim citizens by rallyists and that too in the vicinity of Parliament. The police does nothing to detain or punish them. This is the character of the ruling establishment https://t.co/bqB8KJvc0b

— Harsh Mander (@harsh_mander) August 9, 2021
A similar outburst a year ago had culminated in the Delhi riots in which 53 people were killed. The Delhi minority panel had said in its report on the riots that the police "were complicit and abetted the attacks" and tended to arrest the victims rather than the people they accused.
Last week, Hindutva groups and other organisations had held a mahapanchayat in Dwarka, a residential neighbourhood on the western fringes of Delhi, to protest against the construction of a Haj House. Purported videos from the event showed the protesters making communally charged comments and calling for violence if the building came up.
Monday's FIR, registered under Sections 153A (promoting enmity between different groups) and 188 (disobedience to order duly promulgated by public servant) of the IPC, did not name any specific person even through the faces of those shouting the slogans were visible in the purported video from the rally.
Delhi police deputy commissioner (New Delhi district) Deepak Yadav said: "A case has been registered under relevant sections of law and the investigation is under way."
Asked why no one had been arrested till Monday evening, Yadav said: "We are looking at the videos and identifying them. It is a process."
Upadhyay, the former Delhi BJP spokesperson who organised the Jantar Mantar programme from 11am on Sunday, filed a complaint with the police.
In a letter to the Delhi police commissioner, Upadhyay said: "A video is going viral on social media in which a man is giving a frenzied speech. Some people are sharing this video on Twitter, Facebook and WhatsApp by taking my name to defame me, although I neither know the people seen in the video nor have I met any of them, nor were they invited.… I request you to direct to check the veracity of this video as well as the time and place of its making. If this video is true, then take strict action against those involved in it and if it is untrue, then take strict action against those who shared it on social media.
"I request you to take necessary action to prevent this video from being shared till the completion of investigation. Kindly pass directions to file a criminal defamation case against those who have associated my name with this video."
He added that the "small" programme was organised "to commemorate the anniversary of this historic day" (the launch of the Quit India movement on August 8 in 1942) and to demand that "a new law be made by abolishing all English laws".