Civil society, Opposition leaders condemn anti-Muslim slogans
Many also came out in support of a YouTube channel reporter who published videos of the Jantar Mantar crowd trying to compel him to chant 'Jai Shri Ram'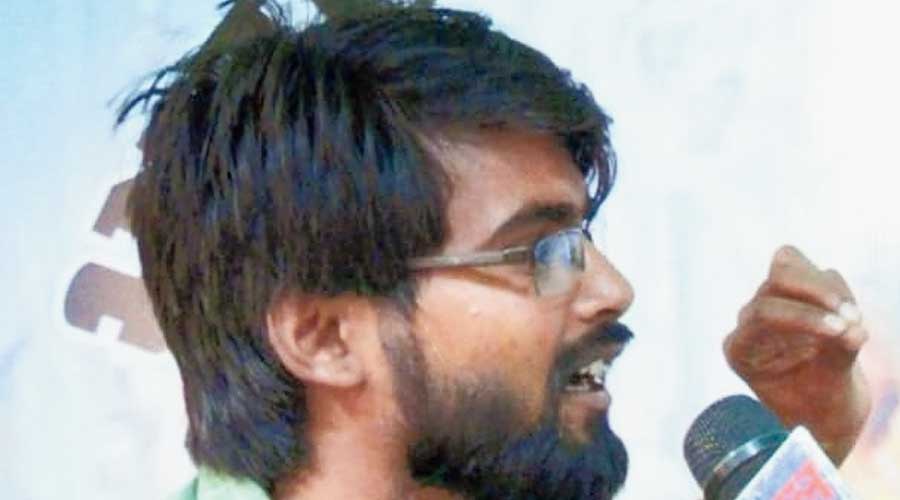 Anmol Pritam, the National Dastak reporter who was roughed up and told to chant "Jai Shri Ram", which he refused to do under duress
Telegraph picture
---
New Delhi
|
Published 10.08.21, 01:24 AM
|
---
Many civil society members have condemned the sloganeering for the killing of Muslims that was heard in Delhi on Sunday.
Many also came out in support of a YouTube channel reporter who had published videos of the Jantar Mantar crowd trying unsuccessfully to compel him to chant "Jai Shri Ram" after he questioned the sloganeers.
On Sunday, a gathering at Jantar Mantar ostensibly protesting against colonial laws shouted slogans calling for violence against Muslims.
Annie Raja, general secretary of the CPI-backed National Federation of Indian Women; activists Shabnam Hashmi, Mohini Giri, Nivedita Jha and Leena Dabiru; former Planning Commission member Syeda Hameed and journalist Sukhprit Kahlon have lodged a complaint with Parliament Street police station listing the incendiary slogans heard in videos of the gathering.
"It is extremely distressing that despite heavy police presence, no steps were taken by the police to immediately stop such sloganeering, nor were any coercive steps taken after the slogans were made. It is clear the programme was organised to spread hate against Muslims and incite violence against them," the complaint said.
An FIR has been registered under Indian Penal Code sections 153A (promoting enmity between different groups) and 188 (disobeying public servant's order). The complainants have demanded that the men seen in the video and the organisers be also booked under Section 295A (outraging religious sentiments).
The National Commission for Minorities has sought information on the action taken, permissions for such events, and steps to prevent them in future. It has summoned the deputy commissioner of police (New Delhi) on Tuesday.
Besides condemning the police, several people tweeted with the hashtag #ISupportAnmol in solidarity with YouTube channel National Dastak's reporter Anmol Pritam, who was surrounded by the crowd after Sunday's Jantar Mantar event.
तथाकथित नक़ली हिंदू संगठनों ने बहुजन पत्रकार @anmolpritamND को धमकाने की कोशिश की।

इस घटना से यही प्रतीत होता है कि यह तथाकथित हिंदू संगठन दलित, ओबीसी समाज से आने वाले लोगों को हिंदू नही मानते हैं।

नेशनल दस्तक टीम इस घटना की निंदा करती हैं।#bahujanmedia pic.twitter.com/ArT6PswjUo

— National Dastak (@NationalDastak) August 8, 2021
आप सब के प्यार और समर्थन ने #ISupportAnmol को नेशनल ट्रेंड बना दिया. आप सब का बहुत बहुत आभार pic.twitter.com/LOrxjv6fPz

— Reporter Anmol Pritam (@anmolpritamND) August 9, 2021
Pritam told The Telegraph he had questioned members of the crowd about their motives.
"I tried to strike up a conversation with them as the slogans they were raising clearly had nothing to do with colonial laws but were targeted at a particular community," he said.
"When I asked them why issues like unemployment or food security do not elicit such public protests from them, they were triggered. One youth started yelling that I was from a jihadi channel that hates (Prime Minister Narendra) Modi and (Uttar Pradesh chief minister) Yogi (Adityanath)."
Pritam added: "It was scary as I was suddenly gheraoed by about 150 people. One large man put his arm around me and said, 'Tere muh mein dahi jam gayi hai ki 'Jai Shri Ram' nahi bolega (Has curd set in your mouth that you won't say 'Jai Shri Ram')?"
Pritam is seen a video he has tweeted saying: "I will say 'Jai Shri Ram' when I like. I won't be forced to say it. If so many of you gherao me, I won't say it."
He told this newspaper: "At that moment, I felt like just saying it and escaping. But I also felt that physical injuries will heal but the wound to my principles and soul won't; so somehow I just stood my ground. Soon, they pushed me out. Luckily I don't have any injuries that require medical treatment."
Lyricist Hussain Haidry tweeted on Sunday: "Arvind Kejriwal must speak and take action against the brazen displays of hate speech against Muslims in Delhi today."
Shri Kejriwal Ji,

Kuchh nahin to humaara khoon aur jalaane ke liye vague ya monkey-balancing waala statement hi de dijiye.

"Kal jo hua uska khandan karta hun, lekin Tablighi Jamaat bhi to hai senorita," types thoda random ghuma ke hi de dijiye.#KejriwalChuppiTodo

— Hussain Haidry (@hussainhaidry) August 9, 2021
Delhi Congress chief Anil Chaudhary tweeted: "Under the leadership of Aam Aadmi Party's founder member and BJP leader Ashwini Upadhyay, there is a conspiracy by the rioters to throw the capital Delhi into riots again. Why is Delhi chief minister who ordered FIR in Markaz's case @ArvindKejriwal silent?"
आम आदमी पार्टी के फाउंडर सदस्‍य तथा भाजपा नेता अश्विनी उपाध्‍याय के नेतृव्त्व में दंगाइयों द्वारा राजधानी दिल्ली को फिर से दंगों में झोंकने की साज़िश हो रही है।

मरकज के मामले में FIR का आदेश देने वाले दिल्ली के मुख्यमंत्री @ArvindKejriwal क्यों चुप है?
1/2 pic.twitter.com/JqZjUQ7mvD

— Anil Chaudhary (@Ch_AnilKumarINC) August 8, 2021
Chaudhary was referring to how pilgrims from a Tablighi Jamaat congregation in March last year were booked for allegedly spreading Covid. They were later acquitted.
However, Kejriwal, who is usually vocal against the police, was silent on Monday — as he has been on communal issues since last year's riots in Delhi that claimed 53 lives.