Army chief reviews border security
Naravane visits areas falling under the operational command of the Rising Star Corps, including Kathua, Samba, Jammu and Pathankot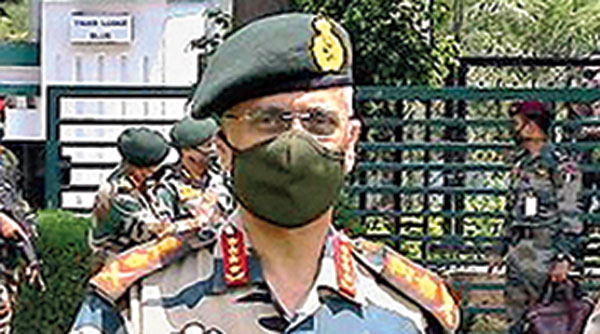 ---
---
Army chief General M.M Naravane on Monday visited forward areas along the International Border (IB) and reviewed the security situation and operational readiness of the troops deployed in the Jammu-Pathankot region, sources in the defence ministry said.
The army chief reiterated India's "zero tolerance" policy against the ceasefire violations by Pakistan and attempts by terrorists to infiltrate from across the border.
Sources said he also highlighted that all agencies of the services and government are working together relentlessly and will continue to do the same to defeat the nefarious design of proxy war being fuelled by adversaries.
Naravane visited areas falling under the operational command of the Rising Star Corps, including Kathua, Samba, Jammu and Pathankot, to review the security situation.
During his visit, he interacted with the field formation commanders and troops and visited forward areas of Gurj division and was briefed by Major General Y.P. Khanduri, GOC Gurj division.
"The army chief addressed all ranks of Western Command through video conferencing and lauded the morale of the troops. He expressed complete confidence in Indian Army's capabilities to thwart any misadventure by the enemies of our country and handle any situation," an official said.
Though there is no heightened activity across the IB, the official said, the army chief had to see the prevailing security scenario.