Archbishop urges Karnataka govt to drop church survey
Move comes close on the heels of CM Basavaraj Bommai repeatedly stressing the need for a 'strong' anti-conversion law in the state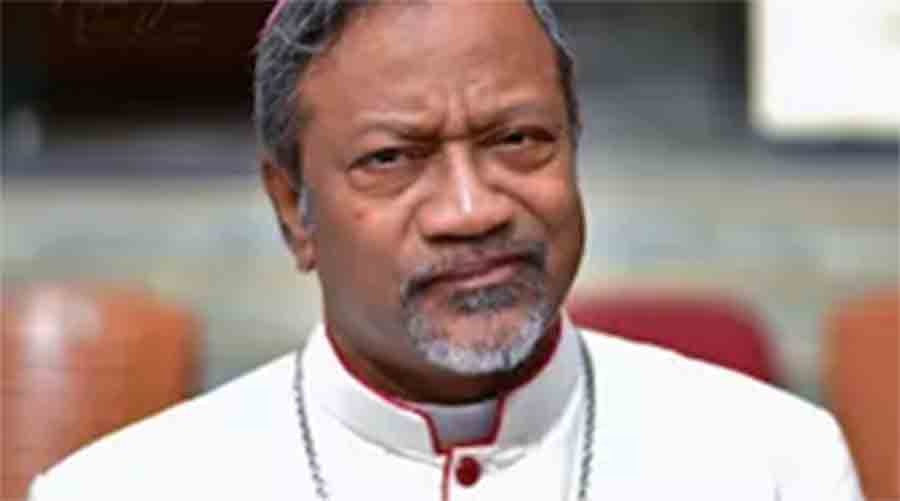 Archbishop of Bangalore Peter Machado
Courtesy www.bangalorearchdiocese.org/archbishop
---
Bangalore
|
Published 26.10.21, 01:06 AM
|
---
Archbishop of Bangalore Peter Machado on Monday urged the Karnataka government to withdraw the directive issued to district authorities and the police intelligence wing to conduct a survey on churches in the state and objected to the proposed anti-conversion law.
"I would have had no issues with this had it been for all communities. But it hurts us since you are targeting only Christians," he told a news conference.
The Karnataka Legislative Committee on Backward Classes and Minorities Welfare had recently ordered a dubious survey on churches and the functioning of Christian missionaries ostensibly to keep a tab on their activities in the BJP-ruled state. This came close on the heels of chief minister Basavaraj Bommai repeatedly stressing the need for a "strong" anti-conversion law in the state where Christians form a mere 1.87 per cent of the 6.5 crore population.
"We would like to appeal to the government not to go ahead with the anti-conversion bill. It won't bring credit to Karnataka," he said.
"The foreign corporations that come here could perhaps think that Karnataka is a very limited state and its people have small minds," he said, citing the implications of such a law.
"I am also opposing such a law since it is discriminatory to us…. Everyone knows that Christian schools are very popular in Bangalore. You have the faith to send your child to our schools. Do you think I am going to convert you in your old age?" Machado said rebutting Sangh parivar allegations on rampant proselytisation.
"It is arbitrary because it targets only the Christian community. Is conversion happening only in Christian community? If a Hindu converts to Christianity, you call it conversion. But what do you call when a Christian converts to Hinduism? We are just two per cent. Allow us to live in peace," the archbishop appealed to the government.
He noted that such a discriminatory law would be misused by religious fundamentalists. "There will be more and more attacks on our churches, our pastors and our sisters. Already we have seen signs of such things happening in Karnataka," he said, alluding to the recent surge in attacks against minorities, especially Christians, in the state.
"There has been an increase in attacks on churches. Six crosses have been demolished in Bangalore (over several months)," Machado noted, alluding to the cases pending in courts.
He recalled how Bommai reacted to a series of attacks against churches and Christian institutions in 2008 when he was with Janata Dal United. "But now 10 or 12 years later, are you going to encourage certain groups to attack us by making laws like this?"
The BJP government is likely to use the Uttar Pradesh anti-conversion law as a mould to model its bill. But the archbishop saw a bigger danger in doing so. "The UP law defines any kind of incentive as an allurement (for conversion). By that definition, we might have to stop free education to the poor since that could be construed as an incentive," he said.
He, however, limited his comments on the survey of churches as the matter was now in Karnataka High Court after People's Union of Civil Liberties moved a petition against the legislative committee's directive.
Machado said the church would ask the Christian community in the state to spend the second Friday of November in prayers and fasting and possibly take out a silent march for their rights enshrined in the Constitution.
Congress MLA and former home minister K.J. George, who was among those present at the news conference, said the use of intelligence wing for such a survey was illegal. "I have already said in the Assembly that there are no grounds to use the intelligence department for such a survey," he said, adding that the Congress would put up a strong opposition against the anti-conversion bill when it is tabled in the House.