April 11 vote: the contests of interest
A father will fight against his daughter, and the fate of a Muzaffarnagar riot accused will be decided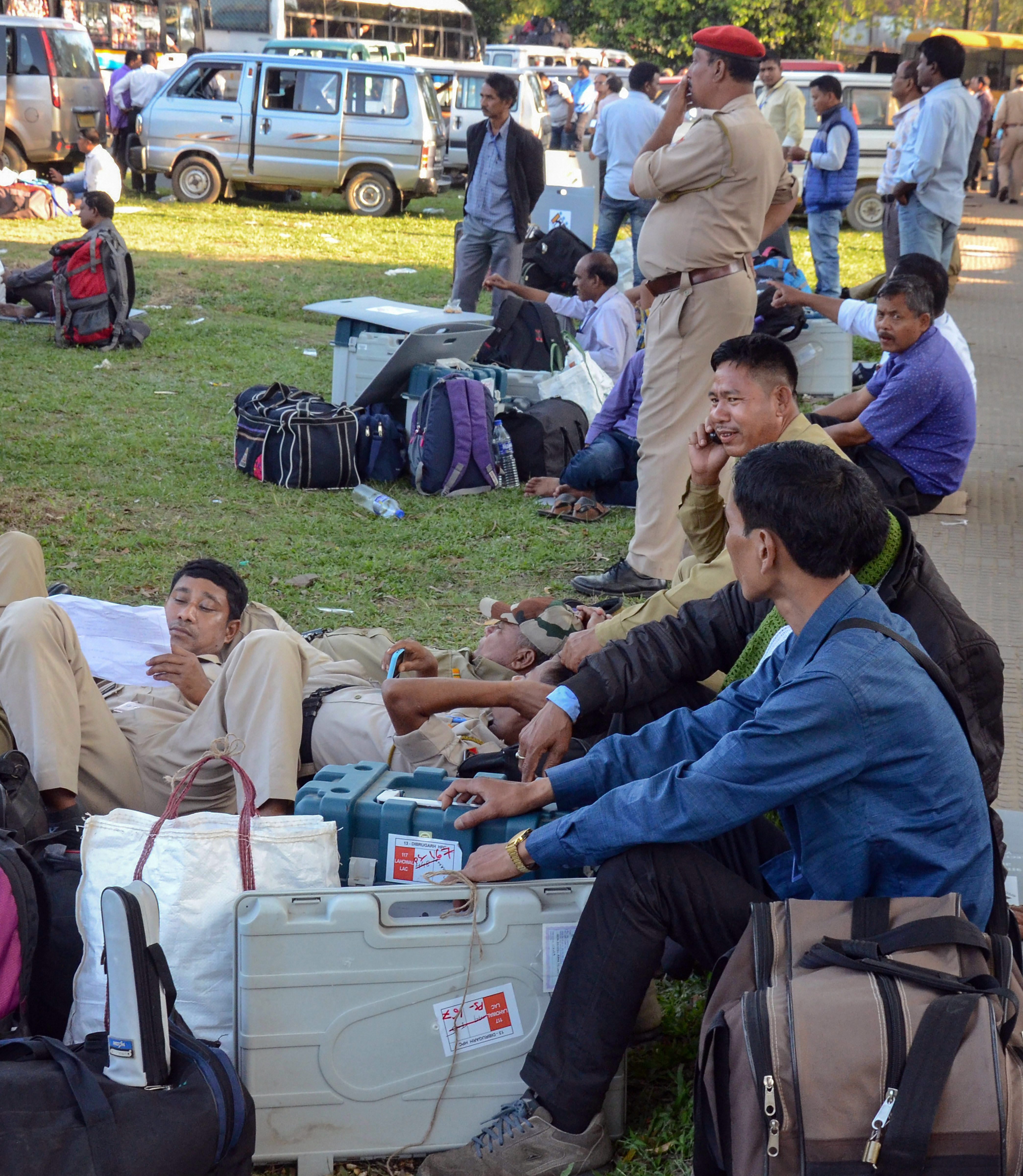 Police personnel rest after collecting their election duty slips and material at a distribution centre ahead of the Lok Sabha election in Dibrugarh on April 10.
PTI
---
New Delhi
|
Published 10.04.19, 02:16 PM
|
---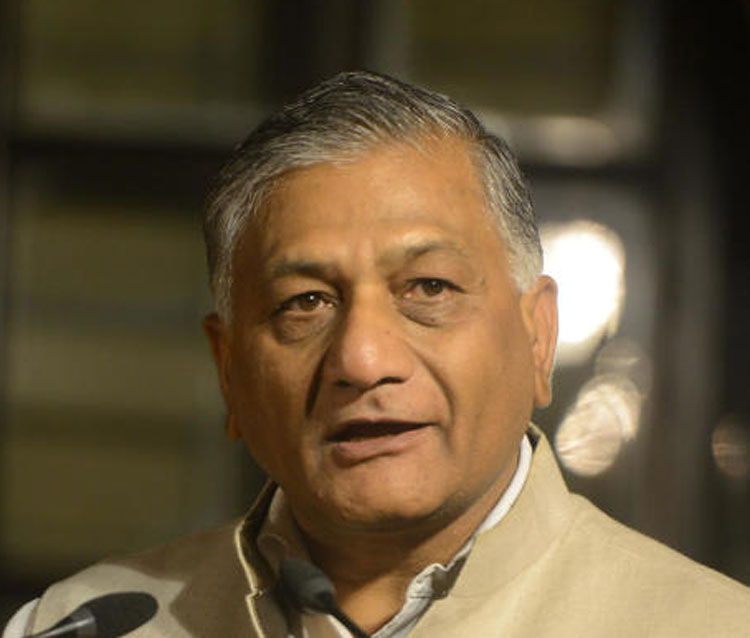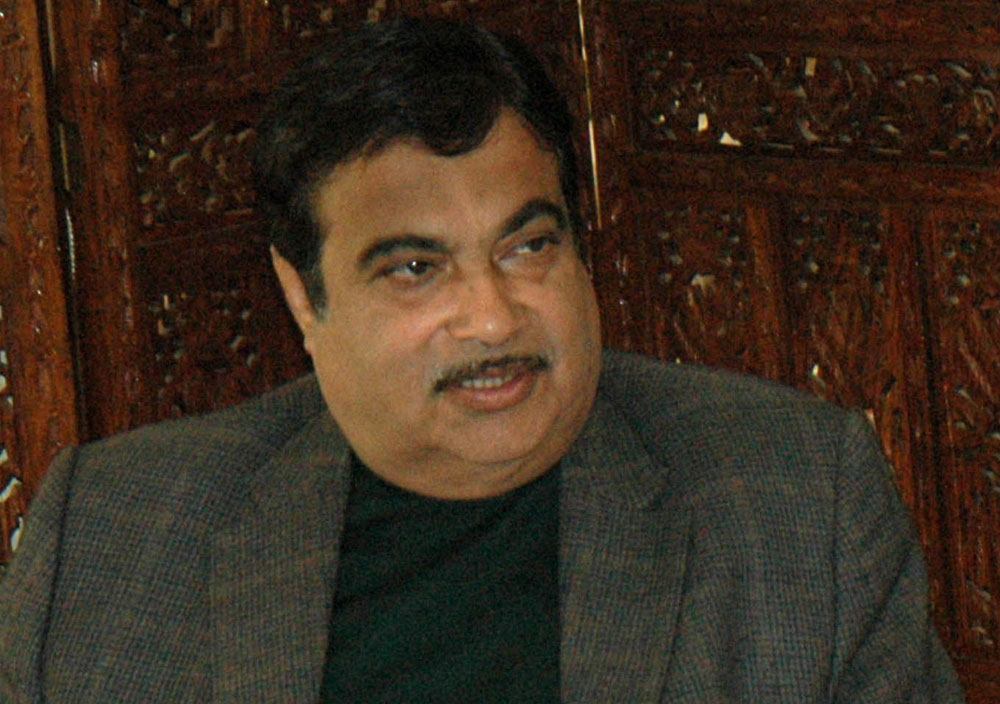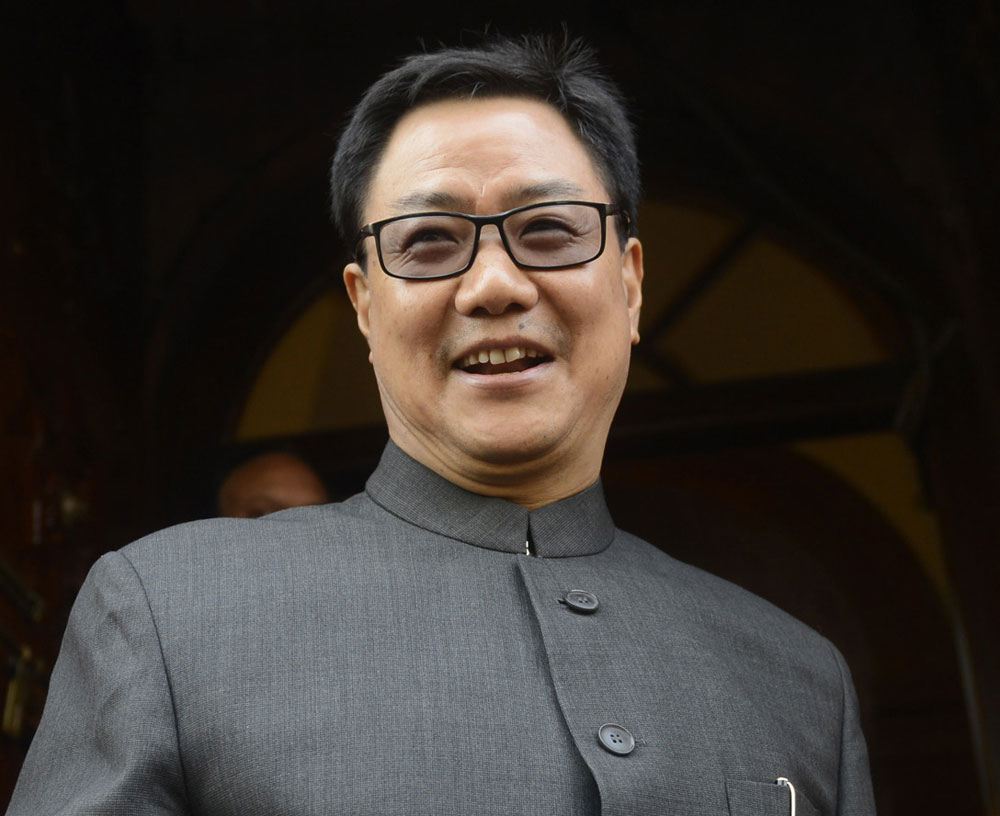 Voting will happen in 91 Lok Sabha seats on April 11. Andhra Pradesh, Telangana, Arunachal Pradesh, Andaman and Nicobar, Sikkim, Meghalaya, Mizoram, Nagaland and the Lakshadweep will complete voting in the first phase. Apart from the nine states and Union Territories, 11 others will see partial voting in the first phase. Here are some names and contests to watch out.
The contest: Kishore Chandra Deo (TDP) vs V Shruti Devi (Congress)
Seat: Araku (ST), Andhra Pradesh
Interest quotient: Six-time MP Deo left the Congress in February and joined the Telugu Desam Party. The Congress has picked his daughter Shruti Devi to contest against him.
The contest: Ajit Singh (RLD) vs Sanjeev Kumar Balyan (BJP)
Seat: Muzaffarnagar, Uttar Pradesh
Interest quotient: Ajit lost bastion Baghpat in the Modi wave in 2014. This year his son Jayant Chaudhary will contest from Baghpat. Ajit's rival Balyan was part of a mahapanchayat in a Muzaffarnagar village which inflamed communal tension. He is an accused in the 2013 riots case but was later made a minister of state in the Modi government. Minus the Modi wave, will Balyan return?
The contest: Mahesh Sharma (BJP) vs Arvind Kumar Singh (Congress)
Seat: Gautam Budh Nagar, Uttar Pradesh
Interest quotient: News reports suggest that farmers' anger against BJP might work against Sharma, who won the seat last time with a 50 per cent vote share. This time, the entry of a Congress candidate who cuts into the Rajput vote share of the BJP is also a worry for Sharma. The farm belts of Noida, Khurja, Jewar and Dadri are in this constituency. 
The contest: Agatha K Sangma (NPP) vs Dr Mukul Sangma (Congress)
Seat: Tura, Meghalaya
Interest quotient: Once a P.A. Sangma stronghold, the constituency sent Agatha, his daughter, to the 15th Lok Sabha as the youngest MP. At 29, she was the youngest minister in UPA II. Mukul Sangma, on the other hand, has been the chief minister of Meghalaya and served two terms. Agatha faces a tough contest.
The contest: Imran Masood (Congress) vs Raghav Lakhanpal (BJP) vs Fazlur Rehman (BSP)
Seat: Saharanpur, Uttar Pradesh
Interest quotient: Saharanpur has a three-corner fight in its hands. Lakhanpal, the BJP MP, Rehman, one of the country's biggest meat exporters, and Imran, the nephew of five-time Saharanpur MP Rasheed Masood are in the fray. Bhim Army, in a setback to the mahagatbandhan, has expressed its support for Masood. This seat could show how much of a spoiler the Congress can be in this election. 
The contest: Jayant Chaudhary (RLD) vs Satyapal Singh (BJP)
Seat: Baghpat, Uttar Pradesh
Interest quotient: The constituency has sent a Chaudhary family member to Parliament nine times. Charan Singh was elected thrice and his son Ajit six times. In 2014, Ajit lost to BJP's Satyapal Singh, a former Mumbai police commissioner. 
The contest: Gaurav Gogoi (Congress) vs Moni Madhab Mahanta (AGP)
Seat: Kaliabor, Assam
Interest quotient: Kaliabor is a Gogoi bastion. Tarun Gogoi, Gaurav's father and former chief minister who rued for 16 years, has been elected from here thrice. Tarun's brother Dip has been elected twice. Gaurav won the seat in 2014.
The contest: Tabassum Begum (SP) vs Pradeep Kumar (BJP)
Seat: Kairana, Uttar Pradesh
Interest quotient: In 2018, Tabassum contested the Kairana seat in a bypoll and won as the RLD candidate, who had the support of the Congress, Samajwadi Party and the BSP. This time she is contesting from the Samajwadi camp, and BSP and RLD are her allies. In 2018, her win was held up as an example of the alliance working. Will she repeat the alliance script?
The contest: V.K. Singh (BJP) vs Suresh Bansal (SP)
Seat: Ghaziabad, Uttar Pradesh
Interest quotient: The Modi wave carried former army chief Singh to victory in 2014, but he faces a tough challenge from Bansal. The constituency created after 2008 by delimitation sent Rajnath Singh to Parliament in 2009.
The contest: Nitin Gadkari (BJP) vs Nana Patole (Congress)
Seat: Nagpur, Maharashtra
Interest quotient: Nagpur is Gadkari's home ground and the RSS headquarters. Gadkari won Nagpur in 2014. This time, in some quarters there were murmurs that he could be the consensus face for Prime Minister. Is this a future Prime Minister's seat?
The contest: Chirag Kumar Paswan (LJP) vs Upendra Ravidas (BSP)
Seat: Jamui, Bihar
Interest quotient: Chirag Paswan, believed to be the one who pushed the Lok Janshakti Party to ally with the BJP, easily secured the seat in the Modi wave in 2014. Chirag, who started as an actor before moving to politics in 2014, won by nearly 80,000 votes. Without a Modi wave, will Chirag's flame show? 
The contest: Kiren Rijiju (BJP) vs Nabam Tuki (Congress)
Seat: Arunachal West, Arunachal Pradesh
Interest quotient: The two-time MP is expected to face a tough fight from former Congress chief minister Tuki, who has also won the seat once.