'Appropriate' bench for Bhushan case
Supreme Court bench cites 'paucity of time' to consider the 'far-reaching ramifications' of the matter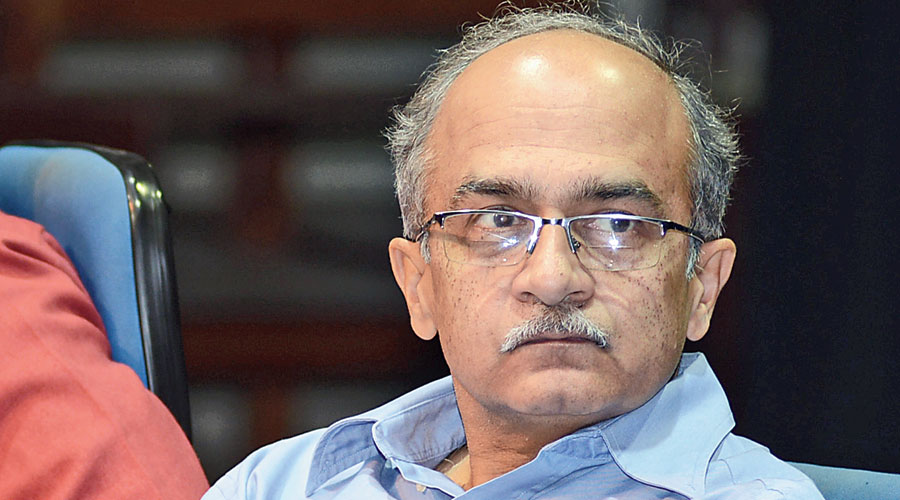 Prashant Bhushan
File picture
---
New Delhi
|
Published 26.08.20, 02:48 AM
|
---
A Supreme Court bench headed by Justice Arun Mishra on Tuesday referred to an "appropriate bench" a 2009 criminal contempt case against advocate Prashant Bhushan because of "paucity of time" before the judge's retirement on September 2 to consider the "far-reaching ramifications" of the matter.
The bench of Justices Mishra, B.R. Gavai and Krishna Murari has been hearing the case relating to criminal contempt of court against Bhushan for alleging in a 2009 interview to Tehelka magazine that "half of the 16 former Chief Justices of India are corrupt". The same bench has convicted Bhushan of criminal contempt of court for levelling allegations against the judiciary in two tweets, and will pronounce the sentence before September 2.
Regarding the Tehelka interview, the three-judge bench has requested Chief Justice of India S.A. Bobde to list the matter on September 10 before an "appropriate bench".
"…There is paucity of time, otherwise we would have heard the learned senior counsel with respect to the questions which have been proposed. However, since the matter is pending for the last 10 years, as prayed for, we fix the date for hearing in the month of September 2020. Let the matter be listed on 10.09.2020 before an appropriate bench as may deem fit by the Hon'ble Chief Justice of India," Justice Mishra said in the written order.
During the next hearing, another judge is to replace Justice Mishra. Senior advocates Rajeev Dhavan and Dushyant Dave have urged the court to refer the matter to a constitution bench, which has at least five judges.
Retired judge Kurian Joseph had earlier suggested that the contempt cases against Bhushan be referred to a constitution bench because "substantial questions of law on the interpretation of the Constitution of India and having serious repercussions on the fundamental rights" are involved.
During Tuesday's hearing, Dhavan reiterated the plea that the matter ought to be referred to a constitution bench and the attorney-general of India, K.K. Venugopal, must also be heard.
Dhavan requested the court for a fresh look at criminal jurisprudence relating to the contempt law and said it must also consider the questions framed by Bhushan with regard to a citizens' fundamental right to free speech vis-à-vis courts' power to punish for contempt.
"These questions must be resolved once and for all. The court's free-speech jurisprudence has expanded and its impact on the contempt law must be considered," Dhavan submitted.
Justice Mishra replied that there has to be sufficient pleadings, or written arguments, for framing questions and asked Dhavan if these questions could be considered without such pleadings.
"I am short of time. I am demitting office. So whether it is proper for me to take a call on this (reference to a larger bench) is also an issue.… Some of these questions are already settled," Justice Mishra observed.
Dhavan argued that the moot question was whether the Supreme Court under Articles 129 and the high courts under Article 215 can take suo motu contempt action independent of other provisions of the Constitution, particularly Articles 19 (freedom of speech) and 21 (life and liberty) that he said "goes to the very heart of Bhushan's defence".
"How much of the court's free-speech jurisprudence has to be read into suo motu contempt powers? This is an important question in this case," Dhavan said, to which Justice Mishra replied: "Let us leave this to an appropriate bench."
The senior advocate said these questions pertain to truth as a defence and bona fide opinion in contempt action. Dhavan pleaded that the court issue notice to the attorney-general, but Justice Mishra turned down the request saying that it was for the "appropriate bench" to consider the matter, as also Dhavan's plea for appointing an amicus curiae (friend of court).
"The main question is, if alleging corruption against judges would amount to contempt per se or not. Most of the points raised by you will be covered when we discuss that. Some of your questions can still be discussed but it will require a long hearing," Justice Mishra said.
Senior advocate Kapil Sibal, appearing for Tarun Tejpal who had been the Tehelka editor when Bhushan's interview had been published, concurred that the issues raised required to be examined by a larger bench.
"You should remember, people come to this court for relief. Their faith should not be shaken," Justice Mishra said.
Dhavan replied: "In my view, people come to court for relief and justice."