Apex monastic body expels Chinmayanand
'He has demeaned the Hindu community through his demonic behaviour'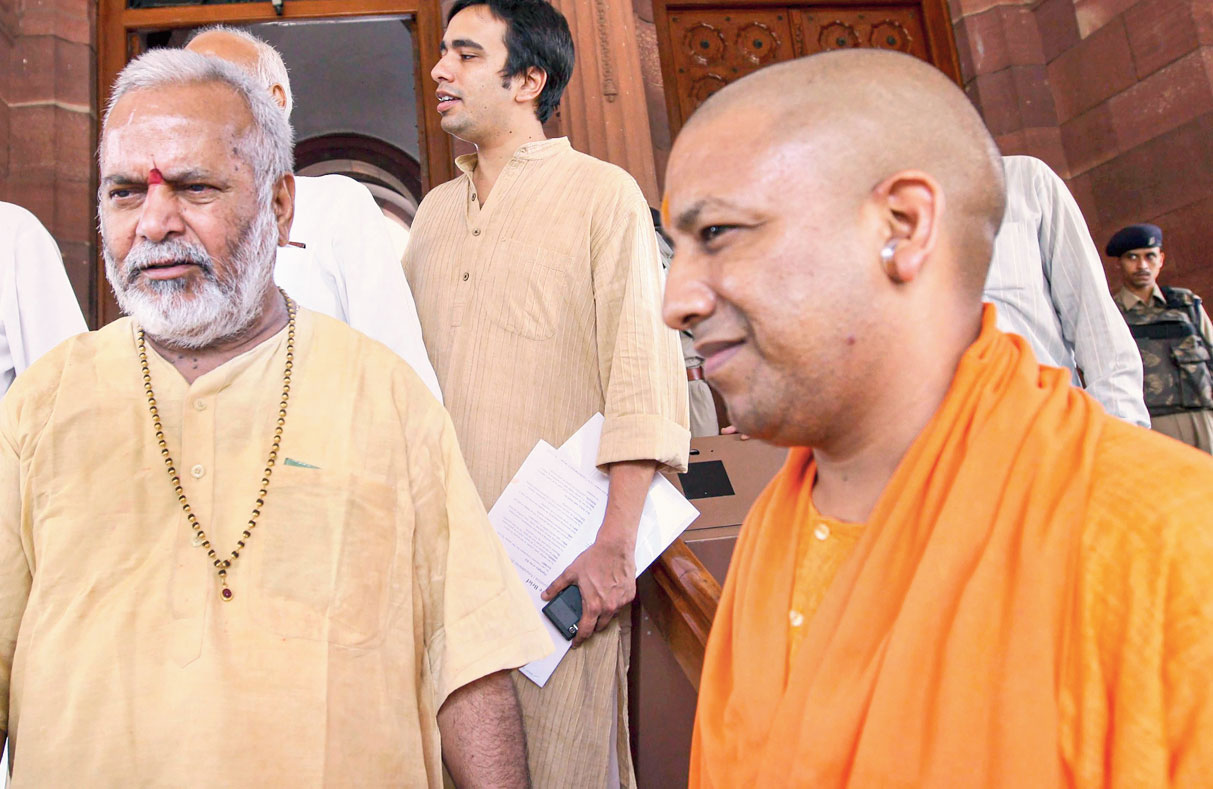 Chinmayanand with Yogi Adityanath, then MP and now Uttar Pradesh chief minister, outside Parliament on August 17, 2010.
(PTI file picture)
---
Lucknow
|
Published 22.09.19, 08:27 PM
|
---
The country's topmost Hindu monastic organisation has expelled the rape accused Swami Chinmayanand from its sant samaj or community of sadhus, saying he is a "blot" on the Hindu religion and its monks.
Narendra Giri, president of the Akhil Bharatiya Akhara Parishad — the apex body of the country's 13 akharas or Hindu monastic orders — announced the expulsion of the former BJP Union minister who was arrested on Friday.
"It was decided at a meeting on Saturday that people like Chinmayanand shouldn't be treated by any Hindu as a sant," Giri said in Allahabad on Sunday.
"He has demeaned the Hindu community through his demonic behaviour. We have expelled him from the community of sants."
Recognition by and affiliation to the Akhara Parishad brings not just status and prestige but material benefits too, such as free accommodation and medical facilities during the Kumbh Mela.
It can also make it easy for a swami to get land and other concessions from the government to, say, build an ashram and operate educational institutions like Chinmayanand has done.
While the expulsion cannot prevent Chinmayanand or his disciples from continuing to claim the status of a swami for him, it is likely to make a dent in his following.
A 23-year-old woman who studied at a law college Chinmayanand runs from his ashram in Shahjahanpur, Uttar Pradesh, has accused the 72-year-old of raping her for over a year and threatening her when she tried to end the exploitation. She says Chinmayanand had filmed her secretly while she was bathing in her hostel room and blackmailed her into having sex with him.
The Supreme Court-appointed special investigation team that arrested Chinmayanand has, however, only invoked the charges of molestation, intimidation and predatory sexual exploitation, and not that of rape.
The complainant on Saturday accused the SIT of weakening the case because the accused happened to be a "big politician" from the ruling party.
"We believe that strong action should be taken against such sadhus. They are a blot on our religion," the Akhara Parishad vice-president, Mahant Devendra Singh Shastri, said.
He said that at a time the Akhara Parishad was trying to "strengthen our spirituality", people like Chinmayanand, "who have sneaked into the group, are showing their animal behaviour".
"We removed many sadhus from the Akhara Parishad last year. We will now meet in Haridwar on October 10 to discuss the erosion of religiosity (among monks) and develop a mechanism to filter out people like Chinmayanand right at the beginning," Shastri said.
The Maha Nirvani Akhara had accorded Chinmayanand the title of Mahamandaleshwar, bestowed on those who have led pious lives throughout and know the Vedas and the Puranas.
A BJP leader has demanded that Chinmayanand be shifted from jail to the King George's Medical University, Lucknow.
"He is in poor health," Jayesh Prasad, former legislative council member, said in Shahjahanpur on Saturday.