'Goli maaro' minister trains gun on Nehru
Thakur's contention was that the Prime Minister's National Relief Fund, which the Opposition favoured over the newly constituted PM CARES Fund, had been created to favour 'one family'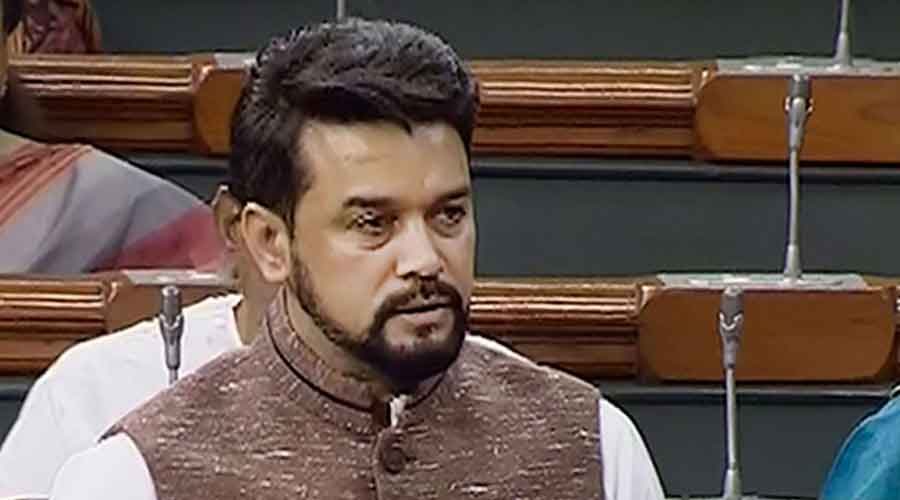 Junior finance minister Anurag Thakur
File picture
---
New Delhi
|
Published 19.09.20, 12:48 AM
|
---
Junior finance minister Anurag Thakur launched an attack on the Nehru-Gandhi family while defending the PM CARES Fund in the Lok Sabha on Friday, triggering uproar that led to four adjournments.
Thakur's contention was that the 72-year-old Prime Minister's National Relief Fund set up by Jawaharlal Nehru, which the Opposition favoured over the newly constituted PM CARES Fund, had been created to favour "one family".
His salvo appeared pre-planned, with finance minister Nirmala Sitharaman stepping aside for her junior while replying to the Opposition's objections to the introduction of a taxation amendment bill that had provisions relating to the PM CARES Fund.
Later, in the din over Thakur's remarks, Sitharaman successfully introduced the bill.
Thakur had provided a glimpse of his knack for provocation during campaigning for the February 8 Delhi elections, when he led a rally in chanting: "Desh ke gaddaron ko, goli maro salon ko (Shoot traitors to the country)."
The Taxation and Other Laws, Relaxation of Certain Provisions Bill, 2020, deals, among other provisions, with tax relaxations given to donations made to the PM CARES Fund.
Congress and Trinamul members raised several objections, including one against the proposal to bring the PM CARES Fund under the same laws that govern the Prime Minister's National Relief Fund.
Critics say the PM CARES Fund was unnecessary since the PMNRF already existed, and that it reflects an attempt by the Prime Minister at self-aggrandisement. The fund has also faced charges of opacity.
After replying to some of the Opposition members' objections, Sitharaman said Thakur would respond to the rest of the issues raised relating to the PM CARES Fund. She sought the Speaker's permission and Thakur was allowed to speak.
As Thakur began speaking, it was clear he had come prepared to attack the Congress politically, bypassing the technical issues raised against the bill.
"They (the Congress) have a problem with everything this government does. They have a problem with PM CARES, demonetisation, triple talaq," Thakur said.
"They (the Opposition) are raising questions about the PM CARES Fund. What about the PM's National Relief Fund? In 1948, then PM Jawaharlal Nehru had ordered the formation of the PMNRF, which hasn't been registered yet. How did it get FCRA (Foreign Contribution Regulation Act) registration?" he asked.
"How was tax exemption given when the trust was not registered? You made the trust just for one family — the PMNRF had Sonia Gandhi as its member. The country needs to know. All this will be exposed."
As Congress and Trinamul members protested, Speaker Om Birla tried to stop Thakur, saying he could speak in detail when the bill was taken up for passage. By then, however, Thakur had possibly said all he had intended to say.