UP police see 'rioters from Kargil'
The police are yet to identify the '60 to 70' people from Kashmir who allegedly rioted in Lucknow on Thursday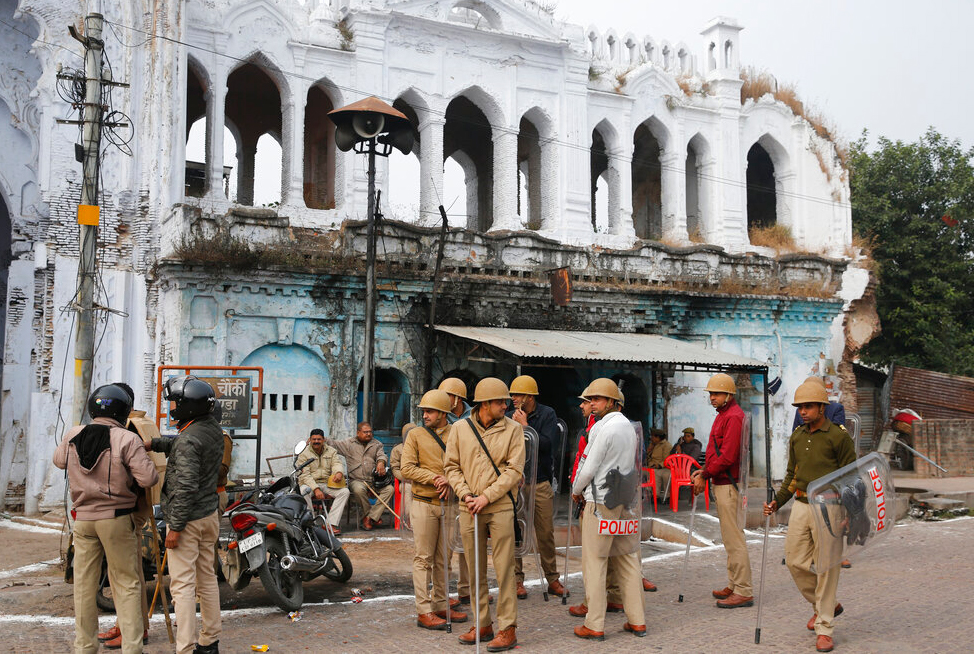 Policemen stand guard on a street in front of a police station that was vandalised when violence erupted on Thursday during a protest against the Citizenship Amendment Act in Lucknow, Friday, December 20, 2019.
(AP)
---
Lucknow
|
Published 23.12.19, 10:22 PM
|
---
Uttar Pradesh police on Monday branded some of Friday's "rioters" in Muzaffarnagar as "outsiders" from Kargil, Leh and Bhopal, a day after accusing people from Malda and Kashmir of resorting to violence in Lucknow on Thursday.
A madarsa teacher in Muzaffarnagar said that six of the institution's students whom the police had labelled "outsiders" were from Uttar Pradesh. He named their home districts and said they had not ventured out on Friday.
Relatives of the allegedly Malda-based youths on Monday showed documents to reporters corroborating the families had been settled in Lucknow for three decades and that the suspects were born within this period.
The police are yet to identify the "60 to 70" people from Kashmir who allegedly rioted in Lucknow on Thursday.
Samaypal Atri, Civil Lines station house officer in Muzaffarnagar, told reporters that of the 72 people arrested in the district for Friday's violence — of whom 40 were students of the Saadat Madarsa — 12 were from Kargil, Leh and Bhopal.
"All the rioters from outside Uttar Pradesh were arrested with bricks in their hands," Atri said.
He said that among them were Hussain Ali of Barkhera in Bhopal and Mohammad Ali of Thang Shanku in Kargil. He named another six "outsiders" who he said were from the Saadat Madarsa but did not mention their home addresses.
A madarsa teacher, who did not want to be identified, contested the police allegations.
"Among the alleged outsiders the police have named are our students Mahmood Ul Hasan of Sultanpur, Abbas Raza of Mau, Mohammad Shuaib and Kumail Abbas of Saharanpur, and Jawad Ali and Mohammad Maroof of Meerut. These places are in Uttar Pradesh," he said.
"I can prove that our arrested students were in their hostels when the violence was going on near the town's Meenakshi Crossing during Friday's protests. But the police are too excited to listen to me."
He added: "For five decades, students from across the country have been studying here before joining Aligarh Muslim University, Darul Uloom Deoband in Saharanpur or the Nadwatul Ulama in Lucknow for higher education. Obviously, some of the 40 arrested students would be from outside the state."
The teacher alleged that it was Union minister and local MP Sanjeev Baliyan, an accused in the 2013 Muzaffarnagar riots, who had provoked his supporters to resort to violence on Friday.
"Minor clashes between the protesters and the security forces had taken place between Meenakshi Chowk and Hospital Road till 2.30pm. But the police withdrew seconds after Baliyan arrived in Shiv Chowk, which falls between Meenakshi Chowk and Hospital Road," the teacher said.
"Another 30 minutes of clashes, which included stone-throwing and firing, followed between the protesters and Baliyan's supporters. I was there and saw it."
When reporters asked Baliyan whether he had incited violence, he said: "I was going to attend a party programme in Sardhana when I heard about violence in the town. I rushed to the spot. The violence stopped as soon as I arrived."
On Sunday, state police chief O.P. Singh had claimed that of the 120 people arrested in Lucknow on Friday for the previous day's violence, six were from Malda in Bengal.
However, the arrested youths' families have shown the media their ration cards, which carry a date of first issue that confirms their claim of having shifted from Malda to Lucknow three decades ago.
On Sunday, the Lucknow police also alleged that Robin Verma — a social activist arrested on Friday after being picked up with Omar Rashid, a local journalist of Kashmiri origin — had brought "60 to 70 rioters" from Kashmir to pelt the police with stones.
However, the police have yet to arrest anyone from the Valley in Lucknow.
While the police released Rashid on Friday night, Verma was arrested and sent to jail.Mohammad Vakil, a 25-year-old auto driver, has died of bullet injuries suffered during Thursday's protests in Lucknow. He is among 16 people who have died during protests in the state, many of them succumbing to bullet injuries.
Videos, eyewitness accounts and expert opinion from a retired DGP have contradicted the police's claim that they had not fired on the protesters.