'Our nation to keep and guard'
Shaheen Bagh isn't stopping to say: NO CAA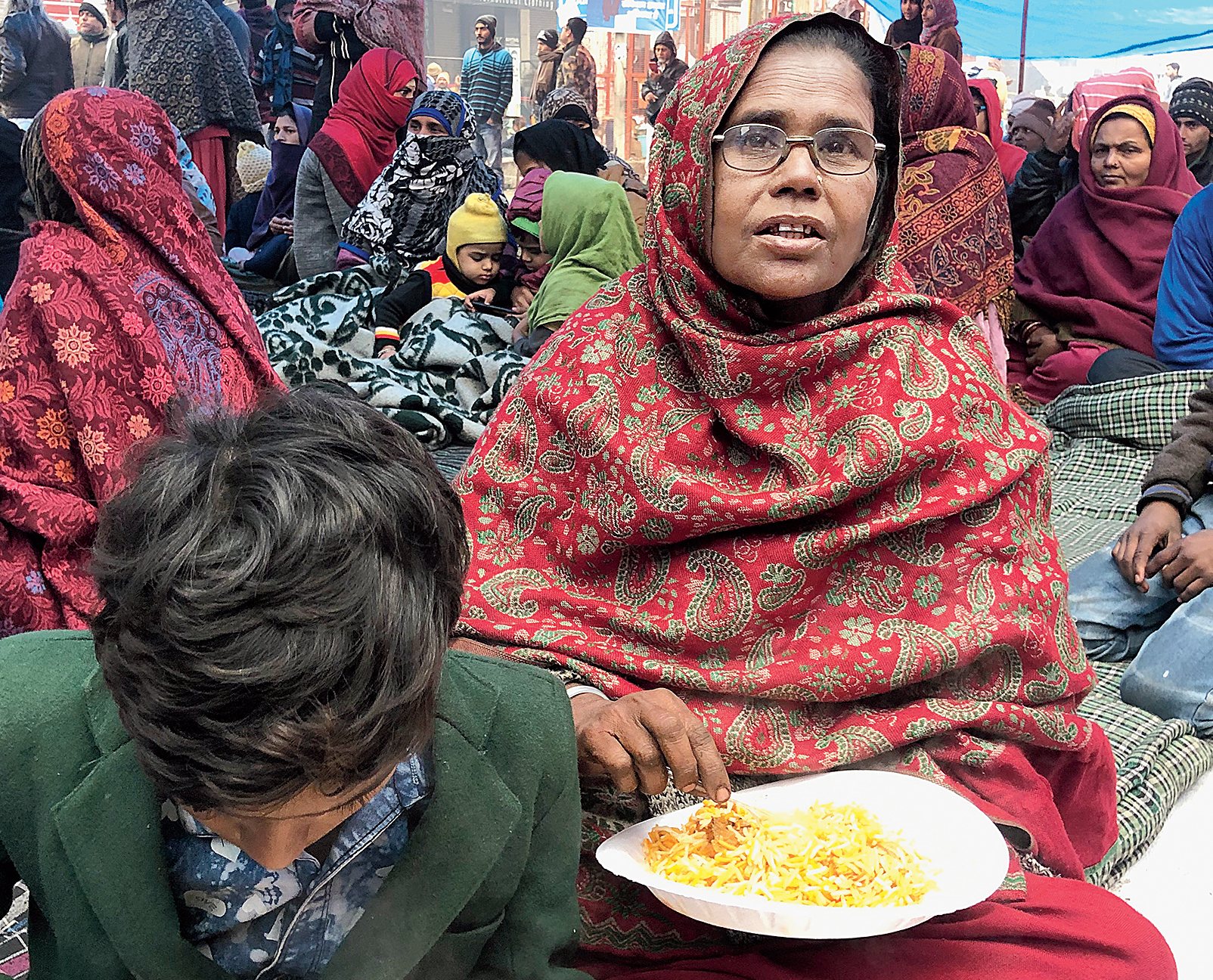 Nur Jahan at the sit-in at Shaheen Bagh in Delhi on Monday, the coldest recorded December day in the capital.The India Meteorological Department has records since 1901.The day's maximum temperature of 9.4 degrees Celsius was almost half of what is considered normal for this day of the year,PTI said.
Picture by Sankarshan Thakur
---
New Delhi
|
Published 30.12.19, 09:02 PM
|
---
Someone in the shivered hubbub around the Shaheen Bagh picket did bring up the mention of Sharmila Irom of Manipur and how long she fought against the AFSPA before she pulled out the feeder tubes, ended the hunger strike and proceeded with her life. Sixteen years she battled. Irom is now off stage; AFSPA remains.
The state is powerful, in time it breaks the will and bones of those that stand in its way. But the thing about protests is not always whether they have surmounted, but often just that they have been waged.
Shaheen Bagh has been out trying to beat back the CAA-NRC regime 16 days. A mere 16 days, it might well be said, and on a far begotten precinct of Delhi, like a banner hoisted in a recess the rulers of the realm couldn't much care about.
Shaheen Bagh is a warren best lost on those who do not inhabit it — an overcrowded, low-income barracoon wedged between the cacophony of Jamia Millia Islamia and the putrescent rubbish-lumped Yamuna bank. Besides, and probably chiefly, its populace is predominantly Muslim, the kind who famously can be recognised by their clothes; their protest is nothing to bother with. Whiners. Moaners. Outliers. Let them be. Before it became a daily dateline a fortnight ago, Shaheen Bagh was not a location anybody picked out.
But here's why Shaheen Bagh has begun to beep and flash on locator maps. Here's why it has morphed from forsaken ugly duckling to local celebrity. Shaheen Bagh has been out saying something for 16 days this biting-cloying winter, and it isn't stopping to say: NO CAA!
Shaheen Bagh has now become the longest sustained protest of this chapter.
Why am I sitting here? In this cold? To claim the ground under my feet, to claim the roof over my head, to claim the fire in my kitchen, to claim the sky and this air, to claim the future of my children.
- Nur Jahan
Shaheen Bagh is an untutored uprising whose spine are mothers and grandmothers arrived under the frail tarpaulin marquee from nearby homes and hearths.
Shaheen Bagh hasn't hurled a stone, nor picked one.
Shaheen Bagh is not a rent-a-crowd station; it exists by open invitation to the willing.
Shaheen Bagh isn't a passing gallery of the who's who; it is native and it is rooted, possessed of its own wisdoms of why and how. "Apni maa ki kokh se kagaz nikaal ke laaoon ki uski beti hoon?" Sarvari Jaan, 81, asked me sharply. (Should I fetch papers from my mother's womb to certify I am her daughter?)
Shaheen Bagh has become a community outside of itself — of volunteers carting food and tea and solidarity; of common-cause Samaritans and goodwill flaneurs; of aid givers and counsellors; of vigilantes of a dream they will not let turn to embers under the pressing cold.
"I am here because I want to be part of those who are doing something to save our country, our Constitution, it does not matter who they are, they are for the good." The voice of Anshuman Mohanty, a second-year history student from Delhi University, and originally from Odisha. He stood there in a frayed hoodie, clutching a volume of George Orwell's essays to his chest, as if for warmth.
The debris of a harsh winter's night lay about in swirls — mussed quilts, someone's lost sock, peanut shells, ash from extinguished fires, a naked stretch of PVC, an exhausted stove, a twisted Styrofoam tumbler, charred tyres.
Amid this rustic smorgasbord of a necessary vigil, an infant rolled up in layers and snuggled away while the mother took the barricades somewhere close. It's that unknowing infant who Shaheen Bagh is for too. There's a cry ringing out: "Hindu Muslim Sikh Isaai, aapas mein sab bhai bhai! Desh ke logon hosh mein aao, desh bachao, desh bachao!!"
Shaheen Bagh swells and Shaheen Bagh ebbs; it's people who make it and people have lives — a home to order, a meal to cook, a shop to mind, a job to attend, the ill to tend, an errand to run, an assignation to keep. But they keep coming back, they have been 16 days, and they tell you they aren't going anywhere.
"This is our land. This is our home. This is our nation to keep and guard. We aren't going anywhere." There's something in the refrain of it that is unwavering. Shaheen, if you will, is Arabic for falcon.