Anarch is the Kashmir monarch
Geelani opens and shuts Valley at will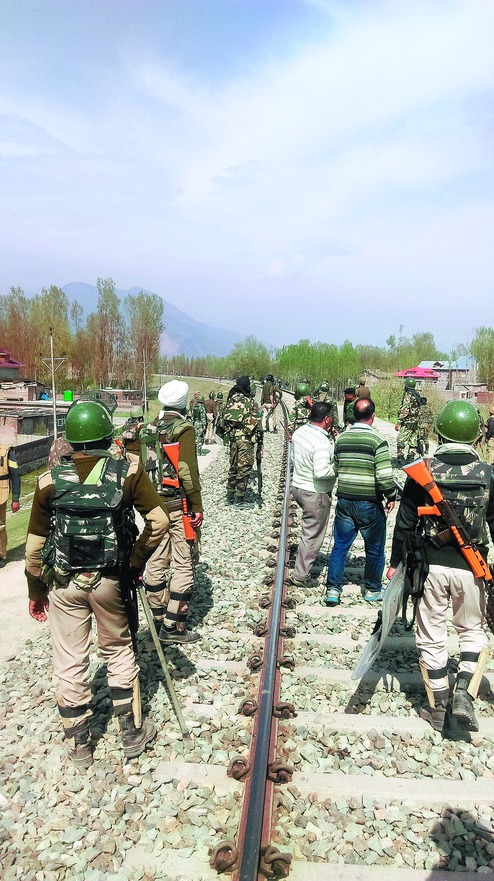 ---
|
Srinagar
|
Published 14.10.16, 12:00 AM
---
Srinagar, Oct. 13: There is a government here, we are told on good authority. There is a counter-government, that is authority itself. Kashmir, not for the first time, lies plunged in the drifts of a surreal slipstream. Its rulers can't rule, the law is unable to enforce order. It's probably fair to speculate there exists an elected dispensation; but the dispensing is all done by those who dare it.
The Establishment does still have the throne, but it's strapped to it; the anarch is monarch, possessed of both writ and rein.
Chief minister Mehbooba Mufti, 57, lives off a bespoke bungalow in Srinagar's best protected district, holds constitutional office and all the powers that reside with the state.
Arch secessionist Syed Ali Shah Geelani, 87, sits shackled at home in a peripheral neighbourhood, wields prolonged defiance of the Constitution and all the power nobody ever licensed him to.
The wounds Kashmir has taken all summer - 91 dead, 12,000-odd sprayed by a pellet barrage that may have left many blinded for life - seem nearly not enough. It has now become a wound-up toy in Geelani's frail and manacled hands - it lives and lapses as he pleases. Shut down, Geelani orders, and Kashmir shuts down; open up, he commands, and Kashmir creaks to life.
For more than three months now, the Valley has been plaything to Geelani's capricious decrees, it eats, sleeps, dreams, awakens, walks, works, shops, starves, breathes, suffocates to his commandments. When one set of edicts expires, it begins to breathlessly await the next, like a patient hooked on a regimen it cannot survive without. It is as if without the arrival of a new Geelani "calendar" (a well-embraced local euphemism for an agitational timetable) dates would stop to roll.
Last evening, well in advance of the current "calendar" running out, Geelani obliged his realm with a renewed roster: open up at five in the evening as darkness begins to drop, shut everything down at seven in the morning as light begins to dawn. The diktat's been pronounced anew: Kashmir is to live its days paralysed in wait for the darkness of its nights.
Its elected rulers are powerless to dispute, much less dismantle, the arrangements ordained by its most obdurate antagonist. The two, in fact, seem often to be driven by an ironic sameness of purpose: one orders people off the streets, the other obligingly unloads spools of concertina onto the streets. The consequence of both actions is quite the same: Kashmiris become prisoners at home on an open-ended sentence.
All too often they don't know, or bother finding out, who authored the closure they must suffer - the establishment or the anti-establishment? Curfew or hartal, it really makes no difference. Or perhaps it does - they'd defy government orders on curfew far more easily and willingly than they'd defy a hartal call by Geelani.
But should they be to blame when even the more prominent among those who sit on Mehbooba Mufti's cabinet are willing to publicly supplicate to the spearhead of secession?
Education minister and government spokesman Naeem Akhtar has written a letter to Geelani that is the talk of all Kashmir. It has quite the tone that a petitioner strikes before potentate: "Mukarrami Geelani Saheb..." it begins, respected Geelani Saheb, and goes on to become a long-winded plea for seeking Geelani's assent to reopen the Valley's schools.
In the process, though, Akhtar reveals the almost formidable power he invests Geelani with, a man currently a prisoner of Akhtar's own government.
Referring to a death threat against himself for asking schools reopened, Akhtar writes: "...threat was followed, ironically only a day after I advised my audience of teachers to read your autobiography to understand the importance of education, by you and other leading lights of the tehreek (read Hurriyat Conference) justifying the action threatened earlier.... I still feel the warmth of your kisses on my forehead whenever we met and truly believed my assassin would have to target some other part in my body for my forehead bears a love mark planted by you...."
Akhtar has been violently targeted in recent months and threatened with death by militant groups. He insists in the letter that he isn't making a plea for clemency, only a case for Kashmir's children to get a chance to educate themselves.
"If I die one of these days or am killed I know my family might find it difficult even to find a burial place for me, for your condemnation comes with more than a death warrant. But please don't mistake this for a letter of clemency. Who can teach you the Quranic verdict of the timing of death being unalterable? ... Sir, I am praying for education...."
Such is how the writ of the Mehbooba government crawls, with folded-hand prayers to those it has found necessary to incarcerate as enemies of the state.
This is a functioning dyarchy, emphasised also, and every day, by serial failure of the government to tear off the Geelani "calendar" pronouncements.
Schools, colleges and most offices remain shut or thinly attended, the bazaars do business only during "sanctioned" hours, nobody gets onto the streets. Sensibly, the administration has withdrawn traffic cops from duty, and ordered traffic lights on permanent amber blink.
This time of the year - the peak of balmy autumn and locally christened the "Bangali" tourist season - Srinagar is a madding crowd. But not this year.
The shikaras on the Dal are all anchored to forlorn banks, the houseboats bobbing weightlessly upon the water; the hotels are shuttered, the Tourist Reception Centre has nobody to receive. Only the dovecotes around town are buzzing, with the agitations of fornicating pigeons. Or the barracks, with jawans exchanging shifts.
The madness in Srinagar this season is that there's nobody here. And two sets of rulers to boot, marching curfewed streets.