An offer only a bozo can mock
Bezos springs job-creation promise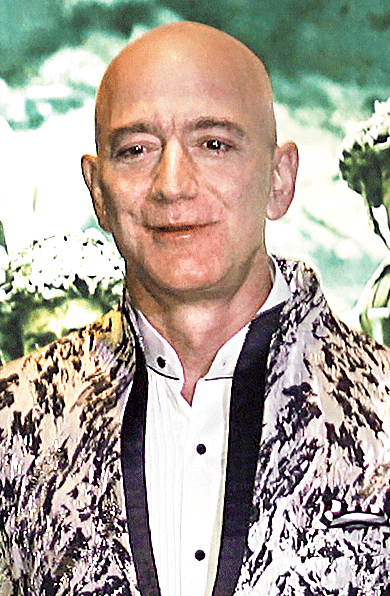 ---
|
Mumbai
|
Published 17.01.20, 10:30 PM
---
Ben Bradlee, the celebrated editor of The Washington Post during the Watergate years, is credited with saying "there is nothing like daily journalism! Best damn job in the world".
The current owner of the Post, although he is not in journalism, seems to be enjoying to the hilt his latest job of getting under the skin of the Narendra Modi government.
On Friday, Jeff Bezos, the Amazon boss who also owns the Post, backed up his offer of a $1-billion investment in India over the next five years with plans to create 1 million jobs over the same period.
Till Friday night, the smooth-talking Union minister Piyush Goyal had not reprised his assessment 24 hours ago that Bezos would not be doing a favour to India by investing $1 billion.
Right now, Bezos or anyone who can create any job in India will indeed be doing a big favour to the country as well as the Modi government. Reports suggest that unemployment in the country has rocketed to a four-decade high.
Not all promises made by investors come true — the jobs may or may not be created. But Bezos's statement, which steered clear of any reference to Goyal's swipe, suggests he is fully aware of the Modi government's Achilles heel and not unfamiliar with the subtle art of shadow-boxing.
Government officials tried to pass off Goyal's comments on the e-commerce giant on Thursday as part of an attempt to soothe an increasingly angry group of small traders who have been complaining about loss of income at a time when the economy is growing at a sluggish 5 per cent.
But not everyone is buying the economic story.
Vijay Chauthaiwale, the chief of the BJP's foreign affairs department, removed any doubts when he told Reuters that there was "a lot of problem" with The Washington Post's coverage of India.
"I am not opposing Amazon as a company, in fact I am a regular customer.… Jeff Bezos should go home tell Washington Post what is his impression about India," Chauthaiwale told Reuters. "The Washington Post editorial policy is highly biased and agenda driven."
On Thursday, Chauthaiwale had not specifically mentioned the Post, preferring to tweet Bezos to tell his "employees in Washington DC" how dynamic India is.
In a statement put up on the amazon.in website, Bezos said the investments will create 1 million new jobs in India over the next five years. The new jobs, expected to be created both directly and indirectly, will be across industries, including IT, skill development, content creation, retail, logistics and manufacturing.
The proposed jobs are in addition to the 7 lakh jobs that Amazon's investments have enabled over the last six years in the country.
On his part, commerce minister Goyal displayed familiar symptoms of the morning-after wisdom on Friday and suggested his comments were misconstrued as negative towards Amazon and his comments should be "seen in perspective".
Goyal had said on Thursday: "They (Amazon) may have put in a billion dollars but if they make a loss of a billion dollars every year, then jolly well will have to finance that billion-dollar. So, it is not as if they are doing a favour to India when they invest a billion dollars."
It had appeared that Goyal was suggesting that the money was actually a ruse to cover a gaping loss suffered as a result of predatory pricing by Amazon's e-commerce platform. Amazon is among those whose pricing and discounting practices are under the regulatory scanner in India.
On Friday, Goyal said: "We welcome all kinds of investments that follow the letter and spirit of the law. If some investment is outside the legal purview, appropriate action will be taken. Our government wants to ensure that unfair competition is not created for crores of small traders and retailers of the country."
Although Goyal appeared to nuance his statement, compared with that on Thursday, a veiled threat was still left hanging in the air.
Many retail store owners, led by the Confederation of All India Traders, had organised protests in 300 cities against Bezos's India visit citing alleged predatory pricing and deep-discounting.
But in the statement uploaded on the amazon.in website, Bezos said: "We've seen huge contributions from our employees, extraordinary creativity from the small businesses we've partnered with, and great enthusiasm from the customers who shop with us — and we're excited about what lies ahead."
"Amazon's job creation commitment and investment in traders and micro, small and medium enterprises (MSMEs) complement these social inclusion and social mobility efforts by creating more opportunities for people in India to find employment, build skills, and expand entrepreneurship opportunities," the company said.
Its new investments will help hiring talent to fill roles across the company in India, including software development engineering, cloud computing, content creation, and customer support, the statement said.
The investments, Amazon added, will also help in expanding growth opportunities for the more than 5.5 lakh traders and micro, small, and medium-sized businesses — including local shops —through various programmes.