Amitbhai arrives
Glittering show of strength emits multiple signals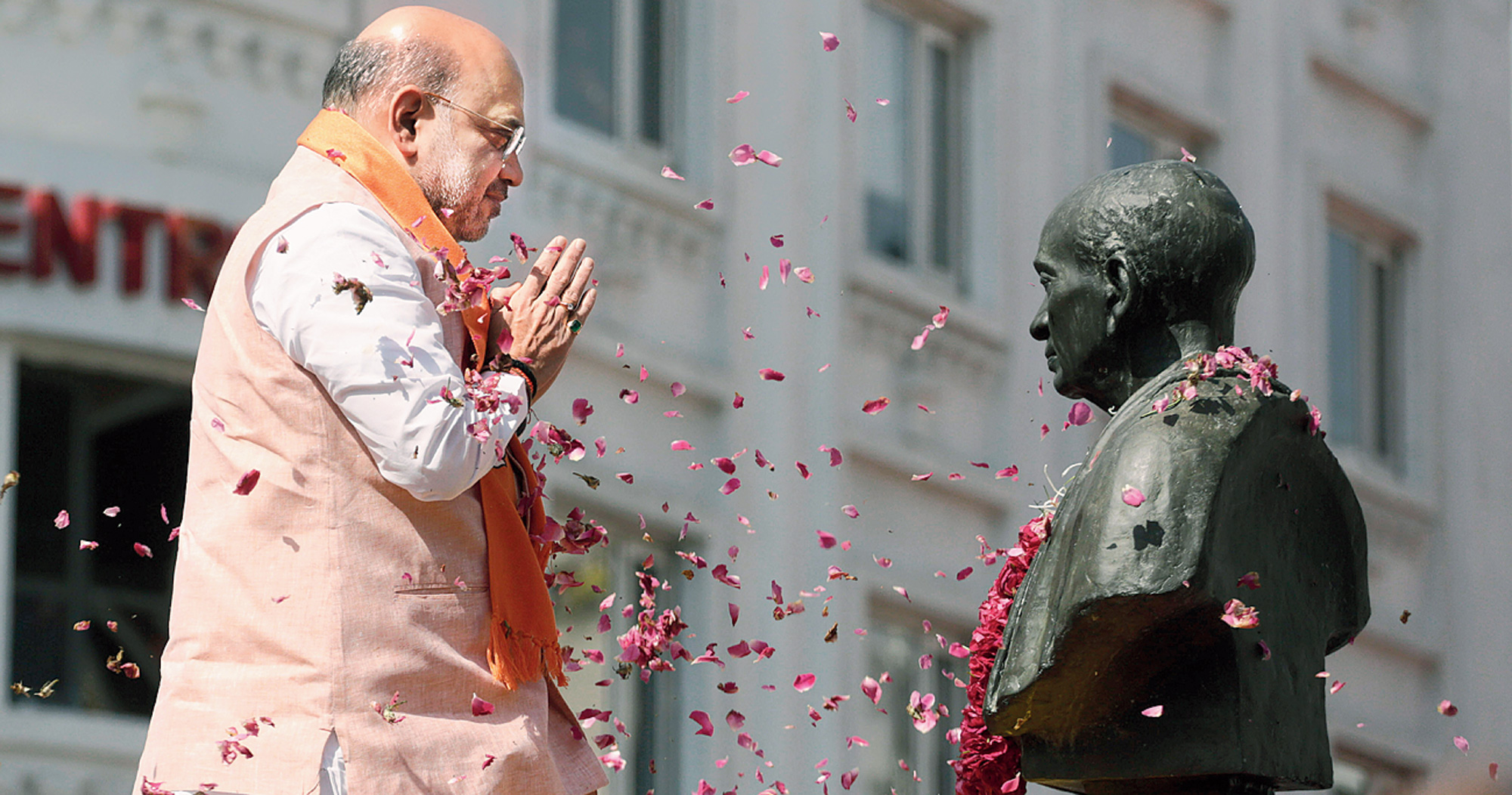 BJP president Amit Shah, considered the second most powerful person in the country after Prime Minister Narendra Modi, pays tribute to Sardar Vallabhbhai Patel, before filing his nomination papers in Ahmedabad on Saturday.
AP
---
New Delhi
|
Published 30.03.19, 07:57 PM
|
---
BJP president Amit Shah gathered senior party and alliance leaders around him in a show of strength before filing his nomination from Gandhinagar on Saturday, appearing to position himself not just as Prime Minister Narendra Modi's second-in-command but also as his successor.
Leaders of allies Shiv Sena, Shiromani Akali Dal and the Lok Janshakti Party and senior BJP ministers such as Rajnath Singh, Arun Jaitley and Nitin Gadkari flanked Shah on the dais as he addressed a rally before holding a road show and filing his papers.
Among the allies were Uddhav Thackeray, Parkash Singh Badal and Ram Vilas Paswan, although Bihar chief minister Nitish Kumar was absent.
Thackeray, the Sena chief, accompanied Shah even to the collector's office where the BJP president filed his nomination, replacing the veteran L.K. Advani as party candidate from the constituency. Advani, 92, was not present.
Shah's glittering support cast far outstripped that of Modi when he filed his nomination from Varanasi in 2014, accompanied by a single member from ally Apna Dal.
"Amitbhai will uphold the legacy of the party's senior leader, L.K. Advani," home minister and the official number two in the Modi government, Rajnath, told the rally.
BJP insiders believe that if Shah — seen as the most powerful leader after the Prime Minister over the past five years — wins from Gandhinagar and Modi returns to power, he might replace Rajnath as the next home minister.
Advani too was home minister in the Atal Bihari Vajpayee government as well as deputy Prime Minister — a designation party leaders in Delhi are not ruling out for Shah if the BJP wins the election.
That Shah, a Rajya Sabha member from Gujarat, should contest the Lok Sabha polls is being seen as the sign of a succession plan.
The BJP had recently decided to replace Advani, who had represented Gandhinagar for an uninterrupted five terms since 1998 and once before in 1991. Several other seniors too have been denied party nominations.
Shah told the rally that he felt "blessed" to contest a seat represented by Vajpayee (briefly in 1996) and Advani. He recalled his journey from a booth-level worker in Gandhinagar to party president and now a candidate from the seat, saying such a rise could happen only in the BJP.
Expectedly, he showered praise on Modi and reiterated the national security plank.
People from Himachal Pradesh to Kanyakumari and from Kamrup to Gandhinagar chant "Modi, Modi" when asked who should lead the country, Shah claimed.
"Only Prime Minister Narendra Modi, the BJP and the NDA government can provide security to the country."
Thackeray, whose party spent most of the last five years baiting and blasting the BJP, said the allies had sat together and resolved all their disagreements.
"Hindutva is our breath. How will we live without Hindutva?" he said, stressing that the alliance with the BJP was built on firm ideological ground.