Union home minister Amit Shah on Saturday evening tried to reach out to the agitating farmers, saying the government was ready to hold early talks on all their demands before the scheduled date of December 3.
But for that the farmers would have to move from the highways at Delhi's borders to the Nirankari Samagam Ground in Burari, designated for them by Delhi police.
"If all the farmers' unions want the government of India to talk soon, before December 3, then I want to assure you all that as soon as you shift your protest to a structured place, then the very next day the government is ready to hold talks over all your concerns and demands," Shah told news agency ANI.
"At many places farmers are staying with their tractors and trollies on highways in this cold. I appeal to them hat Delhi police are ready toshift you to a bigger ground. Please go there," the BJP leader and home minister said.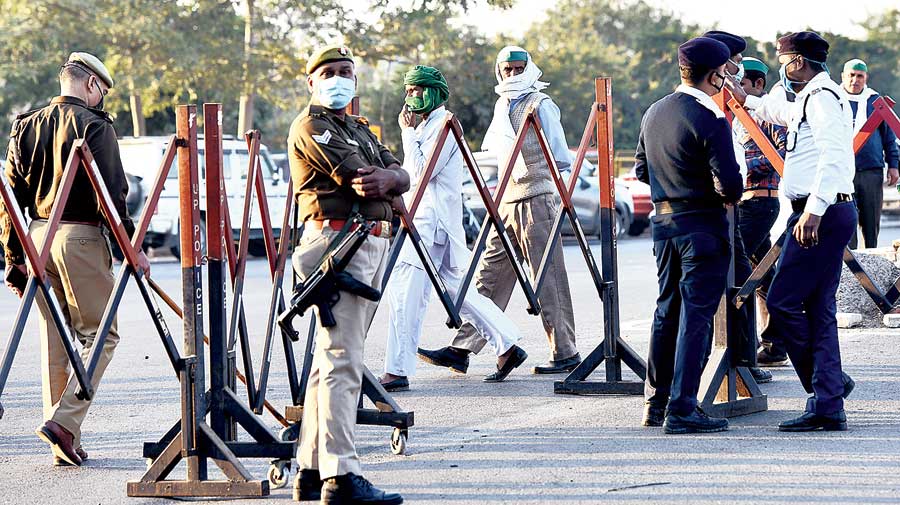 Tight security arrangements at the Ghazipur border. Prem Singh
He assured the farmers that they would be allowed to hold their protest at the designated ground.
Members of the All India Kisan Sangharsh Coordination Committee, one of the main collectives mobilising the farmers, said the various organisations representing farmers and farm workers would meet on Sunday to decide on the course of action.
Despite the apparent defiance, the intensity of the farmers' agitation has caused concern in the government and underlined the need for handling the situation with care. Shah's appeal seemed to bare the worry as he tried to defuse the situation by offering early talks.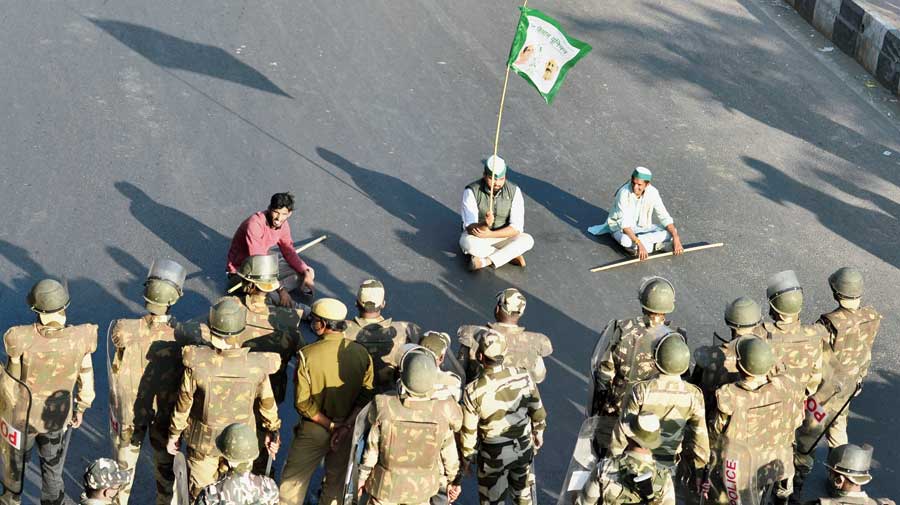 Bharatiya Kisan Union members sit on a road as protesters try to cross a police barricade at the Ghazipur border. PTI
The government had initially sought to dismiss the agitation, feeling that it would remain confined to Congress-ruled Punjab and eventually fizzle out.
However, farmers from BJP-ruled Haryana joined the marchers. On Saturday afternoon, farmers from BJP-ruled Uttar Pradesh also joined the protest.
Yogendra Yadav of Swaraj Abhiyan said the farmers' resolve had forced the government to climb down. He criticised Haryana chief minister M.L. Khattar for trying to communalise the farmers' agitation by alleging Khalistani links, calling it a sign of desperation.
On how long the protests would continue, Yadav said in a video message: "It is for the government to decide how long. Meet our demands and we will go away, or else we have a lot of patience to continue with our agitation."