Amit Shah is spotted but no word on Delhi riots
The leader was in Odisha to chair a meeting of the Eastern Zonal Council of chief ministers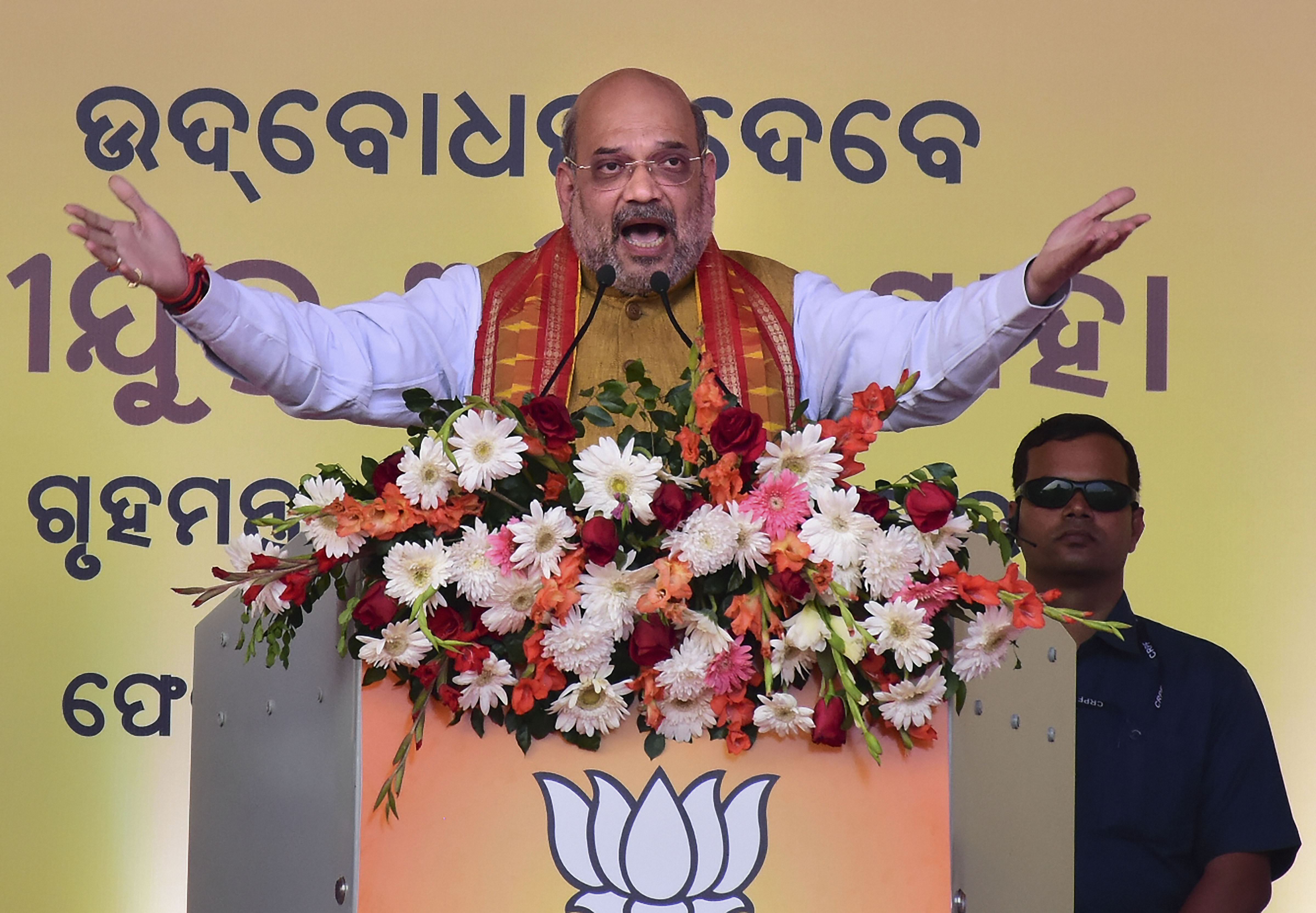 Home Minister Amit Shah addresses a rally in Bhubaneswar on Friday
(PTI)
---
Bhubaneswar
|
Published 28.02.20, 09:45 PM
|
---
The Opposition is lying on the Citizenship Amendment Act: Check
The Opposition is misleading the country: Check
The CAA won't take away anybody's citizenship: Check
The CAA is for giving citizenship: Check
Challenge the Opposition to point out a single clause in the CAA that snatches citizenship: Check
Narendra Modi is fulfilling the promise made by Mahatma Gandhi, Sardar Vallabhbhai Patel, Maulana Abul Kalam Azad and Jawaharlal Nehru on granting citizenship: Check
Delhi riots: SILENCE
Union home minister Amit Shah repeated the claims he has been making since steering the CAA in Parliament, but in his first public appearance since the Delhi riots broke out last Sunday, the BJP leader did not utter a word on the worst sectarian violence in the capital in over three decades.
On Friday, Shah addressed a pro-CAA rally in Bhubaneswar as activists of the Opposition Congress protested and burnt his effigies across Odisha. The leader was in Odisha to chair a meeting of the Eastern Zonal Council of chief ministers.
"The Opposition, including the Congress, Communists, BSP, the SP and Mamata Didi are opposing it. They are opposing, saying that this will take away the citizen rights of minorities. Why are all of you telling such lies? I assure you that not a single Muslim or any other minority in the country will lose their citizenship because of the CAA. The CAA is a law for conferring citizenship rights, not for taking it away," Shah said.
He challenged the Opposition to point out a clause in the CAA that takes away citizenship. Shah, however, did not refer to the demand for the inclusion of Muslims in the CAA.
Shah, who had been critical of chief minister Naveen Patnaik before the Odisha polls, steered clear of such an approach on Friday, rather requesting the BJD leader to "take the spirit of Prime Minister Narendra Modi to every nook and corner of the state". Patnaik's BJD had supported the CAA when it was passed in both Houses of Parliament.
Shah spoke on other pet themes as well — the construction of a Ram temple in Ayodhya and the abolition of the provisions in Article 370 that gave Jammu and Kashmir its special status.
"A trust has been formed for the construction of the Ram temple. I can assure you that a grand and high temple will come up where Lord Ram was born," Shah said.
He repeated his claim that Kashmir had been fully integrated with India and had become "the crown of Mother India: with the repeal of the special status. "On August 5, Modij uprooted and threw it (special status)," Shah said.
The home minister pledged to make India a $5-trillion economy by 2024.
The Congress accused Shah of unleashing violence on the country.
"The man responsible for the communal violence in Gujarat has unleashed violence across the country. The Prime Minister, who is calling for a Gujarat model of development in the country, is trying to creating a Gujarat kind of communal violence," said senior Congress leader Rashmi Mohapatra.