Amit Shah custody judge overlooked
The collegium, headed by Chief Justice of India N.V. Ramana, formally cleared nine chief justices and judges of various high courts for elevation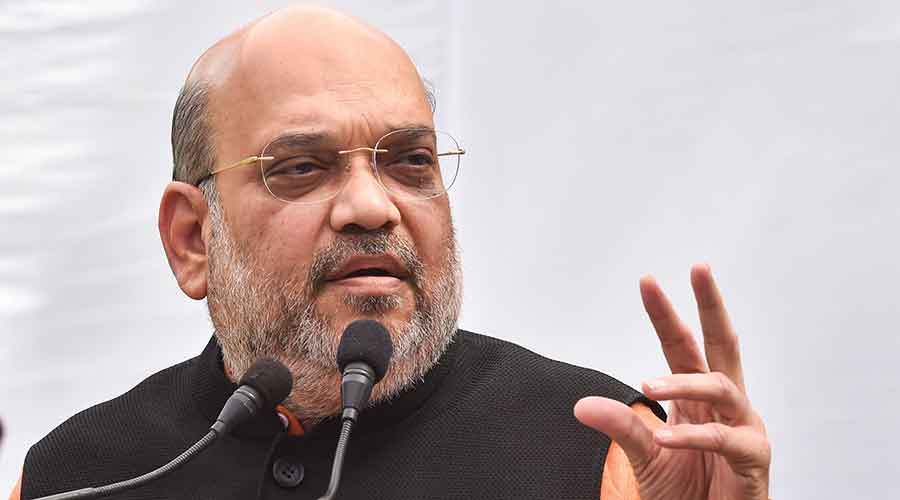 ---
New Delhi
|
Published 19.08.21, 02:26 AM
|
---
Justice Akil Abdulhamid Kureshi, one of the senior-most high court chief justices in the country and who had remanded Amit Shah in CBI custody over a decade ago, does not figure on the list cleared for elevation to the Supreme Court by the collegium on Wednesday.
The Supreme Court collegium, headed by Chief Justice of India N.V. Ramana, formally cleared nine chief justices and judges of various high courts for the elevation.
The list has been cleared less than a week after Justice R.F. Nariman, the third senior-most member of the Supreme Court collegium, retired.
Justice Nariman was learnt to have insisted when he was part of the collegium that a senior judge like Justice Kureshi be elevated to the apex court before the other names were considered. As a result, there appeared to be a stalemate on the elevation of judges to the Supreme Court for several months, sources said.
Justice Nariman retired on August 12. On Tuesday and Wednesday, the five-member Supreme Court deliberated on a set of names and cleared the nine, omitting Justice Kureshi who is due to retire in March next year.
Justice Kureshi had sent Amit Shah, now Union home minister, to CBI custody in 2010 in a case related to the death of gangster Sohrabuddin Sheikh in an encounter that was then alleged to have been staged.
Justice Kureshi, who was then senior judge in Bombay High Court, was named the Tripura High Court chief justice in 2019 after a deadlock between the then collegium and the Narendra Modi government. The collegium had initially chosen Justice Kureshi to preside over Madhya Pradesh High Court, which has 40 judges.
But the Modi government had refused to clear his name. The deadlock was eventually broken when the collegium, headed by then CJI Ranjan Gogoi, decided to shift Justice Kureshi to Tripura High Court, which has four judges.
The present collegium of Justices Ramana, U.U. Lalit, A.M. Khanwilkar, D.Y. Chandrachud and L. Nageswara Rao discussed the names till 8.30pm on Tuesday. An in-principle decision was taken on Tuesday night and the names were formally cleared on Wednesday evening to be sent to the Union government for approval.
Three women are among the nine candidates cleared, among them Justice B.V. Nagarathna, a Karnataka High Court judge who will eventually become Chief Justice of India between September and October 2027 for a brief period of 40 days.
The others cleared for elevation to the Supreme Court are Karnataka High Court Chief Justice A.S. Oka; Gujarat High Court Chief Justice Vikram Nath; Sikkim High Court Chief Justice J.K. Maheshwari; Telangana High Court's Justice Hima Kohli; Kerala High Court judge, Justice C.T. Ravi Kumar; Madras High Court judge, Justice M.M. Sundresh; Gujarat High Court judge, Justice Bela M. Trivedi; and senior advocate P.S. Narasimha.
Most of the elevated chief justices and judges are relatively junior to Justice Kureshi in terms of experience or stints as judges in high courts. There is no hard and fast rule that the senior-most judge or chief justice of a high court should be elevated to the Supreme Court. But as a convention, seniority is accorded high priority.
Repeated efforts by The Telegraph to elicit comment from CJI Ramana on the reasons for excluding Justice Kureshi from the list did not yield results.
A resolution uploaded by the Supreme Court on Wednesday did not refer to the factors taken into account while elevating the nine judges to the apex court.
CJI anguish
At a farewell speech in honour of Justice Navin Sinha who retired on Wednesday, CJI Ramana expressed anguish at reports relating to the collegium surfacing in a section of the media.
The CJI said: "Personally, I'm left feeling quite saddened by his (Justice Sinha's) retirement. We are losing an important voice and a valued colleague. On this occasion, I want to take the liberty to express my concern about certain speculations and reports in the media.
"You are all aware we need to appoint judges to this court. The process is ongoing. Meetings will be held and decisions will be taken. The process of appointment of judges is sacrosanct and has certain dignity attached to it.
"My media friends must understand and recognise the sanctity of this process. As an institution, we hold the freedom of media and the rights of individuals in high esteem. Today's reflections in some sections of the media, pending the process, even before formalising the resolution, are counter-productive."
CJI Ramana added: "There were instances of deserving career progression of bright talent getting marred because of such irresponsible reporting and speculation. This is very unfortunate and I am extremely upset about it.
"I must also place on record the tremendous amount of maturity and responsibility displayed by majority of senior journalists and media houses in showing restraint and not speculating on such a serious matter. Such professional journalists and ethical media are the real strength of the Supreme Court, in particular, and democracy, in general.
"You are part of our system. I expect all the stakeholders to uphold the integrity and dignity of this institution. I am sure Brother Sinha will forgive me for deviating a bit on this solemn occasion. He will understand my anguish. I firmly believe that the nation will continue to draw the benefit of Brother Sinha's rich experience. I look forward to his continued contributions in the legal field."