Amethi: Gandhi name versus 'New India' aspirations
There is a general consensus that Rahul would have been in trouble in Amethi if the mahagathbandhan had fielded a candidate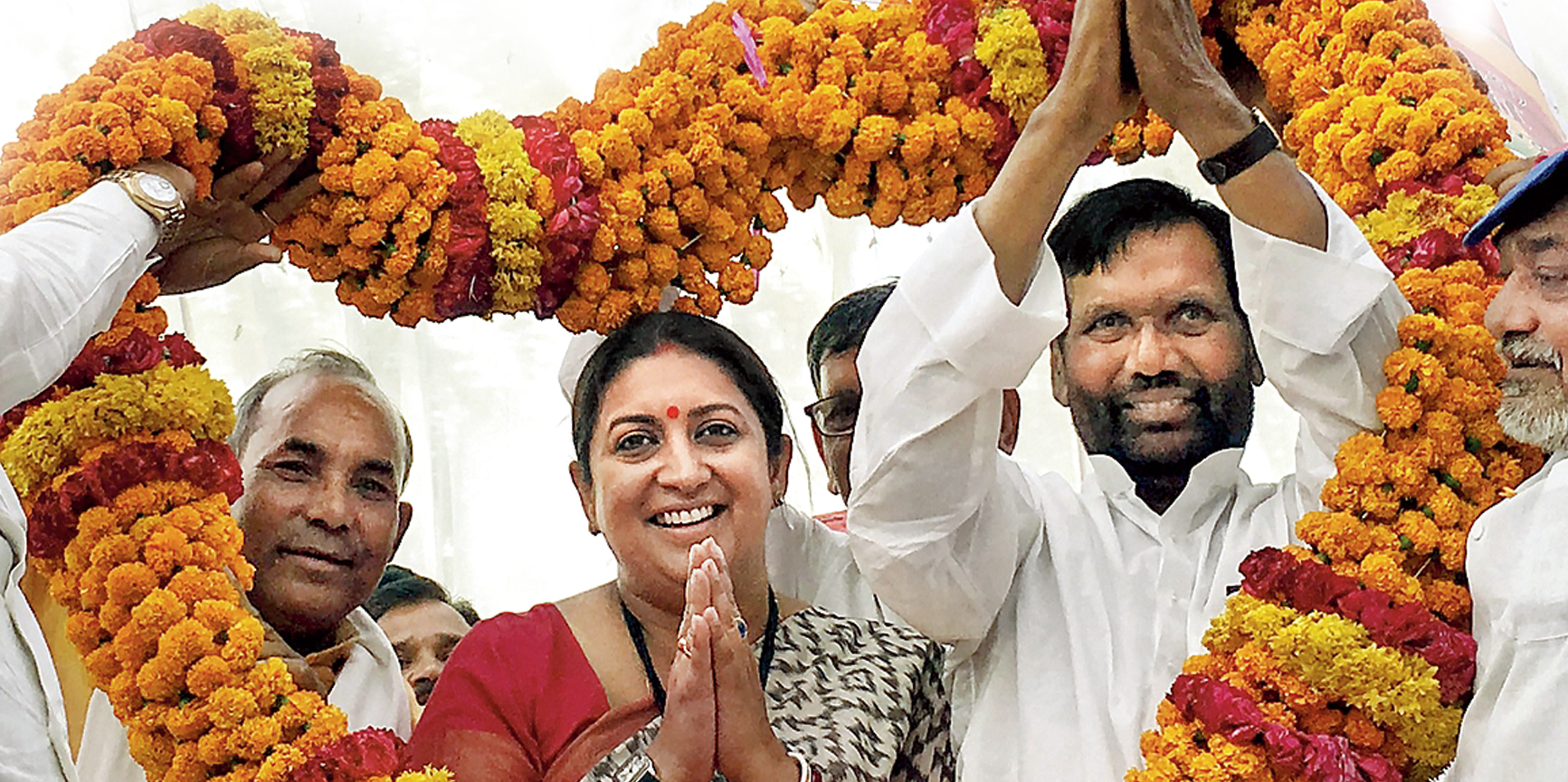 ---
|
Amethi
|
Published 04.05.19, 01:43 AM
---
Time-tested honour of a big-name association versus "New India" aspirations, that in a nutshell is the challenge Congress president Rahul Gandhi is grappling with in the vulnerable citadel of Amethi.
"Does this look like a VVIP constituency?" is a counter question that reporters are hearing often on the campaign trail along the dusty mahua tree-lined roads of Amethi.
There is a general consensus that Rahul would have been in serious trouble in this family pocket borough if the mahagathbandhan had fielded a candidate; particularly given the effort BJP candidate and Union minister Smriti Irani has been putting in — not just now, but intermittently over the past five years. Since last Sunday, the talk of the town has been the way she pumped water from a tube well to help douse a fire in a field.
At the same time, there is also general agreement that the connect of the constituency with the Gandhi family is such that even those disappointed with the not-so-attentive ways of the Congress president end up voting for him.
"People are angry with Rahul Gandhi but then they feel that whatever they have today is because of Rajiv Gandhi, so they eventually vote for the Congress. But this connection is wearing thin with the younger generation," Pradeep Yadav, the Samajwadi Party's youth wing district president, told The Telegraph on a day Congress in-charge of eastern Uttar Pradesh, Priyanka Gandhi Vadra, campaigned in the constituency from a platform provided by the SP's Karyakarta Sammelan in Unchahar.
What has upset people considerably is that even after the tough fight of 2014, Rahul did not mend his ways and pay more attention to the constituency.
"He hardly came here in the past five years," is another chorus. "Aur jab aate hain, tata karke chale jaate hain (And when he comes, he just waves and goes)," said a paanwala in Bhetua block, raking up the Amethi bypass. "Have you seen it? It has caved in. Nobody uses it," the paanwala said.
Elsewhere, people complained about the 27-km Durgapur-Amethi road; also in a similar state. What jars is that more recent dynasties like the Yadavs have spruced up their family fiefdoms with well-laid-out roads.
While the arithmetic will in all likelihood work in Rahul's favour, there can be no denying the churn within Amethi. This can be found as much in the Jagdishpur factory area which he frequents as in places such as Vikas Khand nearer to Sultanpur where the sense of disenchantment is greater because it has not received even little of "whatever little attention" he gives to Amethi.
Bring up elections at any corner of Amethi and there is invariably an argument over the step-motherly treatment of the BJP government at the Centre and in the state. "Who shifted the Amethi campus of IIIT to Allahabad? It was the Modi government. This is what Smriti Irani did for Amethi," said a shopkeeper at Ambedkar Tiraha near the railway station. "As long as it was there, we were able to sell some high-end things here."
He and some other youngsters hanging around his shop on Wednesday evening after Priyanka's roadshow passed the area said their target this time round is to ensure that Rahul wins with a bigger margin to avenge the loss of votes in 2014 when his victory margin was just over a lakh.
Local Congressmen insist that the win this time would be bigger as 2014 was a wave election for Narendra Modi and AAP chipped away at Rahul's earlier margin by fielding Kumar Vishwas. Though the entire mahagathbandhan vote is not expected to transfer to the Congress this time, its absence from the fray will help.
The Congress also insists that the party will not suffer because of Rahul's decision to contest simultaneously from Wayanad in Kerala. "Once he wins both seats, he can leave this for Priyankaji," they say while those upset with him insist that it is better to send the family packing from here in one go instead of wasting resources on another election.
"If he had faith in our support, would he have run away like this?" quizzed a farmer from the Jagdishpur area, adding that Amethi had given Rahul three chances. "We have always voted for the Congress because this area is on the world map because of that family. Everyone knows where Amethi is but he is still reaping the benefits of his father. In Rae Bareli, Soniaji is not facing the same situation. She will win comfortably because she has done work there. He talks of unemployment but has he done anything to reopen the factories here?"
As in Amethi, in Rae Bareli — 65km away — too there is no mahagathbandhan candidate. The BJP has fielded a Congress import — MLC Dinesh Pratap Singh — as part of a concerted effort in both constituencies to chip away at the Congress party's political structure in the area associated with the family for decades.
"I may be a small leader compared to Soniaji but she is smaller in front of Modiji. She has not done more work than Prime Minister Modi," Singh said at his campaign office which also bears the picture of Union minister Anupriya Patel in view of the Kurmi population in the area.
According to Abhishek Chandra Kaushal of the BJP OBC Morcha, the party had anticipated early in the day that the mahagathbandhan would not field candidates in these two constituencies. "So we have been reaching out to non-Yadav OBCs and non-Jatav Dalits for several months."
With both Sonia and Priyanka in the area for a last-minute charm offensive just before campaigning winded down, the BJP was pinning its hopes on Amethi to take the steam out of the Congress's comeback attempt.
However, Irani also has some baggage as she is being asked why the BJP has not delivered on the promise of getting 36 villages of Vikas Khand Bhadar transferred to Sultanpur to cut short the distance to the district headquarters compared to Amethi's Gauriganj that is 50km away. After all, the BJP now rules both the Centre and the state.
Amethi, Rae Bareli vote on May 6