Almost blind activist Gautam Navlakha 'denied glasses' in jail
Spectacles stolen on November 27, yet, he was not permitted to call his home for a replacement until three days later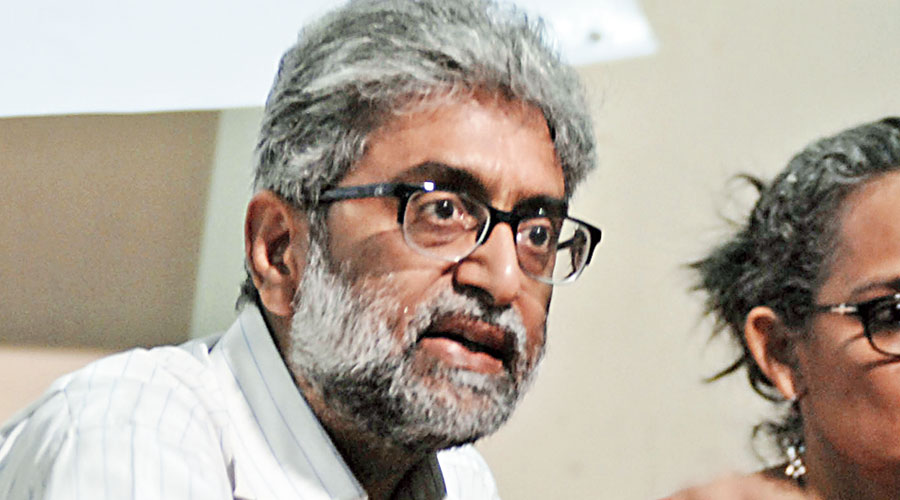 Gautam Navlakha
File picture
---
New Delhi
|
Published 08.12.20, 05:04 AM
|
---
Jail authorities have prevented an "almost blind" Gautam Navlakha from accessing glasses sent by his family after his specs got inexplicably "stolen" inside the highsecurity
Taloja Central Prison, the rights activist's lawyers and partner have said.
The episode carries echoes of the way the Navi Mumbai prison had earlier forced Father Stan Swamy, an 83 year old Parkinson's Disease patient, to languish for weeks without his straw and sipper despite his inability to drink liquids unassisted without the device.
"Gautam Navlakha, nearly 70, patient of several ailments, had his spectacles stolen on November 27. It was an emergency, for he is close to blind without his glasses. Yet, he was not permitted to call his home for a replacement until three days later, but even that call proved futile," Navlakha's lawyers said in a statement on Monday night.
"His partner Sahba Husain had a new pair made and sent it to Taloja jail. The jail authorities were informed that Gautam was almost blind without the spectacles and that they would be arriving any day and to ensure that the parcel is accepted and not returned. In spite of this the jail refused to accept the parcel when it arrived by post."
Navlakha and Swamy, a Jesuit and tribal rights activist, are accused of links with the banned CPI Maoist and have been arrested with 14 other activists, lawyers and writers in connection with the Elgaar Parishad Bhima Koregaon case.
Sahba Husain told The Telegraph: "Whom do I turn to? Isn't the state government responsible for the jails? They seem to be oblivious of the condition of their jail where Gautam and others have been thrown to perish. It took me oneandahalf months to send him underclothes and slippers, which they kept returning. He uses highpower glasses and is blind without them."
She added: "I had them made and sent on December 3, and today I saw from the speed post website that they had been returned on December 5. Had they (jail authorities) at least opened the package they would have seen the prescription and the note from the optometrist.
"The chargesheet has been filed, the trial has not begun, I can't even meet him in jail, nor can he call regularly because the authorities say this is for Covid. The process itself is the punishment."
Navlakha wears dark glasses with power during the day, and used the stolen specs at night. He is the oldest in his barrack of 21 inmates. He has been given no explanation how the glasses could be stolen inside a highsecurity ward.
Swamy had initially claimed the National Investigation Agency had seized his bag, containing his sipper and straw, when he was lodged at Taloja jail on October 9, a day after his arrest in Ranchi. The agency denied the charge, and Swamy filed a fresh plea to direct the jail to give it back to him.
His lawyer told the court last week that he had been given a sipper, after almost a month's legal proceedings, along with warm clothes that he had sought.
Fellow accused and Telugu litterateur Varavara Rao, 80, had to petition Bombay High Court to be moved to a private hospital after he caught a urinary tract infection in the jail hospital that had failed to change his urinary catheter for three months.
In a media release in October, the NIA had claimed that Navlakha who turns 69 this month  was a Maoist operative tasked to "unite intellectuals against the government" who also recruited cadres and had links with Pakistan's ISI.