Doctors and rights advocates applaud ruling
All women are entitled to safe, legal abortions: Supreme Court
SC says meaning of 'rape' must be understood as including marital rape, solely for the purposes of the MTP Act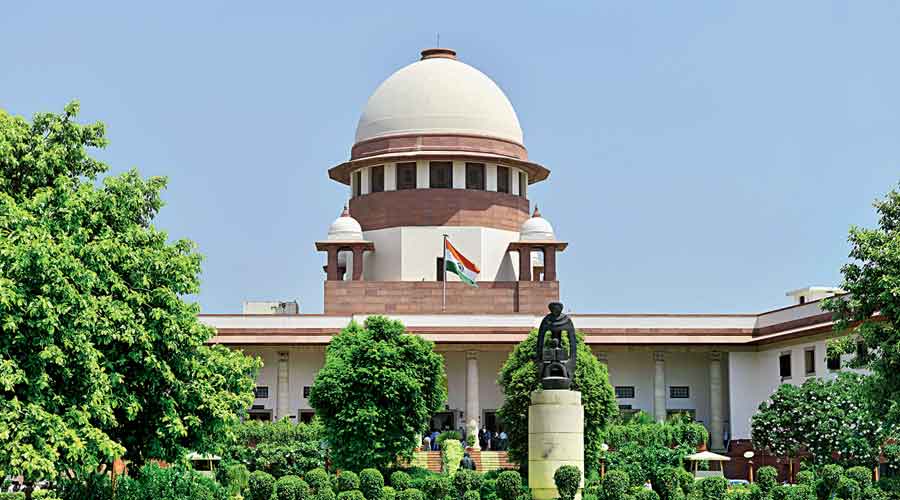 Supreme Court of India
File Photo
---
New Delhi
|
Published 30.09.22, 01:40 AM
|
---
The Supreme Court on Thursday declared that all women, married and unmarried, are entitled to safe and legal abortions till 24 weeks of gestation under India's Medical Termination of Pregnancy Amendment Act, 2021.
The apex court also held that the meanings of the expressions "sexual assault" and "rape" under the rules of the 2021 act included a husband's act of sexual assault or rape on his wife.
The court said the meaning of "rape" must be understood as including marital rape, solely for the purposes of the MTP Act. A different bench is hearing an independent challenge to an "exception" in the Indian Penal Code that does not define forcible sex by a man on his wife as rape.
The bench of Justices D.Y. Chandrachud, J.B. Pardiwala and A.S. Bopanna said the rights of reproductive autonomy, dignity and privacy give an unmarried woman the right of choice whether or not to bear a child on a similar footing as a married woman.
Doctors and women's rights advocates applauded the judgment. Some said it could help make the country's abortion regime "more liberal and pro-women"; others cautioned that safe abortion facilities remained inaccessible to large proportions of women in India.
Whether married or unmarried, women could under the MTP Act of 1971 seek abortion up to 20 weeks of gestation. The MTP Amendment Act, 2021, extended the right to 24 weeks for certain categories of women in certain circumstances, listed in Rule 3(B).
The apex court said that if the rules under the MTP Amendment Act, 2021, were to be interpreted such that their benefits extended only to married women, it would perpetuate the stereotype that only married women are sexually active.
"This artificial distinction between married and unmarried woman is not constitutionally sustainable. The benefits in law extend equally to both single and married women," the court observed, responding to a petition centred on the amended act's rules.
A 25-year-old woman seeking an abortion within 24 weeks had appealed to the Supreme Court after Delhi High Court rejected her plea, observing that the appellant, being an unmarried woman whose pregnancy arose from a consensual relationship, was not covered under the sub-clauses of 3(B).
The woman told the court that she wished to terminate her pregnancy as "her partner had refused to marry her at the last stage".
The petitioner said she was wary of the social stigma and harassment that unmarried single parents tend to face, and was not mentally prepared to raise and nurture a child as an unmarried mother.
She underwent a safe abortion after the Supreme Court intervened and asked the All India Institute of Medical Sciences, New Delhi, to set up a medical board to determine whether her pregnancy could be terminated without danger to her life.
The 3(B) sub-clauses list (a) survivors of sexual assault, rape or incest, (b) minors, (c) women whose marital status changes during the pregnancy (widowhood or divorce), (d) women with physical disabilities, (e) mentally ill women, (f) women with foetal malformations incompatible with life or leading to physical or mental abnormalities.
The three-judge bench observed that Rule 3(B) merely specifies some of the potential changes to a woman's material circumstances and does not enumerate all potential changes that could influence her decision to have or not to have an abortion.
"It seems to us that to give Rule 3(B) a restrictive and narrow interpretation would render it perilously close to holding it unconstitutional, for it would deprive unmarried women of the right to access safe and legal abortions between 20 and 24 weeks if they face a change in their material circumstances, similar to married women," it said.
Marital rape
The meaning of "rape" must be understood as including marital rape, solely for the purposes of the MTP Act, the apex court said on Thursday.
"Any other interpretation would have the effect of compelling a woman to give birth and raise a child with a partner who inflicts mental and physical harm upon her," it observed.
 "We would be remiss in not recognising that intimate partner violence is a reality and can take the form of rape. The misconception that strangers are exclusively or almost exclusively responsible for sex and gender-based violence is a deeply regrettable one. Sex and gender-based violence (in all its forms) within the context of the family has long formed a part of the lived experiences of scores of women," the apex court said.
Senior lawyer Shilpi Jain told PTI: "It (Thursday's judgment) is an extremely progressive judgment like that of never before, but the observation on marital rape does not make it an offence. The observation is only in the circumstances wherein a woman can get pregnant and one of those circumstances being when a man has intercourse with a woman in marriage... nowhere making marital rape an offence. Marital rape will only become an offence when it is added to IPC."
Ranjana Kumari, social activist and director of the Centre for Social Research, said: "Now the SC (Supreme Court) has recognised it (marital rape), so Parliament should also move (to create a) legal framework."
The Supreme Court also said that women other than cisgender women, too, may need access to safe abortions.
Cisgender people are those whose sense of personal identity and gender are the same as their birth sex.
"Before we embark upon a discussion on the law and its application, it must be mentioned that we use the term 'woman' in this judgment as including persons other than cisgender women who may require access to safe medical termination of their pregnancies," Justice Chandrachud, who authored the 75-page verdict, said.
Ruling welcomed
Members of the Federation of the Obstetrics and Gynaecological Societies of India (FOGSI), a body of doctors, welcomed the judgment. "We now have a clear interpretation of Rule 3(B), which is good," said Hrishikesh Pai, president-elect of FOGSI.
The non-government Population Foundation of India described the judgment as "historic", saying it had addressed "an important issue" where unnecessary categorisation could deprive certain women of their right to abort pregnancies.
"We need to ensure that our laws don't reflect any moral judgment on women who choose to abort," Poonam Muttreja, the Foundation's executive director, said in a statement.
The MTP Amendment Act, 2021, still falls short of being a rights-based legislation, the Foundation added.
"We have been unable to prevent unsafe abortions and uphold the rights of those who need abortions," it said. "We hope this judgment could be a step towards making our abortion regime more liberal and pro-women."
Richa Sharma, professor of gynaecology at the University College of Medical Sciences, New Delhi, and chairperson of FOGSI's MTP committee, said most women tend to seek abortions within 20 weeks. "This judgment has provided clarity for MTP after 20 weeks."
The Foundation also cautioned that abortions remain inaccessible to a large proportion of the population.
"The majority of abortions are performed in the private sector," said Muttreja. "This results in high costs, making the service inaccessible to marginalised communities…. And as a result of regressive social mindsets, some doctors deny abortion to legally eligible women."
(Additional reporting by PTI)