Odisha: All eyes on Naveen Patnaik over Rajya Sabha election
According to the notification, polls to three seats to be held on June 10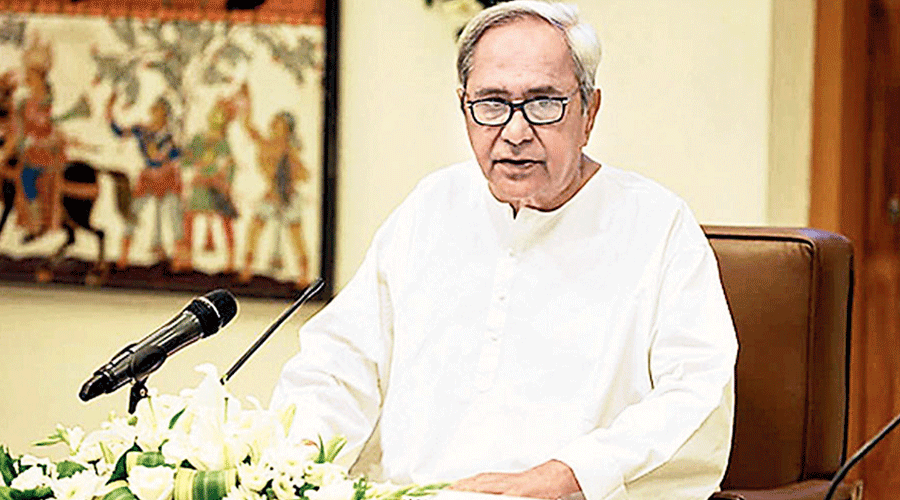 Naveen Patnaik.
File photo
---
Bhubaneswar
|
Published 25.05.22, 01:28 AM
|
---
All eyes are on the Biju Janata Dal president and Odisha chief minister Naveen Patnaik as the election process for the Rajya Sabha seats began on Tuesday with the secretariat of Odisha Legislative Assembly issuing notification for the filing of nomination papers for three Rajya Sabha seats.
In fact, elections will be held for four Rajya Sabha seats from Odisha in two phases — one for three seats and another for one seat if at all the election is required for this lone seat. The BJD has the required strength in the Odisha Assembly to win all four seats. Odisha has 10 seats in the Upper House of Parliament.
According to the notification, the election will be held for three seats on June 10 as the tenure of Prasanna Acharya, N. Bhaskar Rao and Dr Sasmit Patra comes to an end on July 1. The filing of the nomination paper began on Tuesday and the process would continue till May 31.
Another Rajya Sabha seat was vacated on April 21 as  BJD leader Subhas Singh resigned from the seat and contested for the Cuttack mayor seat. After he took over as mayor of Cuttack, an election was necessitated for his Rajya Sabha seat. Election for the seat will be held on June 13.
Acharya and Rao are the party's stalwarts and command influence in western Odisha and southern Odisha respectively. Similarly, Sasmit Patra has earned the goodwill of the chief minister for his oratorical skill and for effectively presenting Odisha's cause in the Upper House.
It's to be seen whether Naveen would send all those leaders whose tenure is coming to an end or pick up new faces. There are many claimants for the post including former Mumbai Commission of Police, Arup Patnaik. He was roped in by Naveen and pitted against BJP's Aparajita Sarangi from the Bhubaneswar Lok Sabha seat in the 2019 general election. But he lost the election. Besides, Naveen had promised to send Prasanna Patsani to the Upper House as he vacated his Bhubaneswar Lok Sabha seat for Arup Patnaik to contest.
There has also been talk that Naveen may only send women to the Upper House. "It won't be a surprise if Naveen sends women candidates to the Upper House," said BJD vice president Usha Devi, adding that the party had given tickets to several women candidates in the rural and urban polls. Many women candidates including chairperson Mo School (My School) Susmita Bagchi (wife of Subroto Bagchi, chairman, Odisha Skill Development Authority and co-founder of Mindtree), and chairperson Odisha Tourism Development Corporation Shreemayee Mishra are also in contention for a Rajya Sabha berth.
"However, considering the style of functioning of Naveen Patnaik, it would be difficult to guess anything. Naveen keeps his card close to his chest and opens them at the last moment. No one would ever get a hint of what he is planning," said a senior BJD leader.
He pointed out that no one had thought that Naveen would back BJP's candidate Ashwini Vaishnaw and send him to the Rajya Sabha last time. "It's difficult to read his mind," said the leader, adding that last time he also sent a Muslim leader to the Upper House.
Party leaders feel Naveen has to take a lot of things into consideration before nominating anyone for the post. All need to wait patiently till he decides. Its to be seen whether Naveen would send leaders from his party to the Rajya Sabha or pick up candidates from outside the political circle who support various government programmes, including the Shree Mandir Heritage Corridor programme that aims at beautification of the Jagannath temple in Puri.