Ajay Maken seeks to give up charge of Rajasthan
Some loyalists of the chief minister had accused Maken of conspiring to replace Gehlot with Sachin Pilot instead of acting as an independent arbitrator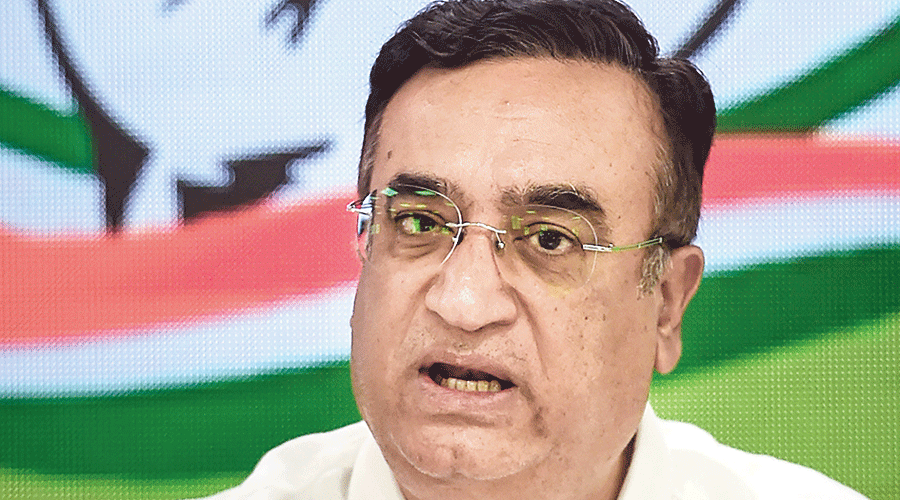 ---
New Delhi
|
Published 17.11.22, 03:40 AM
|
---
Ajay Maken has offered to quit as Congress general secretary in charge of Rajasthan, sensing that his continuance becomes untenable given the central leadership's reluctance to act against loyalists of chief minister Ashok Gehlot. 
Maken had recommended disciplinary action against three senior leaders known to be close to Gehlot for defying the high command in September when over 90 MLAs refused to attend a Congress Legislature Party meeting in Jaipur.
Showcause notices were issued to Shanti Dhariwal, Mahesh Joshi and Dharmendra Rathore but no action followed.
Some loyalists of the chief minister had accused Maken of conspiring to replace Gehlot with Sachin Pilot instead of acting as an independent arbitrator, and inaction would mean loss of face for the general secretary in charge.
Mallikarjun Kharge, who was witness to the ugly drama as central observer with Maken, has to judge the issue as party president now. Maken has requested Kharge to assign Rajasthan to someone else without delay as the Bharat Jodo Yatra will enter the state in the first week of December and the planning could get affected by the stalemate.
Maken does not want to work with leaders against whom he recommended action, and the three are involved in the coordination of the Yatra. The issue is bigger than the resignation of the general secretary as it is directly linked to the lingering question of change of leadership in Rajasthan.
Pilot had expected to become chief minister once Gehlot moved to Delhi as party president, but this so-called rebellion altered the plot. Gehlot, who had publicly said he was contesting the election for Congress president, opted out after the unseemly defiance by his MLAs and Kharge stepped in. The fault lines in the party were exposed with it clear that Gehlot wasn't ready to accept Pilot as his successor.
While Gehlot is now firmly entrenched in his chair in Jaipur, with the additional charge of the Assembly election in Gujarat, Pilot has not given up and has publicly demanded action against those who plotted the defiant act in September.
The Gehlot camp is not rattled either because they portray the open rebellion led by Pilot in 2020 as a BJP-backed operation. These complexities made a resolution difficult under the previous president, Sonia Gandhi, and Kharge too won't find it easy to move forward. Sources said Kharge isn't willing to disturb Gehlot at this critical juncture as Rajasthan will face Assembly elections next year.
He could go by the majority decision instead of giving in to pressure from Pilot since he never made any commitment to him that has to be fulfilled.