Don't think help will reach Agra, rues doctor
Agra Covid patients denied oxygen, ambulances, pyres and dignity
On Saturday, as many as 10 hospitals were forced to discharge all their patients — about 1,000 in all — because of the oxygen supply shortage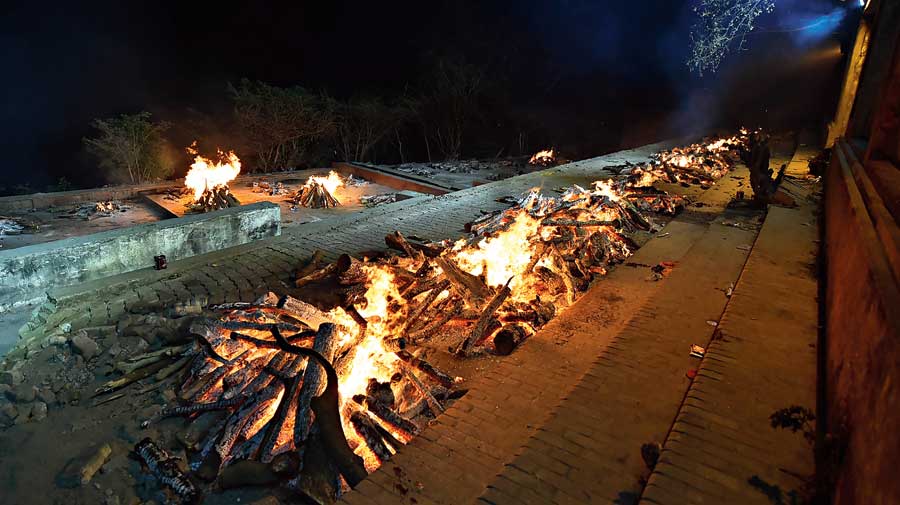 ---
Lucknow
|
Published 26.04.21, 01:40 AM
|
---
Denied an incinerator or pyre for hours in Agra, a dead Covid patient's relatives drove him 90km to Aligarh to cremate him on Saturday evening.
Another Covid victim's son tied him to the top of his car and drove to a crematorium in Agra after failing to find an ambulance on Saturday evening for the dead man's last journey.
In the city of the Taj Mahal that remains the face of India to many across the world, the Covid surge and a collapsing infrastructure is denying the dead not just oxygen, pyres and ambulances but also dignity.
On Saturday, 10 hospitals in Agra were forced to discharge all their Covid patients — about 1,000 in all — because of the lack of oxygen, Dr O.P. Yadav, district president of the Indian Medical Association, said.
It's not clear yet how many of these patients were critical or may have died after discharge.
Prempal Singh, a train driver who had tested positive on Thursday, died in an Agra hospital on Saturday.
"We kept shuttling between the two crematories in Agra city but didn't get any space," his son Krishna Kumar Lodhi, a resident of Agra's Awadhpuri Colony, said.
"At 3pm, an employee at one of the crematories told us to leave the body, saying space would become available after nine hours. We contacted our relatives in Aligarh and they arranged a pyre at the Numaish Ground crematorium. We performed the last rites in Aligarh late in the night."
Mohit Kumar had secured a slot at Agra's Tajganj crematorium for his father Awadhesh Kumar but could not find an ambulance. Eventually, he tied his father to the roof of his sedan.
"Despite running four incinerators for 20 hours a day, we are unable to cremate all the bodies," Sanjeev Kumar Gupta, the official in charge of the Tajganj crematorium, said.
"We have stopped counting the bodies. Most of them are dead corona(virus) patients."
Jaswant Kumar, a worker at Agra's second crematory — the traditional cremation ground of Kailash Mokshdham — said: "We used to cremate three or four bodies a day; now we burn two or three every hour. Arranging firewood is a challenge."
Oxygen crisis
Dr Yadav, the IMA official, said: "The state government has earmarked 34 centres as Covid hospitals in Agra. There were 3,340 patients in these hospitals on Saturday when all of them ran out of oxygen."
He said most of the hospitals somehow managed to arrange a few cylinders through their own efforts, but 10 could not and had to discharge all their Covid patients. By and large, only those Covid patients who need oxygen support are now admitted to hospital.
Dr Surendra Singh of Yashwant Hospital told reporters: "We were promised 50 oxygen cylinders a week but the government gave us only 5 cylinders over the last 10 days. We discharged our (Covid) patients when we had no option left."
A doctor in Agra said on the condition of anonymity: "The government's focus is on Lucknow because of media pressure. We don't think help will reach Agra all the way from the state capital, 333km away."