Aged couple allege diktat by landlord after poll results
Near Calcutta, kicked out over 'faith'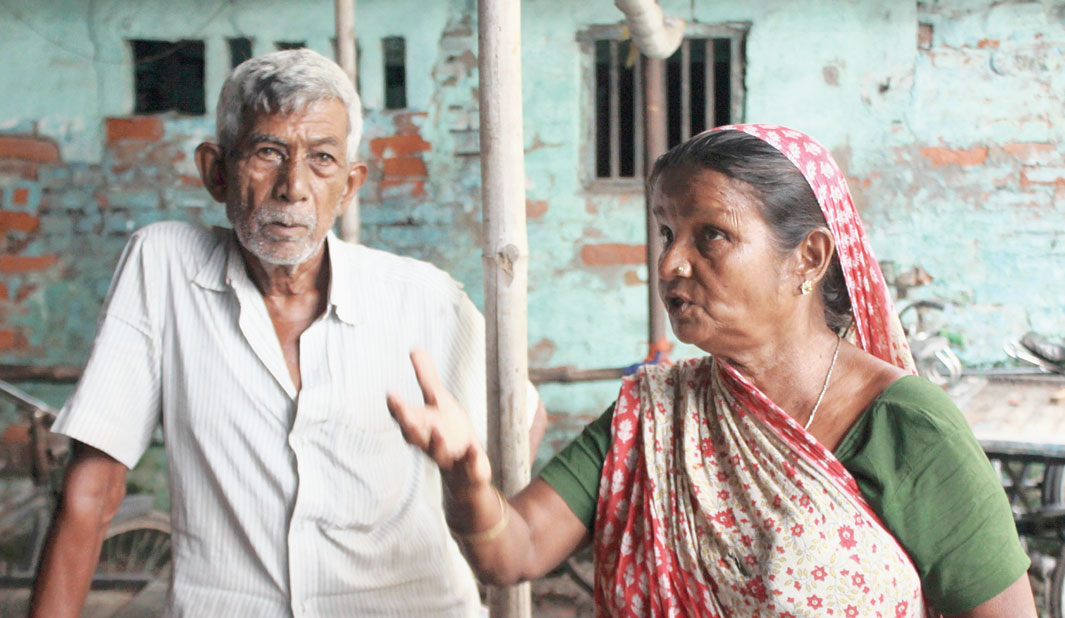 ---
---
An aged couple, rescued by police from a railway station in Barrackpore near Calcutta during the downpour on Friday, have narrated an 82-day ordeal that allegedly traces its roots to fault lines that have made their presence felt in Bengal in the recent past.
Aziz Mia, 85, and his wife Hasina Bano, 60, said they were thrown out by their landlord because of their religion three days after the Lok Sabha election results were declared.
The platform had been the couple's shelter for 82 days from May 26 till Friday night, when they were found drenched and shivering in the torrential rain.
Describing landlord Kundan Shaw with great affection, Mia said: "We have seen him grow up before our very eyes. We always treated him like our own nephew…. He did this to us. It is still difficult to believe. He said he did it only because we are Muslim."
Mia, a rickshaw puller, and Bano said they had been living in their rented residence of over four decades in the Mominpur-Moti Bhavan area of Jagatdal in North 24-Parganas.
The belt holds enormous political significance in a Bengal that dramatically changed its colours at the hustings in the 2019 general election. The area forms part of the Barrackpore Lok Sabha constituency where the BJP, rejuvenated by Arjun Singh who crossed over from Trinamul and won the election, is locked in a turf war with the ruling party in several pockets.
"Hum toh bhoolhi gaye they ke hum Musalman hain…. Itney dino baad achanak yaad dila diya, ke haan, hum toh Musalman hain (We had forgotten that we are Muslim…. Suddenly, after so long, we were reminded that yes, we are Muslim after all)," Bano said.
Mia alleged that Shaw — whose deceased father was their original landlord till 2014 — beat them up and kicked them out of the one-room accommodation on May 26, letting them take nothing from their possessions.
"He threatened us with murder. He said now that things have changed in the area, after the results, we would be killed if we did not leave…. We fled," Mia said.
Landlord Shaw, who greeted this correspondent repeatedly with "Jai Shri Ram" over the phone on Saturday evening, said he was under pressure from others to ask them to leave. He said the couple left on their own, accused them of maligning him and vowed to fight any legal battle.
"Some people, I don't know who they are, came to me after the election results and said things will change now and, as a Hindu landlord, I should not allow Muslim tenants to stay here. I would be in trouble if I did, they said. So I asked the couple directly what should be done. They left on their own, without any violence or pressure. They left out of fear. They are simply trying to malign me now," said Shaw.
"But I am glad they went. They could barely pay up the Rs 200 rent for the place. They consumed beef there, on my premises. They used to boast of support for Muslims by the ruling party," Shaw told The Telegraph.
In the Barrackpore Lok Sabha seat, Jagatdal and numerous other pockets like Bhatpara, Kankinara, Noapara, Amdanga and Titagarh have been on the boil since the election results were declared.
Despite repeated visits by chief minister Mamata Banerjee and several senior cabinet colleagues — besides extensive intervention by the civil and police administration — violence has claimed at least seven lives since the results. The pockets keep erupting.
Mia and Bano appear to have been sucked into this cauldron. The couple have two adult sons, who fled with their wives and children to Siwan, their native place in Bihar, from a nearby place in Jagatdal when trouble broke out after the results.
On Friday night, some members of the Association for Protection of Democratic Rights (APDR) discovered the couple lying in a corner of the platform, drenched in torrential rain and shivering.
The APDR members alerted Barrackpore police commissioner Manoj Verma and sought his intervention. Verma activated the rescue.
On Saturday, Mia, who came to Bengal in 1950, moved a petition before the additional chief judicial magistrate of Barrackpore against the landlord, accusing him of criminal intimidation, extortion, causing grievous injuries and trespassing. The petition has been forwarded to the Jagatdal police station for investigation.
"The couple were evicted and later the landlord constructed a wall there. It has become a legal issue now. The police are not authorised to break the wall. Let us see how the court decides the matter. Meanwhile, we have submitted a report to the administration and also moved court for imposition of Section 144 for that particular building. Moreover, a separate suo motu case has been registered against the landlord," commissioner Verma said.
The commissioner said the couple were among the at least 200 families forcefully evicted from homes and shops in the area since the results. "We have reinstated most of the others. Unfortunately, we could not do much in this case yet…. A favourable order from the court might help," Verma added.
The couple were taken to a police camp and housed in an abandoned godown at Babu Bagan. Local Trinamul leader Somenath Shyam arranged for food and clothing. Shyam has promised them legal support and rehabilitation. But the couple remain unsure.
On Saturday, Mia said: "Where do we go? This is our home…. Siwan is from a long, long time ago. From another lifetime. My wife is from Nadia."