After Mann Ki Baat address, Modi fails youth test
PM's dog address over issues like rising unemployment and exam postponement garners more 'dislikes' than 'like' on YouTube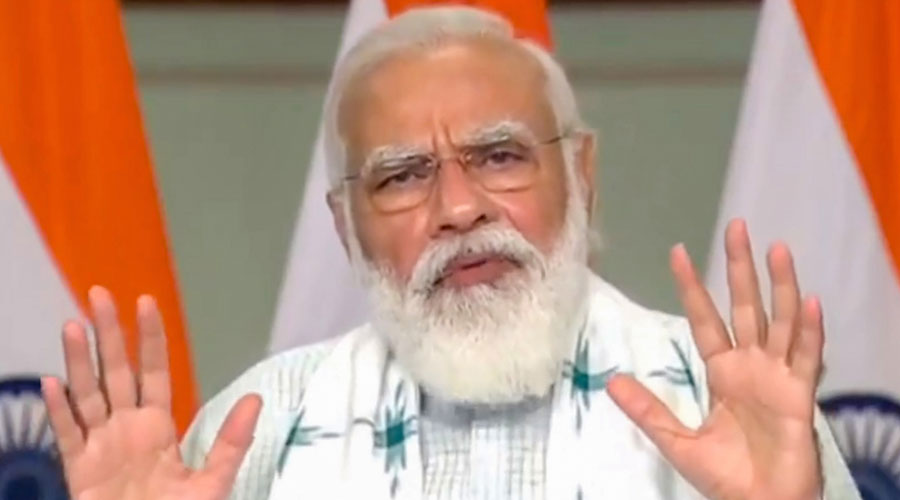 ---
New Delhi
|
Published 01.09.20, 04:16 AM
|
---
A blizzard of "dislikes" continued to dog the BJP's video upload of Narendra Modi's Mann Ki Baat radio address on YouTube, with users tearing into the Prime Minister over burning issues such as rising unemployment and the government's decision to go ahead with competitive exams amid the pandemic.
By 8pm on Monday, over 24 hours after the video had been uploaded on the BJP's YouTube channel, it had garnered 7.07 lakh "dislikes", compared to 1.14 lakh "likes".
Rarely has official social media uploads related to the Prime Minister attracted such a negative response.
On Monday, another dimension was added to the newest form of social media protest when many users alleged that their comments critical of the Prime Minister had been removed and the number of "dislikes" reduced.
On Sunday, Modi spent the better part of his Mann Ki Baat address extolling the virtues of swadeshi dog breeds and urging people to rear them, and also speaking at length on the potential of the Indian toy and online gaming industry.
As soon as the video was uploaded on YouTube, people began venting their anger.
YouTube user Rishu Ranjan Verma wrote: "Discussion on unemployment is the matter of contemplation, when will you do it?"
Prateek Thappa averred: "Let us do kaam ki baat, we need employment." Rahul Soni commented: "Why is the govt not postponing exams?"
Kundan Kumar suggested: "Bahut ho gaya Maan Ki Baat. Aab students ki job ki baat honi chahiye (enough of Mann Ki Baat, let there now be talk on jobs for students.)"
The JEE Main exams are to be held from September 1 to 6. The  NEET is scheduled for September 13. Nearly 8.5 lakh students are slated to take the JEE. Around 16 lakh students are to sit for the NEET.
YouTube user Abdul Qadir said: "They are removing dislikes. This is the real face of our beloved government." Sekar Pandia wrote: "12.59am 1.9 lakh dislikes and 1.08am it came to 1.7 lakh dislikes. How can this happen. Manipulation cannot change the mood of people." Wrote Suprava Dutta: "...How many comments will they delete? I'm against this inhumanity. It's time to show the power of the young generation."
Gouminlal, a research scholar at the Tata Institute of Social Sciences, Mumbai, told The Telegraph: "The unemployment rate was 6.1 in 2018, the highest in the last four decades. Before the lockdown itself, the unemployment rate was very high and the economy was sluggish. After the lockdown, the unemployment situation has deteriorated significantly. The government should tell what is being done on this."
Many said the floods in Odisha, Madhya Pradesh, Maharashtra and Bihar would also pose hurdles for JEE aspirants.