After Andhra Pradesh bifurcation cheer, the boom realities of Amaravati
The whole of Andhra Pradesh voted simultaneously in Assembly and Lok Sabha elections on April 11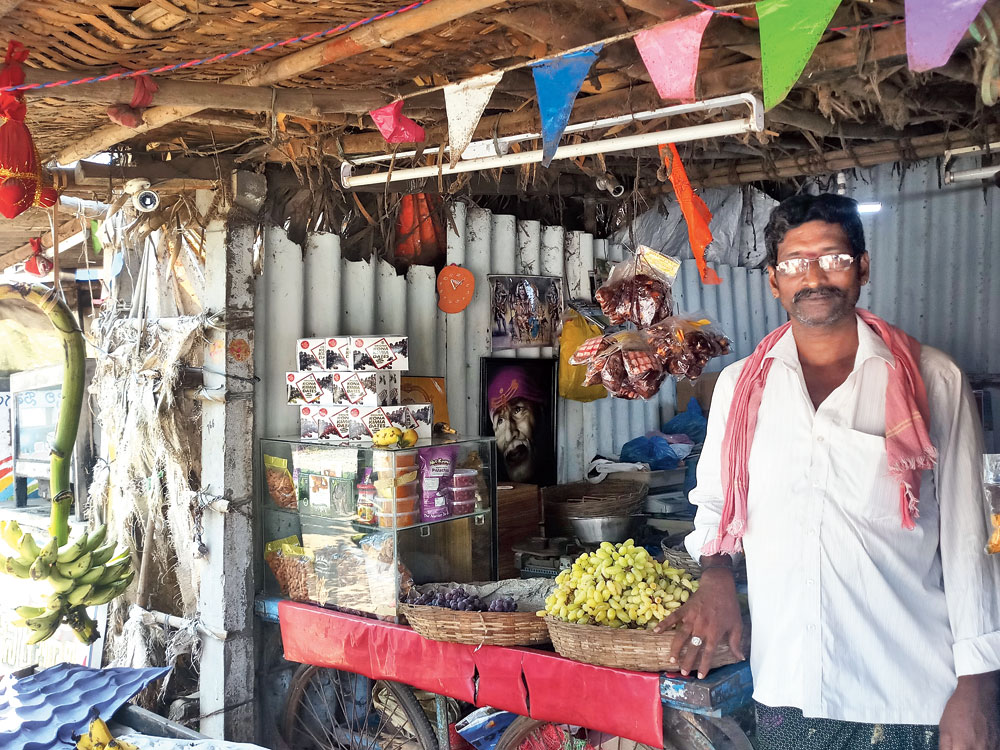 ---
---
Sreenivasa Rao is 46, but looks two decades older. Rao is among the farmers who accepted the Andhra Pradesh government's package to sell their farmland in 2015 to build infrastructure for the new capital, Amaravati, after the state's bifurcation. But he is finding it difficult to cope with the new realities of life after the transition from agriculture to business.
Rao, who now runs a construction material supply shop, has had enough of the new deal — the highrises around him, rash drivers, haggling with north Indian contractors, and a sports bike gathering dust.
"I grew bananas, lemon, coconuts, guava. I had more buffaloes than the buildings here. I lived like a king and my children drank the milk of our own cattle. Now we sit here all day in this shop, our boys fritter away the money we got from the land," Rao tells The Telegraph in Rayapudi village, a slingshot from the temporary secretariat of Amaravati.
The whole of Andhra Pradesh voted simultaneously in Assembly and Lok Sabha elections on April 11.
Amaravati derives its name from Amaravathi, a village further up the Krishna which was the capital of the Satavahanas and is home to a 2,300-year-old Buddhist stupa as well as the Amareshwara Swamy temple.
Rao doesn't reveal how much land he sold, but says he did get a lot of money. Most of it has, however, been spent as the family did not know how to invest.
He wants which ever government comes to power to reserve jobs for local residents.
"All the managers and workers (involved in building the capital) are from north and east India. Our boys are only hired as guards for Rs 10,000 a month. The Telugu Desam Party (TDP) has given the contracts, too, to outsiders. We can't bring back the old days, but our boys must get decent jobs. It is dangerous to leave young people idle," Rao says.
A Yamaha R15, a telltale status symbol of landlords flush with cash after the land sale, is gathering dust in front of Rao's shop, which falls under the Tadikonda Assembly constituency.
Rao's former farmhands — P. Pornaiah and his wife Lakshmi — tell a different story. The couple now run a fruit stall.
"Business is good as cars that pass by stop to buy fruits. With the monthly dole of Rs 2,500 we receive from the TDP government and the income from the shop, we are doing fine. It is much easier to run a shop than till land. But the fruits we sell are not grown here anymore, they come from the market," Pornaiah says. The couple have installed CCTV cameras in the thatched-roof stall for fear of theft by "outsiders".
The capital Amaravati covers 25 Assembly segments of six parliamentary constituencies. Land has been pooled from 29 villages in the Mangalagiri and Tadikonda Assembly constituencies so far. Chief minister N. Chandrababu Naidu's son Lokesh is contesting from Mangalagiri.
Resistance was strong in two villages, where farmers raise up to five crops a year. The crops of some farmers who did not give up their land caught fire under unexplained circumstances in 2015.
Shaik Sadiq's tailoring business in Tullur, one of the two villages, has grown after the capital was inaugurated in 2015.
"I was hit badly by demonetisation and then GST, which affected my suppliers, but the influx of contractors from outside created new customers. I don't want Narendra Modi to come back and I am happy with the TDP government. Yes, agriculture has dwindled and our boys now migrate for jobs. Jagan (Mohan Reddy of the YSR Congress) holds the edge, but we are apprehensive he may bring Modi back to power," Sadiq says.
Sadiq, like most voters here, didn't make a distinction when voting for the Lok Sabha and Assembly polls. Tadikonda falls under the Guntur Lok Sabha constituency, both held by the Telugu Desam.
Most of those who sold land, particularly those belonging to Naidu's Kamma caste, are happy with the developments.
"I sold my land for Rs 10 lakh. It is now worth a crore, but I bought more land elsewhere for Rs 10 lakh and now live off the income from leasing out much of it. On the remaining land I grow rice and red chilli, which is all a Telugu person needs to live," says Tadikonda resident K. Koteswar Rao.
"Who comes to power here doesn't matter. I like the TDP, although I miss farming here. My question is what has the BJP done for us, and why should I support a party that backs the BJP?" he says.
Passers-by who had voted for the YSR Congress, already in a foul mood and drunk after EVM failure stalled voting in two booths for three hours on April 11, made snide remarks at the elderly man.
Chief minister Naidu complained to the Election Commission that 30 per cent of the EVMs had stalled on the morning of polling, when most people came to vote before the mercury soared.
Lawyer N. Sateesh says: "Nothing has been done for the landless Dalits (the largest community here). The landless have just started getting the dole of Rs 2,500, which is worthless. They used to earn Rs 500 a day as labourers. Educated youths now work as sales agents for fertiliser companies for Rs 4,500 a month.
"Today I see faces at the polling booth whom I haven't seen for more than three years — friends who migrated to work in cities. They've come back to vote for change."
Vijay, a hotel manager from Hyderabad, came home to vote in the Pedakurapadu Assembly and the Narasaraopet Lok Sabha seats, both held by the TDP.
"I am happy with the present state government for making this the capital, but unhappy with the Centre which has stalled our progress by not granting special status. So, I have come home to cast my vote. Farming is decreasing and construction and cost of living are increasing. It will be good if we can have both," he says.