After 70 days in Kashmir, overheard on phone: 'Are you still mine?' Answer: 'Always yours'
Satya Pal Malik justified the decision to suspend mobile and Internet connections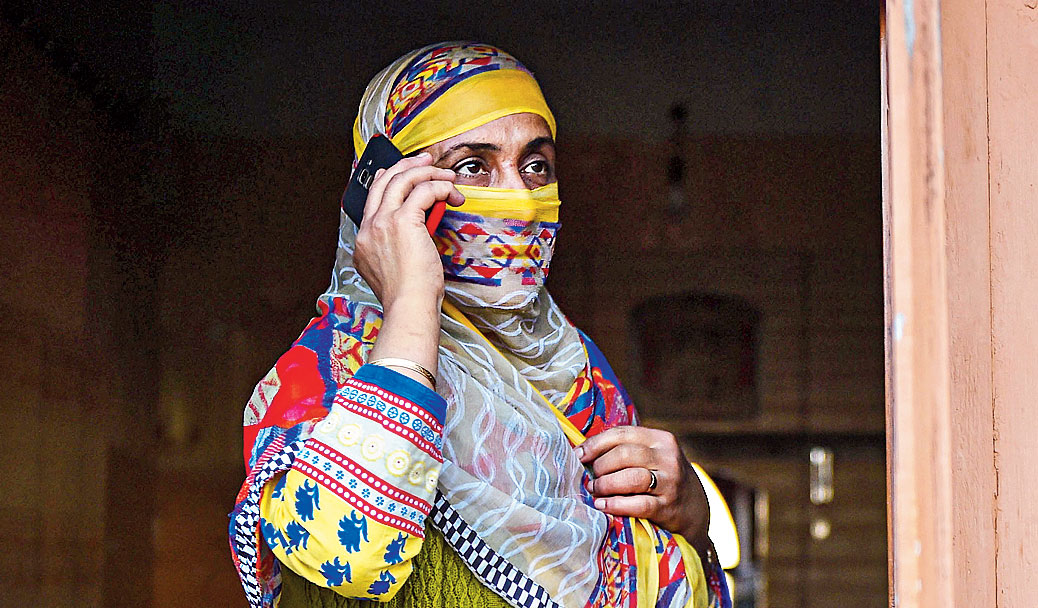 A woman talks to her son in Srinagar on Monday.
(PTI)
---
Srinagar
|
Published 15.10.19, 12:37 AM
|
---
Hundreds of thousands of cellphones bleeped back to life at the stroke of noon in Kashmir on Monday, setting off a frenzy as people scrambled to talk to friends, family and lovers.
While smiles lit up many faces, others were crestfallen to find their phones wouldn't ring despite the suspension on post-paid connections being lifted — network staff said not all the towers could be made functional at once.
Amid the emotions of the moment, some cautioned that restoration of phone links was no substitute for the loss of Jammu and Kashmir's special status, revoked on August 5.
At the Jhelum View Park in the heart of Srinagar, student Faesal Ahmad was anxiously waiting for his watch hands to merge at midday. His first call went to his sweetheart, who lives in a Pulwama village and used to commute every day to a Srinagar college.
"Are you still mine?" he asked, voice quivering in trepidation and excitement at being able to speak to her for the first time since August 5, when the telecommunication blockade was imposed.
"Always yours," came the reply, as Faesal later told The Telegraph.
"This was our favourite park; we'd often sit here and chat. We sometimes bunked off our classes to come here. But these 10 weeks we could neither meet nor talk."
He added: "Twice I went to meet her but returned disappointed, careful not to ruffle the feathers of her family or neighbours."
Many people disapprove of premarital relationships in Kashmir.
The restoration of post-paid mobile connections has allowed Kashmiris to connect not just to loved ones but also to doctors and hospitals, business associates and clients. It's been a relief as much to the ordinary Kashmiri reeling under the clampdown as to the outstation paramilitary jawan enforcing it.
Debashish Harichandan, a CRPF constable from Odisha posted with the 79 Battalion, said he had called his family four times on Monday to talk to his parents, wife and siblings.
"All these weeks I could call my family only four times from the phone provided to our unit, and because of the time constraints I could barely say anything beyond a 'hi' or a 'hello'," he said.
"Today I talked to them at length and enquired about everybody. The phones of some of my colleagues are still not working, so they made calls from my mobile. They are happy too."
Officials claimed that four million post-paid mobiles, around half of all the mobiles in the Valley, were activated on Monday but employees of a private service provider said the actual number was far less. The ban on prepaid mobile connections and Internet services has not been lifted.
"We could activate only around 50 per cent of the towers as they had been defunct for the past 10 weeks," an official with a service provider said.
"Other networks faced the same problem. Then there are many post-paid subscribers whose phones are not working because they have exhausted their recharge coupons. Thousands lined up at our offices to top up their mobiles --- they had to come in person as the Internet is still suspended."
Ghulam Fatima, a retired schoolteacher from the Mustafabad locality, was heartbroken as she could not talk to her brother Ghulam Mohammad Koul, living 15km away at Bachpora, whose connection had not been restored.
"I have not spoken to him for the past 71 days. The first number I dialled today was his but it did not connect. I have learnt from relatives that he is fine, but getting to talk to him would have been a different thing," she said.
Fatima said people were happy to be able to talk to their near ones but that should not be mistaken as approval for the revocation of Jammu and Kashmir's special status.
"That is a far bigger issue. I don't think it (restoration of phone links) will bring any change in the situation," she said.
A cross-section of people this newspaper spoke to echoed her.
Governor Satya Pal Malik justified the decision to suspend mobile and Internet connections.
"Telephones were not important to us, the lives of the residents were…. People used to live without telephones earlier too. You must understand, telephones were being used for terrorist mobilisation," he said.