Adhir Chowdhury's 'Rashtrapatni' comment draws BJP ire
BJP parliamentarians concentrate their firepower on Sonia Gandhi, demanding that she 'apologise to the nation' for allowing the insult of a 'tribal woman' President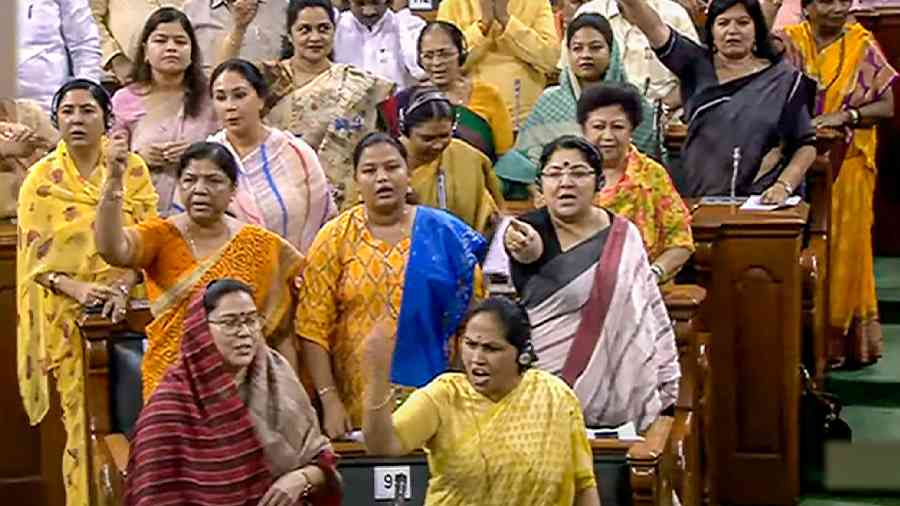 BJP members in the Lok Sabha on Thursday protest against Congress leader Adhir Chowdhury's remark on President Droupadi Murmu.
Sansad TV/PTI picture
---
New Delhi
|
Published 29.07.22, 02:33 AM
|
---
The depth of BJP members' animosity towards Sonia Gandhi was on full display inside and outside Parliament on Thursday when the ruling party seized on a remark made by Congress leader Adhir Chowdhury 24 hours earlier on the President.
Adhir had referred to President Droupadi Murmu as "Rashtrapatni" on Wednesday. Asked by reporters about the Congress's plan to march to Rashtrapati Bhavan, Adhir had said: "Yes, we will visit the Rashtrapati Bhavan. Rashtrapati, no Rashtrapatni, is for all."
Adhir later expressed readiness to apologise, saying he had "only once and by default" uttered "Rashtrapatni" and this too was because he was not a Hindi speaker.
But BJP parliamentarians concentrated their firepower on Sonia, demanding that she "apologise to the nation" for allowing the insult of a "tribal woman" President.
The BJP fielded two senior woman ministers, Nirmala Sitharaman and Smriti Irani, to target Sonia. The intensity of the attack suggested the BJP was striving to divert and drown the Opposition's campaign on the price rise and the suspension of MPs.
As the two Houses assembled at 11am, the two ministers stood up and started attacking the Congress with the focus on Sonia.
"Rashtrapati is a gender-agnostic word representing the leader of the country. It was not a slip of the tongue, it was a deliberate sexist insult against a person who comes from a tribal background," Sitharaman told the Rajya Sabha amid a din.
"I demand an apology from the president of the Congress party, who herself being a woman has allowed her leader in the Lok Sabha to speak
insultingly about our Rashtrapati."
The attack by Irani in the Lok Sabha was more scathing and unusually aggressive. Sonia, after two successive days of questioning by the Enforcement Directorate, was in the House. Smriti waved her hands and pointed towards the Congress benches as she spoke, egged on by her party MPs.
"The Congress president is present in the House and I want to ask her," Smriti said.
"You sanctioned the humiliation of Shrimati Droupadi Murmu. You sanctioned the humiliation of the tribal legacy of this country. Soniaji sanctioned the humiliation of a woman in the highest constitutional post. Soniaji sanctioned the humiliation of a poor woman who has ascended to the highest office in this country…," she went on, cheered by party MPs.
"Apologise to the nation. Sonia Gandhi, apologise to the tribals; apologise to the poor; apologise to the woman," Smriti said. "Maafi mango aur sharm karo (Apologise and feel ashamed)."
She added: "Apologise on the streets and in Parliament."
Business in both Houses was washed away because of the uproar from both sides over the issue.
BJP managers looked joyous that Adhir had given them an issue to puncture the Opposition's effort to corner the government over the price rise.