Action stations: Manifesto role for Rajnath
BJP president Amit Shah announced 17 committees on a single day, assigning tasks of all possible scales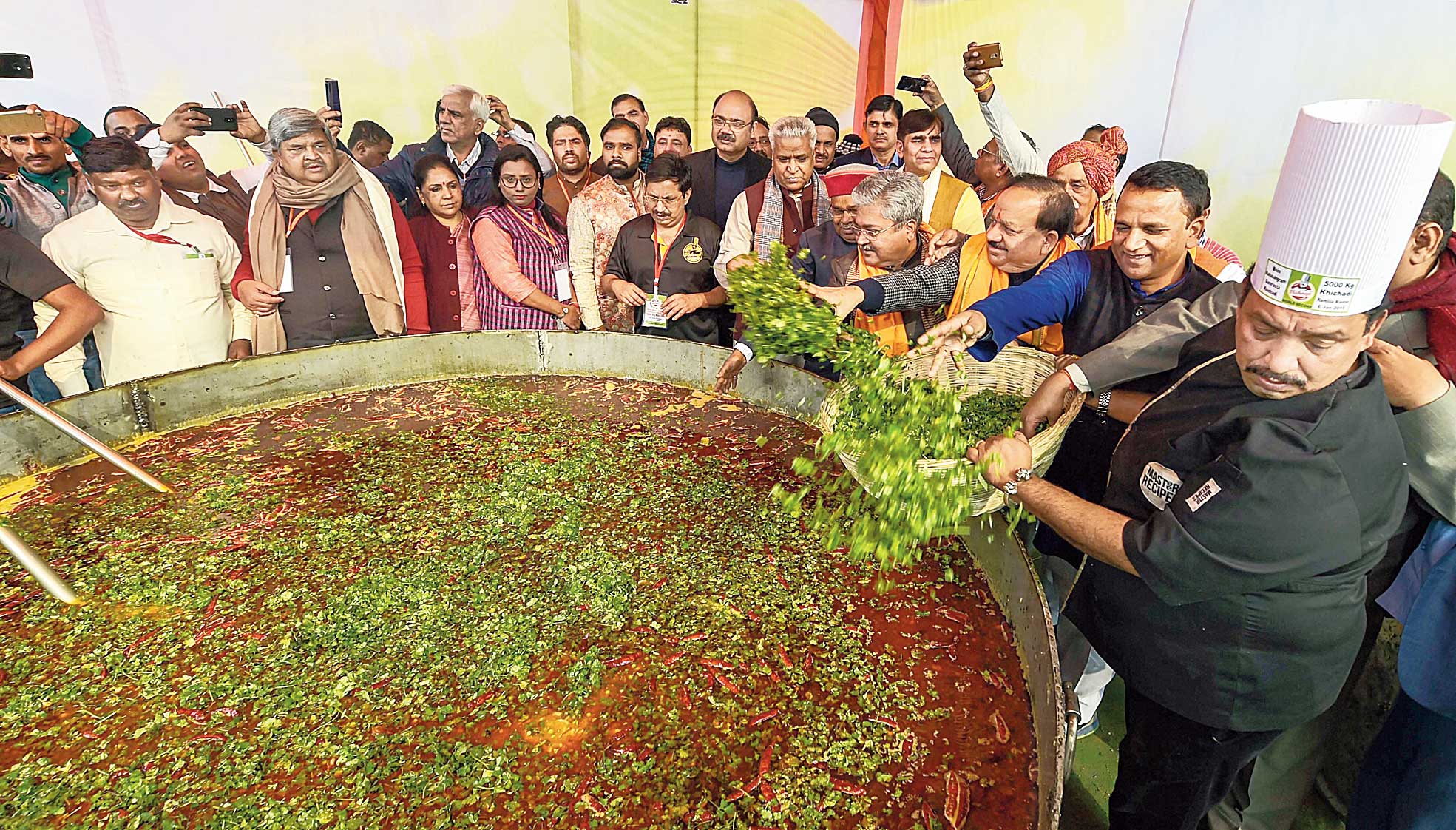 Union ministers Harsh Vardhan and Thaawar Chand Gehlot and other BJP leaders prepare khichdi during an event called Bhim Mahasamagam on Ramlila Maidan in New Delhi on Sunday.
(PTI)
---
New Delhi
|
Published 06.01.19, 09:18 PM
|
---
Prime Minister Narendra Modi tried to pep up booth-level workers and excoriated N. Chandrababu Naidu for allying with the Congress.
BJP president Amit Shah announced 17 committees on a single day, assigning tasks of all possible scales — from preparing the manifesto to organising motorcycle rallies. Minister Smriti Irani used Robert Vadra to target the Nehru-Gandhis.
The ruling party's hectic blur of activity on Sunday suggested the BJP leadership, its anxiety growing at the signs of Opposition unity, is desperate to shake its workers out of their state poll blues and set the agenda for the general election.
Many BJP managers feel the party has been pushed to the back foot by the defeats in three heartland states and has only been responding to an agenda set by Congress president Rahul Gandhi.
Shah, who addressed BJP workers in Dadra and Nagar Haveli, appointed home minister Rajnath Singh as president of the manifesto-preparing committee. Party veteran Murli Manohar Joshi, who headed the panel in 2014, has long been sidelined.
The nod to Rajnath, hardly a favourite with Modi or Shah, reflects an effort to get on board senior leaders who are feeling marginalised.
Rajnath is widely seen as a candidate Prime Minister acceptable to possible allies if the BJP fails to win a majority in 2019 but emerges the largest party.
He will lead a committee of 20, whose members include finance minister Arun Jaitley and former Madhya Pradesh chief minister Shivraj Singh Chouhan.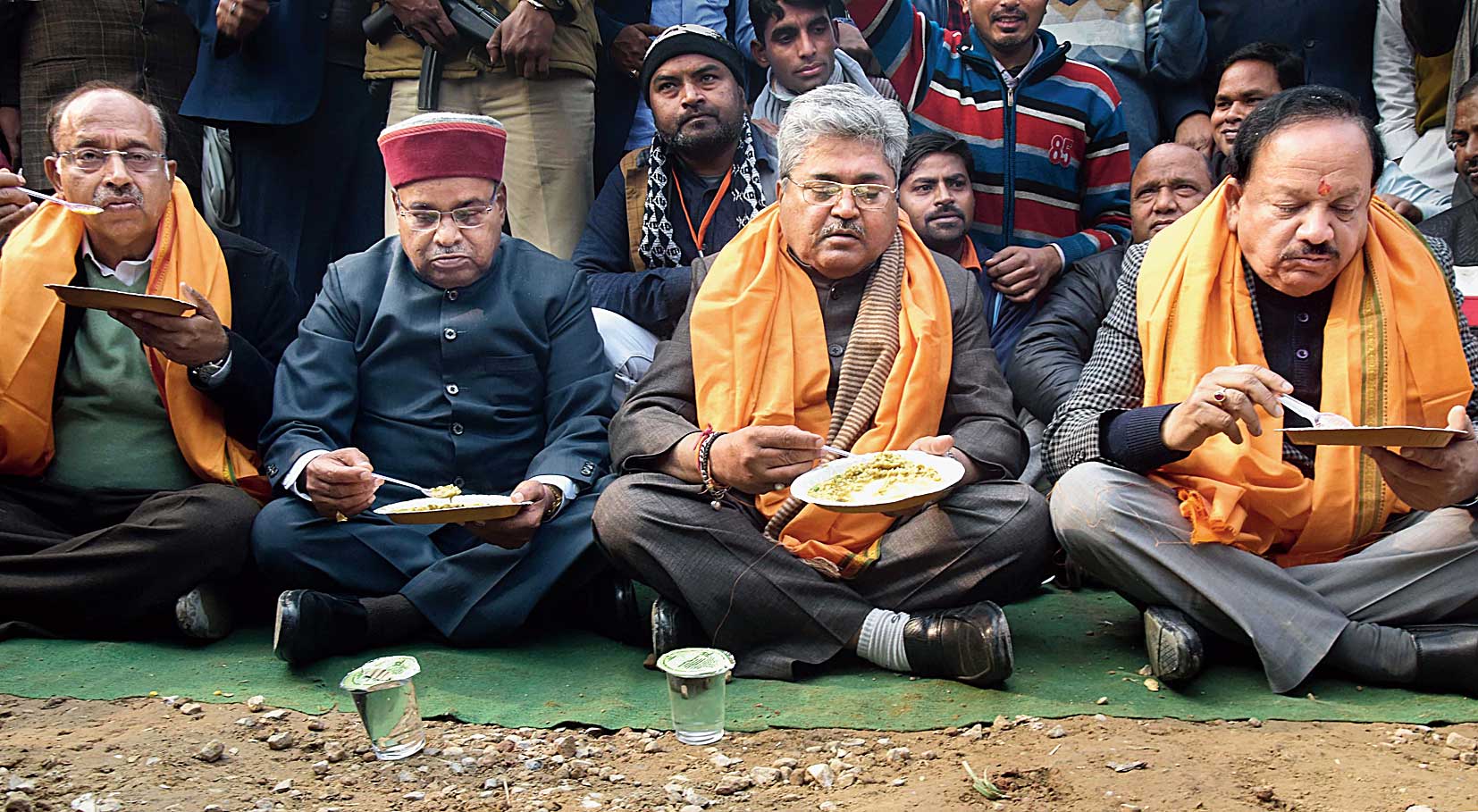 In New Delhi, a party insider said: "We don't want the state poll defeats to de-motivate our leaders and workers. Amitbhai has asked everyone to hurl themselves into the poll preparations." He acknowledged a sense of "despondency" among party workers.
Modi interacted with booth-level workers in Andhra Pradesh through videoconferencing to ensure they slogged hard enough.
Betraying his nervousness at any hint of Opposition unity, he accused chief minister and Telugu Desam boss N. Chandrababu Naidu of backstabbing party founder N.T. Rama Rao and "Telugu pride" by aligning with the Congress.
"It was NTR who led the Congress-mukt Bharat front…. Today, his own son-in-law has bent his head before the Congress," Modi told a woman party worker. The Desam has quit the NDA and joined hands with the Congress.
Modi's comment reflected the size of the challenge that an Opposition closing of ranks would pose to the BJP.
With Mayawati and Akhilesh Yadav getting closer to forming an alliance — they have met in Delhi to negotiate seats — the BJP is feeling especially jittery.
A crackdown on a five-year-old mining scandal in Uttar Pradesh that the CBI has launched since Saturday is being seen as an attempt to target Akhilesh, who on Sunday echoed the suspicion himself.
Uttar Pradesh minister Siddharth Nath Singh was fielded in Delhi to deny Akhilesh's allegations and justify the CBI raids.
"Akhilesh Yadav presided over a government that was hand in glove with the mining mafia," Singh said, demanding the CBI question the former chief minister.
The BJP fears that an alliance between the Samajwadi Party and the Bahujan Samaj Party would hurt it in India's politically most crucial state, costing it more than half the 73 seats it had won out of 80 there last time.
BJP chief Shah announced the formation of 16 other committees, suggesting war-like preparations. Foreign minister Sushma Swaraj, who has decided not to contest the Lok Sabha polls, heads a panel that will prepare party literature.
Among the 16 are a "bike committee" — possibly meant to organise motorbike rallies — and a "chartered plane committee".
Modi offered the workers tips on how to garner media coverage. "In India everyone complains about the media…. The simple thing to do is to try and understand the media," he told a worker who had complained that the media did not adequately cover the BJP.
"It (the media) is not a single unit — you as BJP workers have to make friends with the foot soldiers of the media. Never be de-motivated; build good relations with the media."
Union minister Smriti Irani was fielded at a news conference to target the Nehru-Gandhis.
She called Vadra, Sonia Gandhi's son-in-law, the "Congress national son-in-law" and accused him of being involved in defence deals.
Irani said the Enforcement Directorate was sending summons to Manoj Arora, who she claimed was Vadra's "personal assistant".
"I urge the Congress to get Manoj Arora to appear before the ED," she said.