Stopped at Bengaluru airport, Aakar Patel says 'malice' at play
Amnesty International India chairman's book lists more than 50 indicators to how poorly India has performed under Narendra Modi's leadership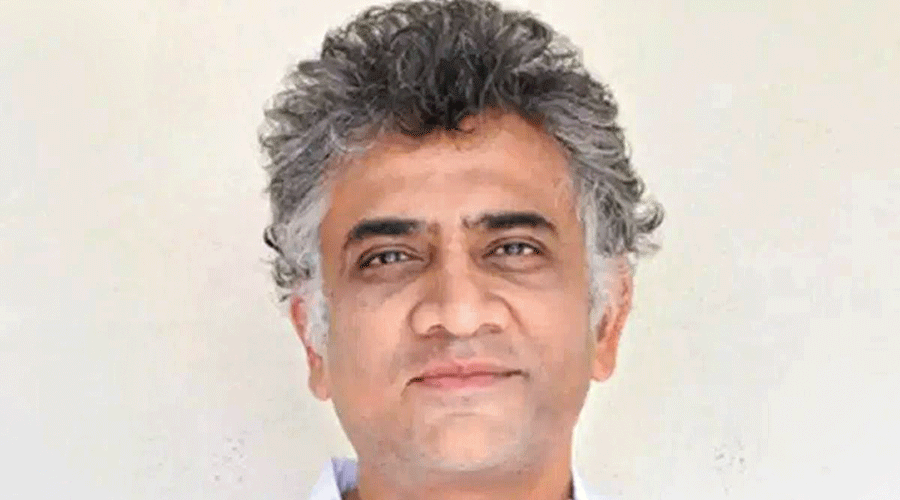 ---
Bangalore
|
Published 08.04.22, 01:28 AM
|
---
Amnesty International India chairman Aakar Patel, who was stopped at Bangalore airport from flying abroad on Wednesday, has said the action stemmed possibly from "malice" over his recent book about the cost India is paying for having Narendra Modi as Prime Minister.
Patel's comment came in an interview to journalist Karan Thapar for The Wire, conducted before a Delhi court on Thursday directed the CBI to withdraw the lookout circular on the basis of which the Amnesty official was prevented from flying out.
Patel said he had found out that the circular — related to alleged foreign exchange violations — was issued on December 31 last year, six weeks after the November 14 launch of his book.
Price of the Modi Years, Patel's book that lists more than 50 indicators to how poorly India has performed under Modi's leadership, also highlights the government's treatment of dissent and criticism.
Patel underlined that the lookout circular was issued two years after the CBI's November 2019 raids on Amnesty International's offices in Bangalore and Delhi and a year after his last interaction with the agency in November 2020, implying this made the suspected link with his book stronger.
"The CBI raid was in November 2019. The last time I spoke to a CBI officer was in 2020. I have had no contact with them since. There was no reason for them to pick something out more than a year later and put me on that LOC (lookout circular). And I can only surmise that this was because of malice," he told Thapar.
Patel said the CBI hadn't informed him about the existence of the lookout circular, and he learnt about it only after being stopped from catching his flight to London en route to the US, where he was scheduled to speak at three universities.
"I spoke to the CBI officer I had been in touch with, who said, 'Well, I put you on the list and I didn't tell you.' And I said, 'Aren't you supposed to tell me?' And he said, 'Well, we thought we shouldn't tell you.' And that was it," he said.
While petitioning the Delhi court for withdrawal of the lookout circular, Patel had also sought punishment for the CBI officer who had posted it and failed to inform him.
"I am asking the CBI officer who sent the LOC be penalised and made to repay me the cost I have incurred on my ticket, which is about Rs 3.8 lakh, from his salary," Patel said.
"I don't know what his motives were. But I can only presume he was doing what he was told, that the malice doesn't come from the bureaucrat you are dealing with but the political powers that govern his office."
However, Patel said, he wanted the official penalised to set an example before others. "They should show some spine and say 'no' when they are asked to do something that's not legal and not proper," he said.
Patel alleged harassment of Amnesty in India. "We have not been treated fairly. I'll give you an example," he told Thapar.
He said that after Amnesty's bank accounts were frozen following raids by the CBI and the Enforcement Directorate, a court gave relief towards one of these accounts but the order had "the wrong bank account number".
"That order has not been corrected. It's over a year and a half. I don't know if the mistake was deliberate, but the refusal to correct seems to me quite unusual," Patel said.
"I've got an affidavit from the government saying they have no objections to my operating other accounts, but I can't operate them because the bank will not let me. The banks are terrified because the ED tells them not to let me operate. This is the way the State runs in India. This is our rule of law (in) recent years," Patel said.