Priyanka Gandhi: A bag of free ration doesn't empower poor
The Congress national general secretary spoke on women's empowerment in the state where seven-phase elections are being held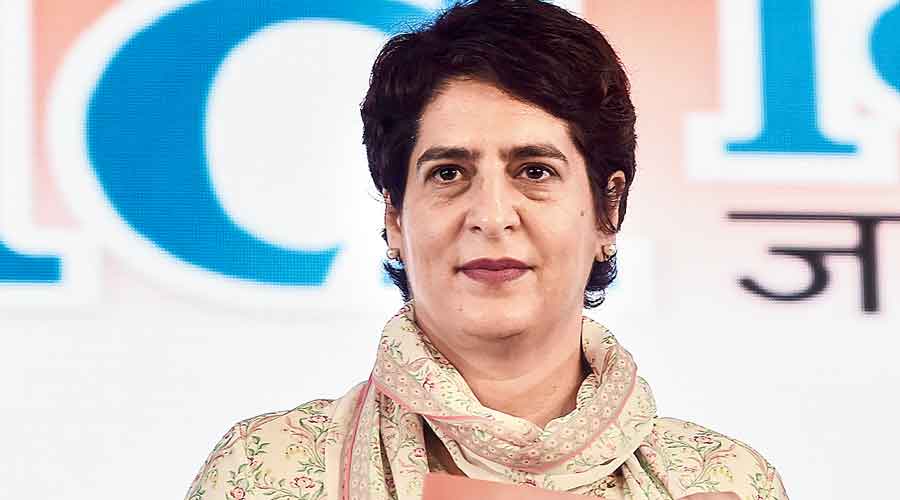 Priyanka Gandhi Vadra.
PTI file picture
---
New Delhi
|
Published 19.02.22, 03:47 AM
|
---
Priyanka Gandhi Vadra on Friday said distributing doles does not empower the poor, accusing some political parties of deliberately weakening the masses to ensure they are not in a position to question governments.
Addressing a virtual rally meant for Uttar Pradesh, the Congress leader said: "A (cooking gas) cylinder doesn't empower women. A bag of free ration doesn't empower the poor. Your plight has been rendered so miserable that you desperately wait for some food grain to survive. This has to stop. Governments have to empower you. The future of your children can't be built on free ration or a cylinder."
Priyanka explained: "Governments are supposed to solve your problems and create livelihood opportunities. Your children need good education, your family needs good health care, the youth needs job. You are given one gas cylinder, which cannot be refilled because it costs Rs 1,000. This is injustice against you. You cannot become self-reliant in this way."
She stressed the need for effective development strategies. "But many political parties don't want you to become self-reliant. They want you to be happy with a bag of free ration. If you get educated and have a job, you will ask questions. They deliberately weaken you. They don't want an empowered society. They will rather whip up emotions on caste and religion and empower themselves."
Priyanka added: "You must have heard the Prime Minister's lofty talk on how well Uttar Pradesh has been developed. Instead of talking about unemployment, women's security, rising prices and farmers' woes, he says thousands of lakhpatis have been created. The truth is that years have been wasted as young boys and girls are struggling for jobs. There are 12 lakh vacancies in the state but the government is not recruiting. They don't hold exams in time and then a paper leak cancels the process. Even after selection, recruitment is not done."
Priyanka spoke on women's empowerment in the state where seven-phase elections are being held.
"You have seen what happened in Hathras, Unnao, Shahjahanpur. We need to ensure women's participation in the political process. We have given 40 per cent (poll) tickets to women. It triggered panic and all the parties started making announcements. But doles won't do. We have announced a road map on how to do it," she said.
"Health centres in villages don't have woman doctors. We have promised 25 per cent reservation for women in police jobs. Governments will have to work with fair intent on empowerment of masses instead of making false claims," Priyanka added.
Although every political party, including the Congress, has announced freebies — from scooters, laptops and cash to free education and health care — Priyanka argued that her party's approach is to create a support system that leads to real empowerment.
In Punjab, the Congress released a manifesto on Friday explaining how its welfare schemes were different from the Aam Aadmi Party's doles.
Punjab Congress chief Navjot Singh Sidhu said: "We want women to be partners in economic progress. Unlike (AAP national convenor and Delhi chief minister) Arvind Kejriwal, we aren't offering Rs 1,000 to women above 18 years. We will ensure girls don't drop out of schools. We will give Rs 5,000 to every girl child who passes Class V, Rs 10,000 when she passes Class X and Rs 20,000 when she clears Class XII. We are investing in the future generation, giving social and economic support. To poor women, we will give Rs 1,100 per month and eight cylinders free in a year."
The Congress announced free education for the poor up to university level in government schools and colleges, apart from free treatment in all government hospitals.
The party said it would procure oilseeds, maize and pulses at the state-level to help the farmers and encourage diversification in farming. It also announced increase of MGNREGA wages to Rs 350.