A 3ft caregiver Covid-19 can't frighten
Karmi-Bot 'will drastically reduce its human caregivers' interaction with patients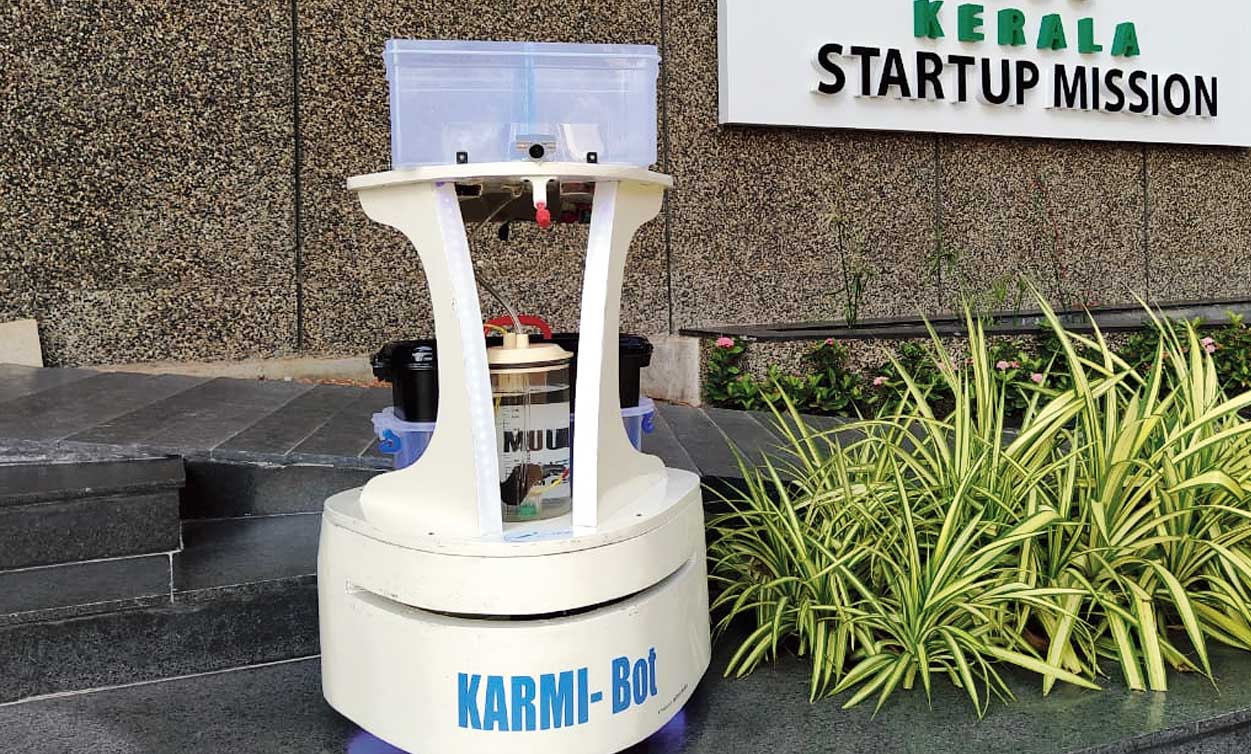 ---
---
An intrepid three-foot-tall caregiver has joined a Covid-19 hospital in Kerala, forgoing precious safety gear while carrying food and medicines to patients, returning with their trash or connecting them to doctors.
Meet Karmi-Bot, a "fully autonomous" robot that the Government Medical College in Kalamassery says will drastically reduce its human caregivers' interaction with patients, providing them a safety shield.
Karmi-Bot, manufactured by a Kochi-based company, was donated to the medical college on Saturday by the Vishwa Santhi Foundation, a charitable organisation run by actor Mohanlal.
Dr Ganesh Mohan, resident medical officer at the medical college hospital, told The Telegraph that Karmi-Bot can carry food and medicines, disinfect contaminated spots and bring back trash after sanitising it.
"We just have to map the area (of operation) for the robot and let it run by itself. Introducing a robot like this one will help us save on safety gear like the PPE (personal protection equipment) kits," the doctor said.
He gave this newspaper a live display over WhatsApp of how the steel-and-fibreglass machine works.
Manufactured by Asimov Robots Pvt Ltd, based at the Kerala Technology Innovation Park in Kochi, Karmi-Bot is designed to carry up to 25 kilograms of weight and has a maximum speed of one metre per second.
Company CEO Jayakrishnan told this newspaper that the robot was customisable and that he planned to add to it a thermal reader, capable of reading a patient's temperature from a distance.
"Karmi is a totally autonomous robot that is intelligent enough to find the rooms and talk to the patients," said Jayakrishnan.
Once it reaches the room it calls out to the patients in case the door is locked. Otherwise it goes straight to the bed of the patient it has been assigned for that particular service.
"Hospital staff can place food, medicine or anything specifically for any patient on the robot. A patient can drop any trash, such as used masks or even used plates, in the robot's bin, which has an inbuilt UV (ultraviolet) light sanitiser to disinfect the contents," Jayakrishnan said.
Such a disinfection procedure makes biologically hazardous wastes like masks safer for those who manually empty the trash bin fitted onto Karmi.
"After dispensing medicines and food, Karmi will ask the patient if he or she wants to talk to the doctor. If yes, it will make a video call to the doctor and connect the patient," Jayakrishnan said.
While the robot is autonomous, an operator — who could be a doctor or any other hospital employee — can take charge with the manual override, accessible through a mobile application linked by Wi-Fi.
Another of Karmi's features is a water jet that can disinfect any spot contaminated by a patient's bodily discharges.
"The robot can direct the jet to any specific area and spray the disinfectant before the cleaning personnel enter the room," he said.
Jayakrishnan said the robot had been developed in just 15 days, considering the urgency to find such a solution for Covid-19 hospitals.
He added: "We designed the robot for maximum utility by fitting it with a fast-charging battery."

With a two-hour full charge, the robot can operate for up to eight hours. "This feature is essential for hospitals, especially in a pandemic situation," Jayakrishnan said.