9 Malda weavers die in UP cracker blast
The carpet unit adjoining the cracker factory was owned by Mohammad Muddassir, 40, and 20 weavers were working there at the time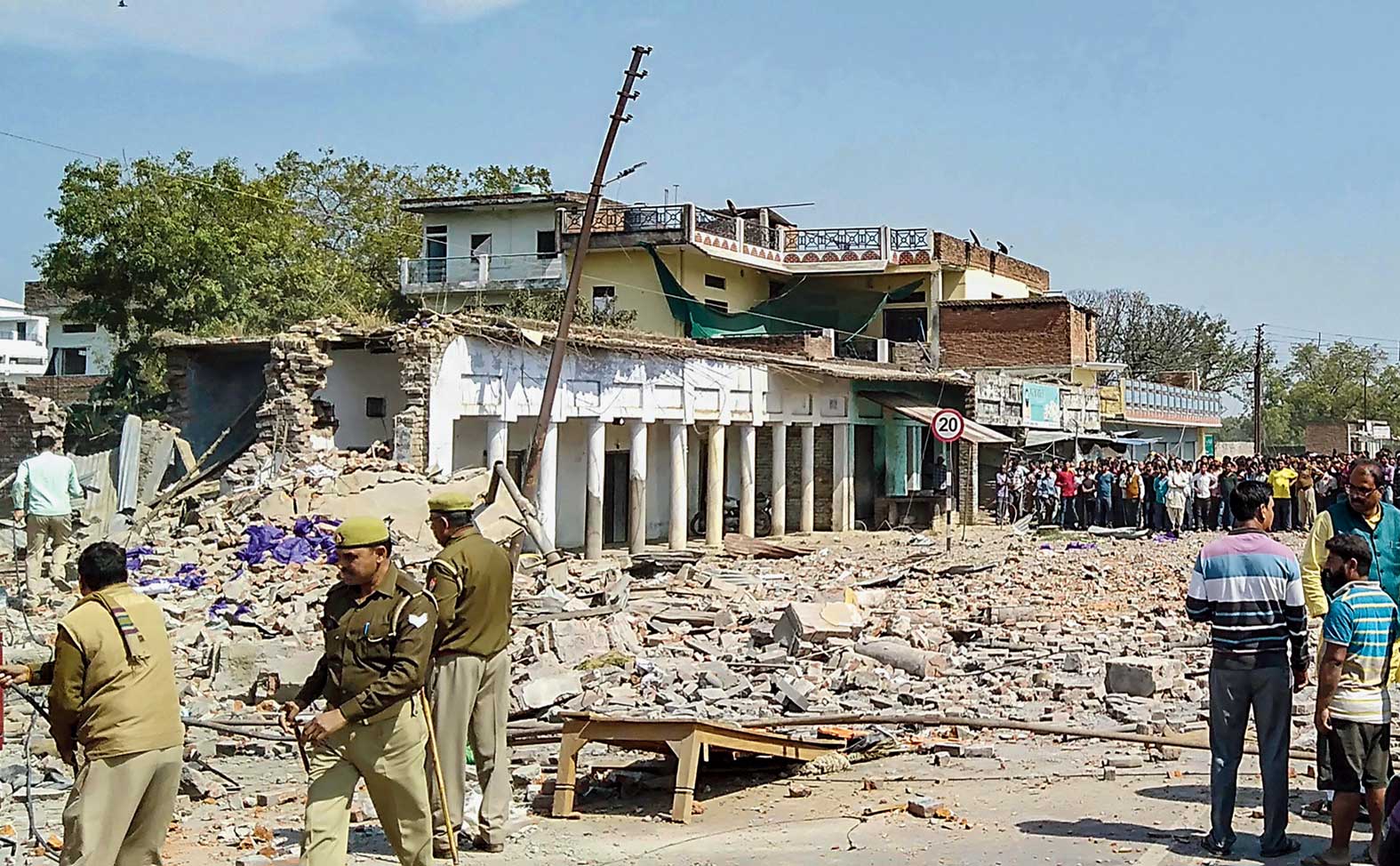 ---
|
Raiganj
|
Published 23.02.19, 08:21 PM
---
Blasts in an illegal cracker factory in Uttar Pradesh's Bhadohi killed at least 13 persons on Saturday, including nine weavers from Bengal's Malda working in an adjoining carpet unit.
The cracker factory's co-owner, his wife and two kids were among the dead. Such was the impact of the series of explosions in Rotahan village that two double-storey buildings collapsed, leaving over two dozen people buried. Another 12 persons are in hospital with serious injuries.
Akhtar Ali, 25, Irfan Mansoori, 28 and two relatives used to manufacture crackers in a house illegally, police said. Irfan, his wife and two kids were present and died when the blasts ripped through the pocket on Saturday afternoon.
The carpet unit adjoining the cracker factory was owned by Mohammad Muddassir, 40, and 20 weavers were working there at the time. Nine died on the spot. The weavers had been living there for the past two years.
"Rotahan is known for cracker and handloom factories. The factory where explosion took place was illegal," said DIG Piyush Srivastava.
Babbe Yadav, a neighbour, said the explosion was so intense that most bodies were disfigured. "At least four other houses were damaged," Yadav said in the village, 45km from Varanasi.
In Malda's Manikchak, gloom descended on Enayetpur and Kamalpur villages from where the nine weavers hailed. Ataur Momin, 37, Abdul Gaffar, 40, Mohammad Sobhan Ansari, 38, Israfil Momin, 35, Abdul Kalam Momin, 32, Alamgir Momin, 33, Ajad Momin, 31, and Abdul Kadir, 34, were from Enayetpur. Mansur Sheikh, 36, was from Kamalpur.
"Fifteen people from our village were working there. We have spoken to police officers to find out their whereabouts," a resident said. According to him, most of the dead weavers were their families' sole earning members.
Chief minister Mamata Banerjee expressed grief at the deaths. "My condolences to the families of the 10 people killed in Varanasi. 9 of those who lost their lives in this tragedy are from Malda. Police team from Bengal helping to bring back bodies & provide assistance. Bengal ministers Shuvendu (Adhikari) and Firhad (Hakim) with others on their way to Malda," she tweeted. The toll went up to 13 later.