65 million people failed to turn up for second dose yet: Health officials
They attributed the lower counts of Covid-19 deaths during the current third wave than during the second wave to the large vaccination coverage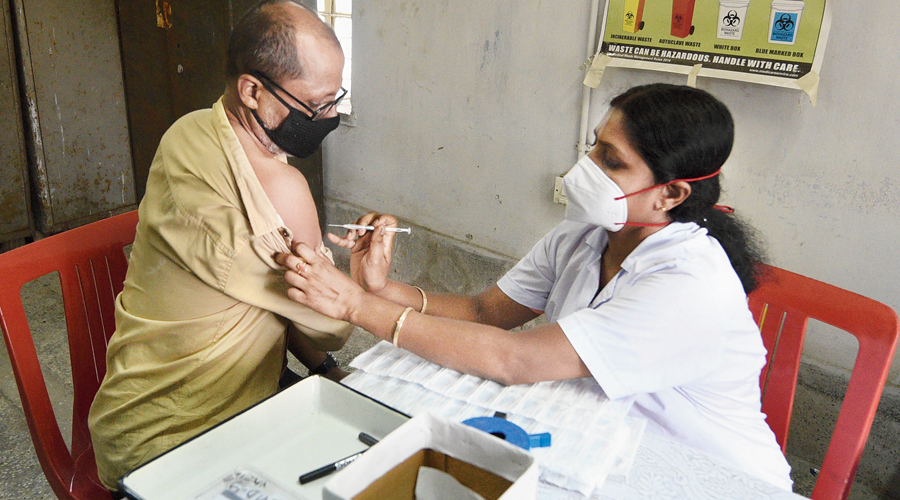 Some studies have also indicated that omicron might be inherently less virulent than other variants of concern.
File photo
---
New Delhi
|
Published 21.01.22, 03:36 AM
|
---
Sixty-five million people partially vaccinated against Covid-19 have failed to turn up for their second dose yet, health officials said on Thursday, releasing fresh data from the current omicron-driven wave showing vaccination protects people from severe disease.
Health officials attributed the lower counts of Covid-19 deaths during the current third wave than during the second wave to the large vaccination coverage.
Some studies, however, have also indicated that omicron might be inherently less virulent than other variants of concern.
India's seven-day average of daily deaths was around 3,000 during the second wave at a time the country was recording over 386,000 daily new infections. But in the current wave, although daily new cases have climbed to over 317,000, the seven-day average daily deaths is around 380.
"Vaccines are hugely protective," said Vinod Paul, chair of the national Covid-19 task force and member (health), Niti Aayog, the Centre's apex think tank. He urged all those overdue to take the second dose and all high-risk population groups to take booster doses.
The vaccination campaign has so far fully vaccinated 72 per cent of the country's estimated 944 million adults, implying that roughly 270 million adults are yet to receive their second doses. But 65 million people are currently overdue for second doses. "Why overdue? You've already joined this campaign through the first dose for your benefit and for societal benefit. Please accept the second dose, we're sending reminders too," Paul said, referring to automatic reminders sent to overdue recipients on mobile phones.
Since the vaccination campaign introduced booster doses to high-risk population groups on January 10, Paul said, 63 per cent of eligible healthcare workers, 58 per cent of frontline workers and 39 per cent of people aged 60 years or older had taken these "precaution doses".
"We urge all vulnerable population groups to come forward and take the due doses," he said.
The appeals come amid a near-steady rise in the daily new lab-confirmed Covid-19 cases, alongside an increase in the number of diagnostic tests. India on Thursday recorded around 317,000 new infections, a 14-fold increase over the around 22,000 new infections on January 1.
Scientists say the third wave's peak is likely to surpass the second wave, which at its peak had recorded over 414,000 daily new infections.
However, early observations from Calcutta, Delhi and Mumbai have suggested that less than 5 per cent patients require hospitalisation compared with 20 to 23 per cent during the second wave.
Health officials have attributed the lower rates of severe disease to expanded vaccination coverage -- from less than 2 per cent fully vaccinated during the second wave to 72 per cent now.
But lab studies and hospital observations from multiple countries have suggested that omicron itself causes less severe disease than the delta variant.
For instance, a study by researchers at the University of California, San Francisco, released earlier this week found that the pulmonary viral replication, pro-inflammatory responses, and overall progression of disease are "markedly reduced" with the omicron infection.
Medical experts believe that India's large proportion of people already infected with Covid-19 -- nearly 70 per cent by July 2021 -- could also protect a large number of people from severe Covid-19 during the current wave because of the effect of immune responses from prior infections.