60 years of no progress or sola aana jhooth? Villagers speak up on Modi's speeches
Some villagers say Modi inflames passions, others opine that Rahul Gandhi is immature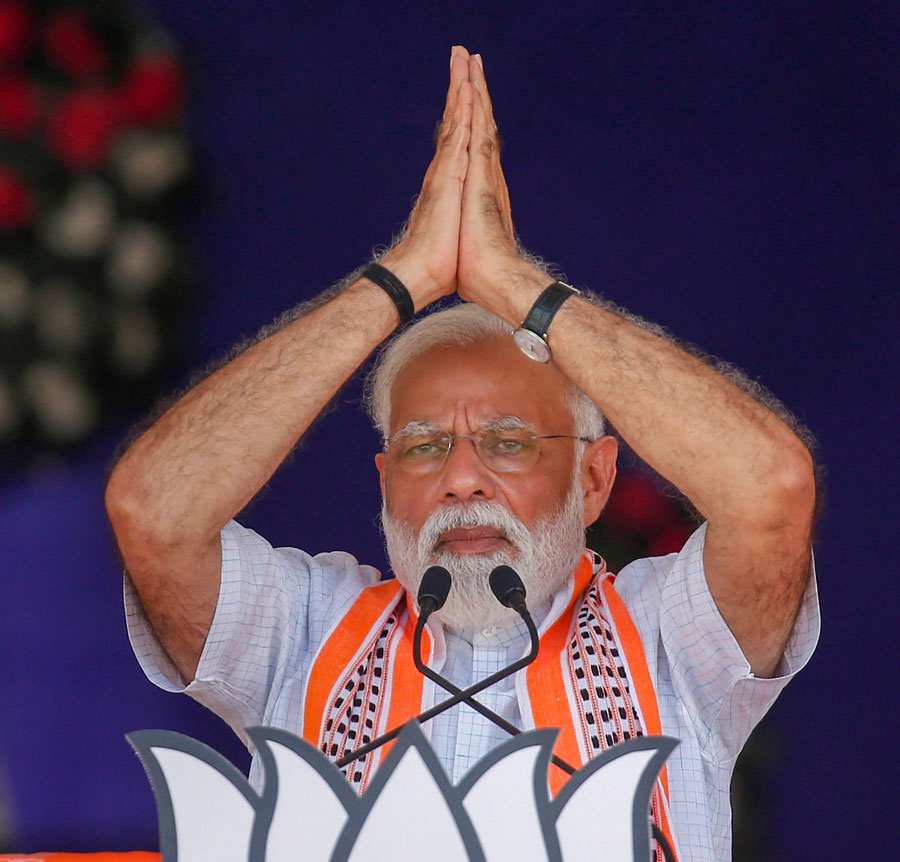 ---
---
Narendra Modi's claim that nothing happened in the 60 years before he burst into the national scene either evoke anger or ridicule among ordinary people who expect the Prime Minister to speak with greater responsibility.
Asked how he analyses the Prime Minister's pet dialogue, 90-year-old Rampal Singh of Salempur village, around 60km from Delhi, says: "We don't like that; it's hollow talk."
He explains: "I heard him say people were not allowed to enter banks before 2014. I opened a bank account in 1972. Our village primary school has been operating since 1952. People were forward before Modi came; this man gives hollow speeches."
Rampal goes on to level several allegations against Modi: "Bhadkaawe hai, uksaawe hai. Note-bandi se khaded macha di, shaadi mein badi aafat aayi (He instigates people, inflames passions. Demonetisation created chaos, it caused too many problems during marriages)."
His son, a retired teacher, weighed in, saying he opened an account in 1976 at the SBI branch in Dankaur, while his grandson did so in 2011.
Rampal said: "The maximum development in this region took place during the first Five Year Plan. Electricity came in 1980. Pucca roads were laid in the villages during Mayawati's previous rule. Nothing happened in the past five years, nothing at all."
Asked about Modi's narrative of 60 years being wasted, Satveer Singh, 70, in village Bhatta burst out: "Sola aane jhooth (It's a pure lie). The country progressed over the decades and the past five years have been disappointing. Suddenly before the election it is all Pakistan-Pakistan. Are we fools to believe that Opposition parties work for Pakistan and terrorists? What is Modiji saying? Vote batorne ka sauda hai (This is only a trick to collect votes)."
Another villager, Chandrapal, said, referring to Uttar Pradesh chief minister Yogi Adityanath's description of the forces as Modi's army: "They say Modi's army. Will the army be disbanded after Modi loses an election? He says Congress-mukt Bharat. Why? We need both the ruling party and the Opposition in a democracy.
"In fact, we want the government to change every five years so that issues such as arrogance of power and corruption can be dealt with. Look at the assets of farmers and those of leaders. Leaders' assets rise multifold every election but farmers get poorer."
Unlike the "Modi-Modi" chorus among urban youths, young people in the villages are influenced more by bread-and-butter issues and caste loyalties.
Deepak Bhati, a first-time voter, said: "Our blood boils when we hear Modi-Modi chants because he didn't deliver on the lofty promises he made in 2014. Land price has crashed in the village. Kuchh karega nahi khali shor macha raha hai (He won't do anything, but won't stop making noise)."
Bhati said people were not getting swayed by false WhatsApp messages anymore.
The young man expressed anguish over the escape of diamantaires Nirav Modi and Mehul Choksi.
Asked about Congress president Rahul Gandhi, Bhati said: "He is immature; doesn't know how to speak. He has little understanding and experience of ground realities. Rahul's prestige and clout are because of his family. Nehru and Indira Gandhi were truly great leaders."
Bhati, however, hailed Rahul's role in the enactment of the Land Acquisition Act and hoped he gains maturity over the years to be able to run the country.
A farm leader in Ghaziabad, Neeraj Tyagi, condemned Modi's rule as the "worst ever" for agriculture and lamented that today's youth failed to understand ground realities.
"They eat a burger for Rs 80 and oppose the farmers' agitation, forgetting that we are not getting adequate price for wheat. With 1kg flour, you make 40 rotis and we don't even get Rs 15 for that. Only those disconnected with ground realities chant Modi-Modi. He treated us as bhikharis by giving Rs 6,000 a year," Tyagi said.
Tyagi warned Modi of a lurking crisis in rural India: "If you don't ensure good prices for farm yield, India will be destroyed. In the current calculation of fixing the MSP, (the share of) labour is not even Rs 50 a day.
"We want at least a minimum wage to be fixed by the government…. There is an exodus of youths to towns and cities for a job that pays Rs 6,000 a month. They will not produce milk in villages but sell bottled water in cities. This will destroy agriculture. So we want a government that is serious about farming," he added.