52-year-old man lynched in Jharkhand
Victim beaten to death for allegedly stealing goats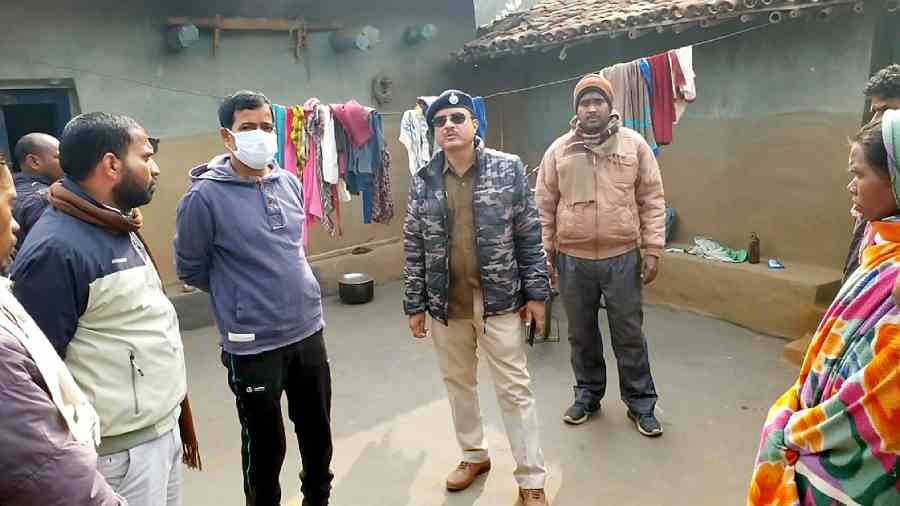 Police conduct probe at the Giridih village where the lynching took place.
Shabbir Hussain
---
Jamshedpur
|
Published 03.01.23, 02:46 AM
|
---
Jharkhand, which was among the few states to pass a bill against mob lynching in 2021, witnessed yet another mob justice on the intervening night of New Year.
Vinod Chaudhary, 52, was beaten to death for allegedly stealing goats and hens from a predominantly tribal locality of Sadi Gawanro in the Mufassil police station area of Giridih district.
Police sources said that Chaudhary, a native of neighbouring Simariya village, had been to jail on previous occasions for robbery, dacoity and other petty crimes. Chaudhary was caught by the Sadi Gawanro residents around 10pm on Saturday, a mob was mobilised and the villagers started beating him up as he tried to escape around midnight and the body was recovered by the police on Sunday morning.
The wife of the victim, Rekha Devi, alleged that her husband was beaten to death over old enmity and she lodged an FIR against Biralal Tuddu, Sonaki Devi, Budhan Manjhi, Munna Manjhi and Sanjay Murmu. Giridih deputy superintendent of police Sanjay Rana said that the police have so far arrested the main accused Biralal Tuddu.
"We are searching for the other named and unnamed accused," said Rana.
According to the police, about half a dozen cases of theft, snatching and assault against the deceased are pending at the Mufassil police station.
However, Rekha Devi alleged in the FIR that her husband used to run the family by driving an auto rickshaw in Mumbai. He came home on December 14 and accompanied friends to celebrate New Year on a bike on Saturday evening.
"We started searching for him when he did not return at night. "On Sunday morning, the body was found lying on the road in front of the house of Biralal Tuddu. He was murdered by conspiracy," she alleged in the FIR.
The accused Tuddu confessed that he, along with others, had beaten Chaudhary to death after he tried to steal their goats on Saturday night.
Jharkhand was the fourth state after Bengal, Manipur and Rajasthan to pass a bill against mob lynching in December 2021.
The bill is awaiting the President's consent for enactment.