Letter to Pokhriyal condemns 'pseudo-scholars'
350 academics come out in support of IGNOU's Jyotish course
The scholars condemned a 'concerted effort' by 'ambassadors of Western ideologies' to suppress 'our knowledge traditions' in their letter to the education minister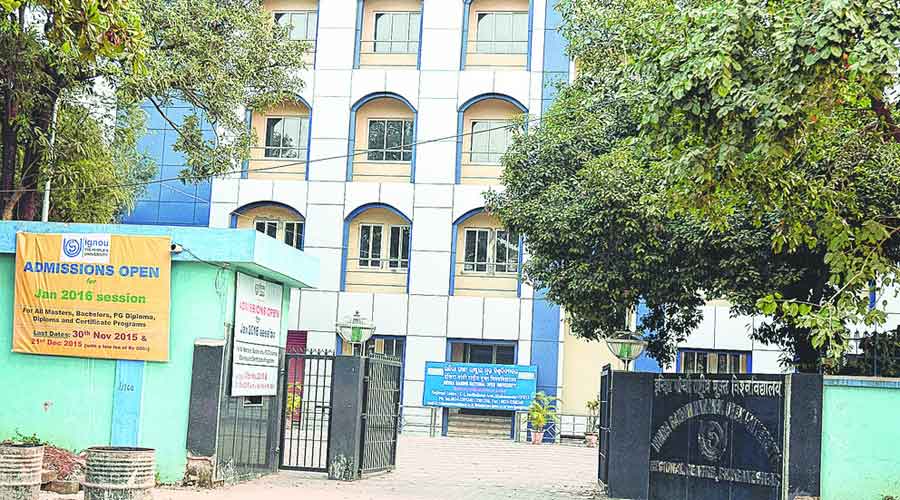 Indira Gandhi National Open University
File picture
---
New Delhi
|
Published 03.07.21, 01:14 AM
|
---
Nearly 350 academics on Friday came out in support of the course on Indian astrology that the Indira Gandhi National Open University has introduced and condemned a "concerted effort" by "ambassadors of Western ideologies" to suppress "our knowledge traditions".
The comments came in an open letter that faculty members and researchers from various colleges and universities wrote to education minister Ramesh Pokhriyal.
The letter came days after more than 1,000 academics, mainly from the sciences, issued a statement terming astrology a "pseudoscience" and opposing the master's degree programme in jyotish that Ignou launched on June 24.
"The ambassadors of Western ideologies and institutions have been opposed to it. We are open to all forms of knowledge and research so that our students really become global scholars and not just carriers of filtered Western knowledge and ideologies," the letter says.
"We feel a concerted effort has been made before and after Independence to suppress our knowledge traditions for vested interest."
The letter condemns "the pseudo-scholars surviving on foreign subsidy" who try to "suppress" efforts to promote "pro-Bharat education".
Among the prominent signatories are Sushant K. Mishra from the School of Languages, JNU; P.N. Singh from Sampurnananda Sanskrit University (SSU), Varanasi; and Kailash Ch. Sharma, former vice-chancellor, Kurukshetra University.
C.B. Sharma, a professor with the School of Education, Ignou, whose is the first signature on the letter, told this newspaper that the astrology course was "scientific" and relevant.
"These are (matters of) time-tested scientific knowledge. They have remained with the Indian people for millennia. They were pushed into oblivion by Moghul and British rule," Sharma said.
"The job of the universities is to create new ideas and study the ideas already existing. These are great Indian ideas which must be examined and researched. That is why the course is relevant."
He said universities have the autonomy to start any particular course.
"This course has gone through all the statutory bodies of the university like the school council and the school board, which have experts from outside, and also the planning board and the academic council," Sharma said.
Aniket Sule, an associate professor at the Homi Bhabha Centre for Science Education, Tata Institute of Fundamental Research, Mumbai, who was a signatory to the earlier statement opposing the course, described the counter-statement by academics as regrettable but hardly surprising.
"I don't know who all have signed this counter-statement so I cannot guess the reasons why anyone who claims to be a scientist would sign anything in support of astrology, which is at odds with analytical and rational thinking," Sule wrote in an email response to this newspaper.
"However, it is unsurprising as we had seen this enthusiasm by a certain section of Indian academia even in the past to jump in to defend anything which is deemed as Indian heritage, without bothering to find out what exactly they are defending."
Sule agreed that protecting universities' autonomy was a core principle of academic freedom. However, he wrote, that doesn't mean universities are free to "indoctrinate students in fanaticism and indulge in fact-free rhetoric".
"Any educational material/course prescribed by any university is open to academic challenge by other academics and it is the duty of the university to give sound academic arguments to defend (its) choice of material/course," Sule wrote.
"When defenders of the course throw in phrases like 'western bias', 'great Indian heritage', 'belief of many people for many years', etc, it actually betrays the fact that they don't have any real academic arguments to defend astrology."