1999: Year of Kargil war and a power grab
In the February of that year, PM Atal Bihari Vajpayee and Nawaz Sharif had been able to together stage what was widely seen as a seminal — and unlikely — manoeuvre towards peace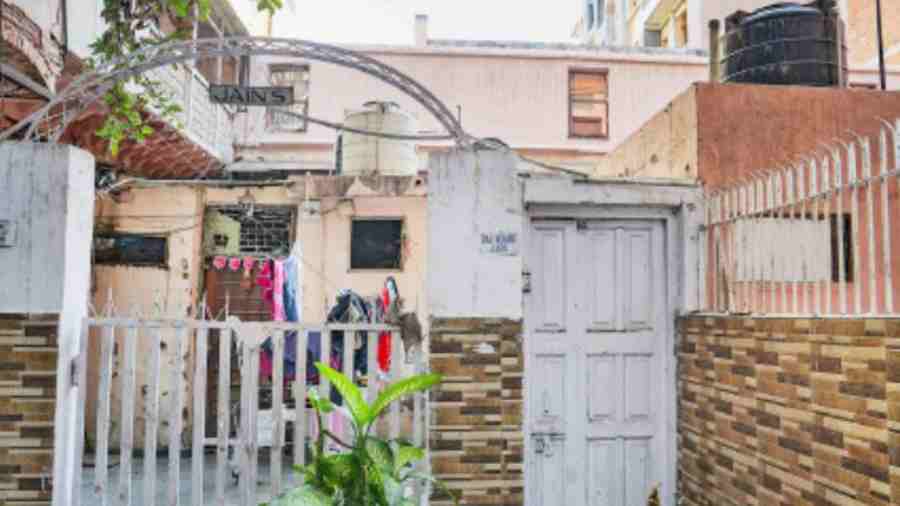 Neharwali Haveli, the ancestral house of Pervez Musharraf, at Daryaganj in New Delhi on Sunday.
PTI picture
---
New Delhi
|
Published 06.02.23, 03:34 AM
|
---
At the beginning of 1999, arguably the most significant year in the man's life, the mention of General Pervez Musharraf would have evoked instant recognition in few beyond Pakistan. By the end of that year, he had blistered a trail to global infamy. He had, almost single-handedly, triggered a war between two nuclear powers, and proceeded not long thereafter to effect a coup and grab power at home — the first military dictator of Pakistan since Gen. Zia-ul-Haq and the last of several our western neighbour has had.
In the February of that year, Prime Minister Atal Bihari Vajpayee and his Pakistani counterpart, Nawaz Sharif, had been able to together stage what was widely seen as a seminal — and unlikely — manoeuvre towards peace. Vajpayee rode across the border to Lahore with a busload of celebrity Indians and Sharif feted his visitors with a warmth and fervour few would have anticipated.
At the time Vajpayee and Sharif were baby-stepping towards the peace pipe, Gen. Musharraf was busy plotting an audacious military adventure that would flame out the euphoria of the bus ride, demote it from historic to history. Unbeknownst to the Sharif establishment, the final pieces of launching an invasion across the Kargil frontier were being put in place. Soon Musharraf would force Sharif into a war he couldn't disown and Vajpayee into one he couldn't back off from.
There is a photograph from earlier the same year of Gen. Musharraf placing a pistol — probably a new arrival in the Pakistani arsenal — in the palm of Prime Minister Sharif during a field visit. That pistol Musharraf had put to Sharif's head and pointed towards Vajpayee.
The war over Kargil's frozen and desolate heights raged 10 weeks that summer of 1999. It left the world shivered and keen to put the fires out, for it was two nuclear powers blowing up at each other.
It exacted an incalculable price — close to 5,000 soldiers killed, thousands maimed and scarred, hundreds of thousands displaced from homes and hearths on either side of possibly the most cantankerous fence on earth.
Eventually, the big rollers had to be moved to whistle an end to the subcontinental jousting; Washington intervened and in simplified language what probably happened was that the Americans prevailed on Sharif to prevail on Gen. Musharraf.
But evidently that wasn't the end of it; Gen. Musharraf, who spent part of his growing days in Turkey and was avowedly taken by Mustafa Kemal Pasha, wasn't done pushing his ambitions yet. The legendary Mustafa Kemal had alchemised his military genius with a political vision that founded a modern Turkey radically different from the Caliphate. Gen. Musharraf wanted to emulate his hero, make of Pakistan what nobody had attempted to make it before him.
His chance wasn't far to come. In October 1999, when Musharraf was in Sri Lanka overseeing joint military exercises, Sharif made a move he'd long been wanting to — to throw Musharraf out and appoint another general as army chief. Musharraf got wind of it, he flew home, and effected a coup ordering sector military commanders from the cockpit while his aircraft circled over Karachi airport awaiting permission to land.
Between October 12 and 14, Musharraf 's garrisons moved swiftly and all across the country. Top politicians were all arrested. The Sharif government was dismissed. The constitution was suspended. From General, Pervez Musharraf became Chief Executive. Of Pakistan.
He would become President, of course, launch his own political party and lord over his nation for just short of a decade. When he was no more strictly a man of arms — and probably wanted to take a shot at statesmanship — he made ventures at peace with India, at least two of them.
The second, and the one widely thought to be a more realistic attempt, was conducted quietly in the back-channels during the Manmohan Singh years, and its centrepiece was a four-point blueprint that envisaged fluidity of passage between the two Kashmirs and joint monitoring and mana g ement of issues like water sharing. It never came close to being executed although for a while monitored travel (and trade) between Srinagar and Muzaffarabad did open as part of a confidence-building measure. Those buses run no more, neither do any goods cross this way or that legitimately.
The first one was a fanfare that the world watched come apart hour after hour. It was the highly billed Vajpayee-Musharraf summit at Agra. Nothing came of it but incendiary sparks; it eventually turned to a damp squib.
The late General may have thought of that trip a little differently, though. Woven into the Agra itinerary was the place of his birth; Musharraf was a Delhi boy after all, and very likely the only mohajir (refugee from India) to lead Pakistan other than Mohammed Ali Jinnah.
PS: February 5 is observed as Kashmir Day in Pakistan. Gen. Musharraf's annual anniversary observances now lie merged with the rites of February 5.