Ritabhari Chakraborty on her 'Heal With Me' initiative
It is a collaborative effort to reach out to those who are grappling with inconsolable losses in Covid times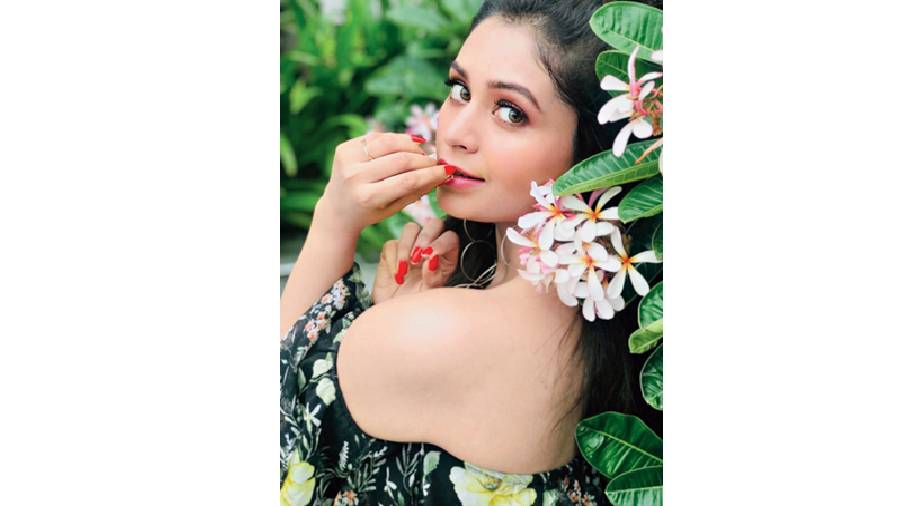 The thought of flowers puts Ritabhari in a positive mind frame
Sourced by the correspondent
---
Published 01.06.21, 03:27 AM
|
---
Ritabhari Chakraborty has always been at the forefront when it comes to dialogues about mental health, still considered a taboo. The actor, writer, producer and singer has never shied away from sharing her own battles and how she has overcome them. With the pandemic wreaking havoc on our mental health, Ritabhari, along with friend Rahul Dasgupta, director, Globsyn Group, and Dr Tathagata Chatterjee, founder, Sahayta Clinic, has come forward with the Heal With Me initiative, a free helpline for those who have lost near and dear ones to Covid. A candid chat with Ritabhari.
Since when has this been in the planning?
My best friend Rahul is in Dubai and we are both stuck in very different spaces, inside the house and all of us have lost someone who is close to us and it has taken a toll on our mental health and we were discussing how sad it is for people who have lost someone out of nowhere. Rahul came up with the idea of doing something around it and then we thought of a helpline and I suggested if we can collaborate with Sahayta Clinic. I inaugurated that and that's how I know Dr Tathagata Chatterjee who runs the clinic. Each patient can talk from 20 to 30 minutes depending on how much time they need to talk... once they call, someone will patch them through to the psychologists. They are all from Calcutta and can speak multiple languages.
How have you dealt with this year so far?
I wouldn't say I have dealt with it. I keep dealing with it. Sometimes I am fine with it and sometimes I am not. This uncertainty of life is killing us for sure. Then you start questioning what's justice. All these things push you into a space where there is a huge existential crisis. Those who have lost near and dear ones will have more of these thoughts and people want to talk to somebody and no matter how close you are to your family, it is sometimes more comfortable talking to a stranger. Then you can really pour your heart out. The idea was everybody gets the time to heal and while they heal they get to speak to someone in this situation.
I have my own therapist who I talk to. He is phenomenal and has been my therapist for years and he gives me my space and he has always been the non-judgemental listener that he is supposed to be. I have always given equal importance to mental and physical health.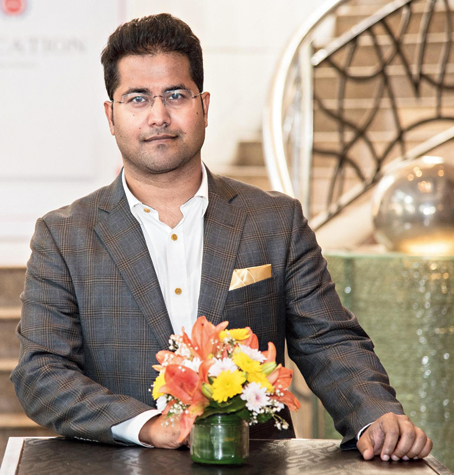 What has your therapist been telling you?
One day at a time is the best advice I have ever received. That can be getting a good shower and combing your hair. You should give yourself credit for that... you got out of the bed and did it. Maybe return some calls and texts. That's quite a big feat when you are incapable of even moving. That's what the mind does to you. I would say keep moving forward. When I am on the verge of a breakdown, it doesn't help 100 per cent, especially in these times, but I try to think of something that pleases me a lot like flowers. That eventually takes away the tension and the downward spiral that is happening.
Do you think this year is more about mental health than ever before?
I think so because I have seen the strongest of people being sad, sulky and think they are doomed. People are bitter. When nothing makes sense, you want to blame the world and hate those who are having the slightest joy and happiness. I have seen the increase of hatred on social media... someone releasing a film, some content.... When I released my song (Sawaan) recently, I was speculating on how to ease people into my content rather than saying 'I am the dartboard and throw your darts at me'. I like engaging people and the negativity gets on my nerves. The slightest of things can get you trolled. It is harmful for any artiste's work. It is like encouraging a bunch of bullies. I am sensitive and even though I consciously know that it is coming from someone's insecurity, my subconscious is hit by those remarks. The best way is to be kind and supportive of each other. We don't want to limit the helpline to Covid times. If we get the engagement that I hope happens, then we can make this a permanent helpline. What has been your coping mechanism for dealing with loss over the years? Are you scared of death?
Big time. I am scared of losing people and myself, my sanity. I love peace and want things to go fine, but life isn't that way, but I feel mourning is a huge part. I am not saying be a wallow pit and stay in that pit forever, but you have to acknowledge it. The outburst often comes out in all the wrong places and it can also make you sick.
I am not saying this has been my coping mechanism most of the time. But you gotta do what you gotta do and feel those feelings and move past them and get back to life. There has to be someone you are accountable to who will tell you it's time to get some sunlight. If it is not your family, it better be your therapist.
How have you navigated mortality?
Probably maybe because I had suicidal thoughts because of depression very early in life, when I was in high school or college, I had to deal with it back then. I had to actually think of the worst... what if I die? The answer to that was then there would be tons of things which I want to do but wouldn't be able to. It has been a whole process and it is not that scary any more. The only fear I feel from time to time is what if I lose a loved one.