Malaika Arora talks fitness
I resort to yoga both to calm me down and pep me up, says Malaika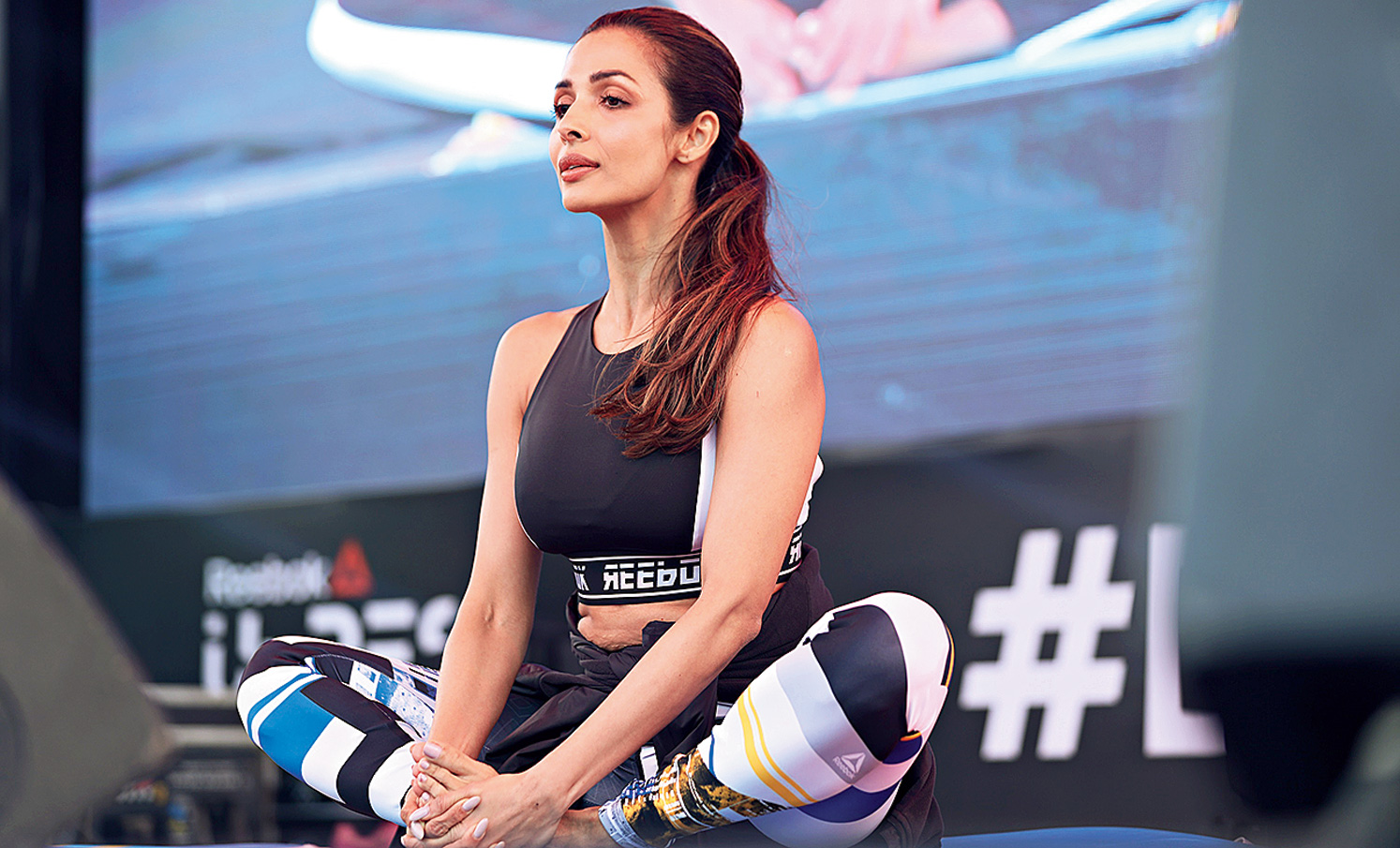 Malaika Arora
The Telegraph picture
---
Published 18.02.19, 06:27 PM
|
---
She's got a body that can make even a teen go green with envy. But the secret to her fab shape is a fitness routine that she follows "religiously". One of the fittest Bollywood stars, Malaika Arora was recently present at a fitness do by Reebok UnREST in Delhi where she hosted a yoga session. t2 did an e-mail chat with Malaika for deets on her fitness regimen.
Tell us what your regular fitness routine is like...
I love my fitness routine and I follow it religiously. Be it yoga, pilates or working out at the gym, I enjoy all kinds of fitness activities. I ensure my workouts are a mix of moderate and vigorous training that make me fit physically, socially and mentally.
Following my fitness streak, I have been a Reebok fan for long, as the brand has been encouraging more and more people, especially with platforms like UnREST. It inspired the FitGen to come together and become better versions of themselves.
Do you work out daily?
Yes, I work out daily. I try and do yoga every day at my Diva Yoga studio. I have my trainers over there who are brilliant, so I train under them. My motivation is to be a better version of myself.
You're so much into yoga. What do you love the most about it?
Yoga has been an integral part of my everyday life and something that I truly enjoy. I love diversity and therefore try out different asanas. Whether it is to get an instant glow, to tone my body better or de-stress myself, yoga is my happy zone to be in. It is a vigorous form of exercise, depending on whether you are doing it for relaxation or more serious workout. I resort to yoga both to calm me down and to pep me up.
Which ones are your favourite yoga asanas?
I love to practise all forms of yoga but I like the Padmasana the most because it signifies balance and symmetry. It requires focus and concentration power. This asana signifies balance between the mind, body and soul by nurturing your whole self. It stimulates the flow of energy in your body and when practised frequently, it helps build your ability to concentrate in other situations off the mat.
What do you do at times when you don't feel like going to the gym?
Being in an industry such as ours, you are always rushing from one place to another. Regardless of that, I never give myself an excuse. I have adopted fitness as a way of life. Even when I am traveling out of the country, I make sure I do a quick workout that is rejuvenating and energising. I always make time for my workouts even if I have to swap an hour's sleep for some stretches and meditation. This helps me manage stress and takes me to a state of spiritual peace.
What's that one workout you enjoy the most and one workout you dread the most?
I love to work out and I do a combination of all but I sometimes dread lifting weights because it can be very combustive.
What is the biggest mistake people make at the gym according to you?
I think the biggest mistake people make at the gym is pushing their body without understanding it properly. Sometimes people just follow others blindly and end up injuring themselves. It's very important to listen to your body.
What's your daily diet like?
I love home-made food and I try to avoid food that is high in calories. I prefer snacking on nuts and fruits. Keeping yourself well-hydrated throughout the day with water, coconut water, fruit or vegetable juices is the key. I usually take a light dinner and avoid carbs at night.
Do you ever cheat on your diet?
I don't really do any diet, so question of cheating on my diet doesn't arise. I do have my binge days where I go crazy on one thing, but I always eat everything in moderation. I let myself enjoy a little bit of everything, so I never find myself in a position where I am craving for something in particular.
Do you have a sweet tooth?
I love Tiramisu and Gulab Jamun. I eat everything in moderation, so I don't feel the need to stay away or resist it.
What is that one food item that you swear by to maintain your body?
I think ghar ka khana is the best for me and I swear by it. I do like to be vegetarian as often as I can because it's healthy for your body. I also favour intermittent fasting. If it agrees with you, then I really think it's fantastic for your body.
Who inspires you to be fit?
It's very difficult to pinpoint just one thing that inspires me. I feel women all over the world balance a life between work, marriage, children, family... a lot of them are divorced but continue to work and support their family. They are the women who inspire me and I look up to them.
What fitness tip would you give to our readers?
Do not take fitness for granted. Push yourself harder each day, each moment.