Malaika Arora on life after Covid and the right footwear for a walk
The Reebok brand ambassador is back to her fitness regimen after a brush with the virus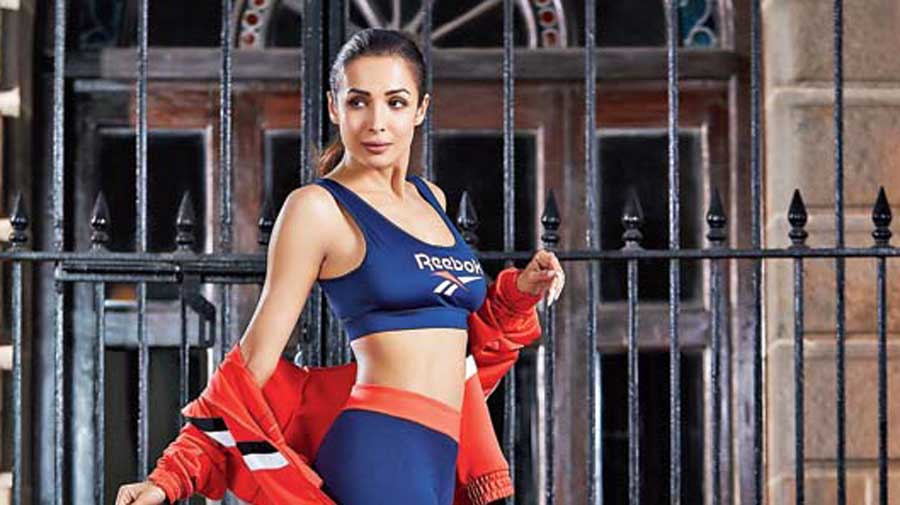 ---
Published 26.02.21, 10:37 PM
|
---
Chhaiya chhaiya girl Malaika Arora is back to her fitness regimen after a brush with the virus. A t2 chat with the Reebok brand ambassador.

How did you ring in the new year? One hears you were in Goa.
We spent time together as a family — my parents, (sister) Amrita and the kids. The best that one can ask for in a situation like this is to spend quality time with your close ones.
Who is your favourite yoga companion?
My favourite companion is me. Of course, doing any form of exercise with a companion motivates you to push yourself, but I don't require a companion to keep myself going.
How much time of the day do you set aside for exercise?
I believe 60 minutes a day is more than enough for you to exercise. I push myself to try new yoga asanas every now and then. Sometimes I shake things up by alternating between yoga and Pilates.
What are your views on walking on a treadmill versus just going out walking?
I prefer walking in a park to walking on a treadmill since you are able to enjoy the outdoors and are able to breathe in fresh air. Walking on a treadmill for long periods can also affect your knees and thus I recommend spending some time outdoors in a safe manner to keep yourself physically and mentally healthy. As someone who has recovered from Covid, how do you look back on those days?
It was a scary experience for me and my family. But I'm really grateful for a healthy and happy life post-Covid.
Covid tires one out. How did you get back to your fitness regimen?
I feel I'm lucky that my condition was not as bad as some experienced. Once I was done with my course of medication and rest, I was as good as new. I was able to bounce back but I made it a point to take it slowly and not jump straight into my intense pre-Covid workout regimen. One needs to understand one's body and its recovery pattern and make informed decisions accordingly.
Reebok is about to launch a walking range. Why is it important to pick the right footwear for a walk?
Reebok's walking range, backed by superior quality, comfort and technology, is set to become a walking buddy for every new user. The new products, namely Reebok Ever Road DMX, Austin, Druhan, Ease Slip On, Fusion Lux, Motionpulse among others are set to strengthen Reebok's place in the walking category, while providing the impetus to consumers to come out of a sedentary life and adapt a healthier routine.
Choosing the right gear is the most important part of beginning any fitness activity as it gives you the confidence to push yourself more and keeps you going for longer. It also maintains the balance of your body, which helps prevent any major injury.
What kind of food do you super slim sisters bond over?
Everything, but majorly biryani.
What are your views of intermittent fasting?
I have tried it and it really worked for me. But it depends from person to person and how their bodies react to it. You need to understand and listen to your body and take up diets accordingly.