Cycling is the new gymming!
The pandemic has seen many pedal away to keep fit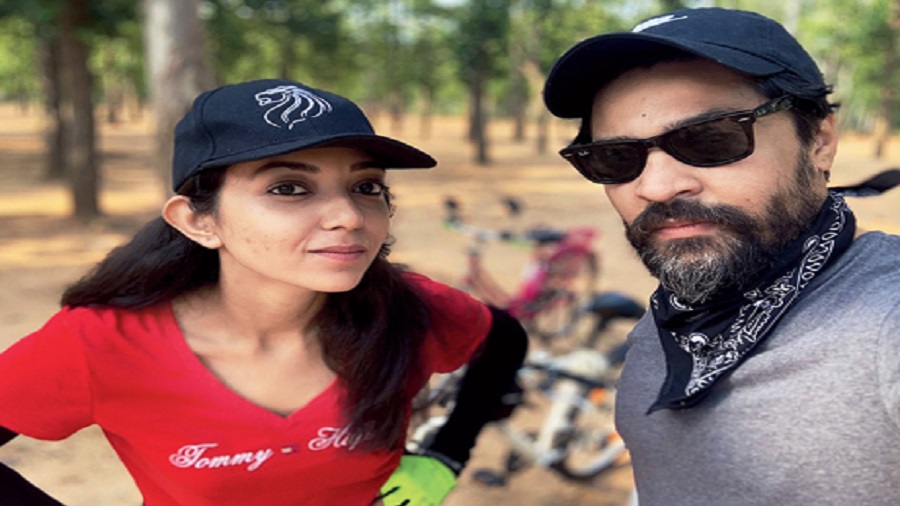 ---
---
While some have been cycling to keep fit, others have been doing so to commute while avoiding public transport, and some others have been cycling away as timepass. Whatever be the reason, the bicycle has got a new lease of life in the pandemic with people from all walks of life opting to pedal away! So much so that there's now several cycling communities in Calcutta and the city even hosted a cyclothon earlier this month. And now there's more good news for cycling enthusiasts. A committee has been set up by the government to look into possible cycling lanes in the city. The Telegraph spoke to veterans as well as first-timers to know how cycling helped them beat the pandemic blues.

The beginning: Twins Suprit and Suhit Das cycle every evening. While Suhit, a shipping and logistic executive from Mumbai, has been cycling from 2017, Suprit, who works on a cruise liner, is new to cycling. The duo religiously cycle around the city to keep fit, both mentally and physically.
Cycling is the fitness mantra for Tolly actors such as Anindya Chatterjee, Gourab Chatterjee, Devlina Kumar and Shaheb Bhattacherjee too. "During lockdown I had started working out at home but then I took to cycling. I don't think I will be joining a gym anytime soon so cycling is helping me to keep fit. Five days a week I am cycling for around 50km but I plan to finish 100km very soon. The best part is that I have driven my car for 310km so far, and my cyclometer says I have finished 640km," said Anindya, who was never a morning person but cycling has made him a morning person for sure.
It's been more than a year that Gourab got a cycle. It was a gift from his girlfriend, Devlina (Kumar). "I used to hardly ride 4 to 5km. During the lockdown we were all stuck at home. Once the 'unlock' started, I saw Monida (Mahendra Soni of SVF) cycling a lot. He was riding for 30km in one-and-a-half hour or something. He was killing it! He knew I was into riding so he told me to ride with him. One day I joined him and I was surprised because lifting weights and cycling are two different things. Now I ride for 50km," said Gourab.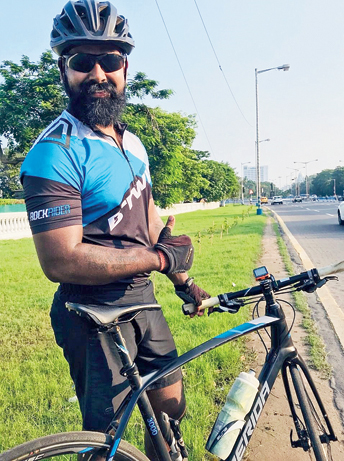 Varun Singh, who is into marketing at Narayana Health, started cycling around two years back. He developed a knee problem, which stopped all his other fitness activities. He took up cycling and now not only is his knee pain gone, many other health-related issues have disappeared too. "I cycle 50km every day. The highest I have ridden is 400km. It's a big stress buster. Before it was only about health benefits but now I use the cycle for my household work too," said Varun.
Shaheb has been cycling for seven years now. He used to have "cycling phases" but during the 'unlock' period he is cycling every day. "I used to cycle during winters for so many years. Now, when the 'unlock' started happening, I am cycling every day for 20km. I go out at 5am and come back in an hour. When I go to the gym, I am not driving any more, I cycle to my gym," said the Oskar actor.
First-timer Suvojeet Konar, a 27-year-old entrepreneur, has caught up with the trend too. He started cycling a week ago. "I had to get fitter.
Also, oil price has shot up so now I prefer using the cycle to roam around in my leisure time. In fact, my dad at times uses my cycle to go to the market. The cycling concept was very popular in Bangalore. We used to have this app called Yulu Bikes. Every nook and corner had Yulu cycles, which could be unlocked through your phone. The app used to track the rides. Cycle is eco-friendly so why not use it to travel?" said Suvojeet who rides a Hercules Roadeo Hank.
Rohan Chatterjee also started cycling because exploring the narrow lanes of north Calcutta was a part of his bucket list. "Being a South Calcutta boy, the opportunities to see the north Calcutta lanes have always been limited. I managed to arrange a cycle from a close friend of mine. Since then, 100km have been travelled on those beautiful roads and I've never felt more rejuvenated," said Rohan, a 22-year-old from Alipore.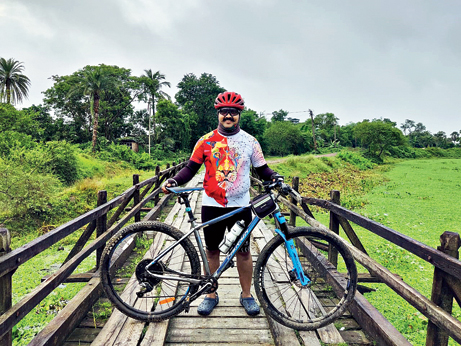 Fitness: Rajiv Sculler started cycling from last November. He used to play rugby and was into rowing but he wanted to include cycling in his fitness regimen. "I used to cycle for 20km to 30km. Now I have started cycling for 400km a month. I cycle from 4am and come back home at 6.30am. Since I cannot swim now I am running and cycling on alternate days," sais Rajiv, a 28-year-old fitness coach.
Suprit has bought a Btwin Rockrider for his evening rides. "The past few months have been terrible for most people in different ways, and for me physical health was being neglected. It's been a week or two that I have been putting myself to work through cycling. It's a long way for me to get back to shape but I have started noticing changes both mentally as well as physically," said the 28-year-old resident of Purna Das Road.
Varun thinks cycling is the go-to if you are just looking into fitness. "If you are looking for basic fitness, cycling is an alternative to gymming because you are getting solid core workout and a very good lower body workout, but if you are looking to build up mass, you need to supplement it with workout," said the 38-year-old marketing professional from Salt Lake.
Gourab, Devlina and Anindya often meet up in the morning for cycling. Gourab thinks that if someone wants to lose weight and burn muscles, cycling is the best. "When the lockdown started I was only eating junk food and my weight went up to 82kg. Once I started cycling five days a week, it came down to 73kg," added Anindya.
As an actor, cycling has helped Shaheb. "Actors have breathing exercises for dialogue delivery and cycling helps to increase breathing power. Also, people like me who have cough and cold throughout the year, once I started cycling all these problems disappeared," said Shaheb.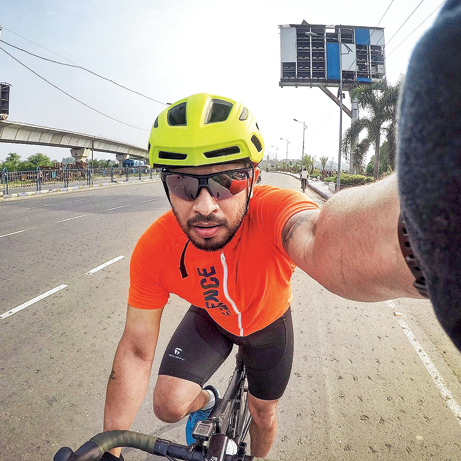 Routes: All roads in Calcutta during lockdown seemed amazing to cycle through. "Can you imagine cycling in the middle of Park Street? It's a different experience altogether," said Shaheb who rides a Firefox Road Runner. Some of the popular routes are near the airport, Rajarhat, Kheadaha (the stretch behind Urbana). "Kheadaha, the stretch behind Urbana, is beautiful. The other routes are Eco Park side and then towards the airport. At times we like to take a tour. One day we went to the Burrabazar side and then Howrah Bridge. It's a lovely experience," said Gourab, who rides a Killer Bike. "Victoria loop, which is basically riding to Victoria and then a round of the racecourse via Strand Road, is one of the popular routes. Wetlands are beautiful too," said Varun.

Apps and events: Strava is the most popular app used by cyclists. "There was a September Cycling Challenge in Strava where one had to complete 600km and today I finished 600km," said Anindya. The app Under Armour is also used by many. "The app Strava has really enhanced the cycling experience because it helped me connect directly with folks who ride on similar tracks. It pauses the data tracking when the cycle is at a standstill," said Rohan.
The cycling community organises a lot of events in and around Calcutta. "Last Sunday there was an event organised by Cycle Network Grow. September 22 was World Car Free Day, there was a big gathering of cyclists in Victoria and Howrah Bridge. There is another event being planned in October, which is going to be a race kind of a thing. During the lockdown a lot of cycle clubs have cropped up. The oldest ones are Cycle Network Grow and Pulsing Pedals. During lockdown around 400 to 500 new members were added," said Varun.