Low-cost steroid 'cuts Covid-19 deaths'
Finding has evoked calls for caution amid concerns that the finding is not peer-reviewed yet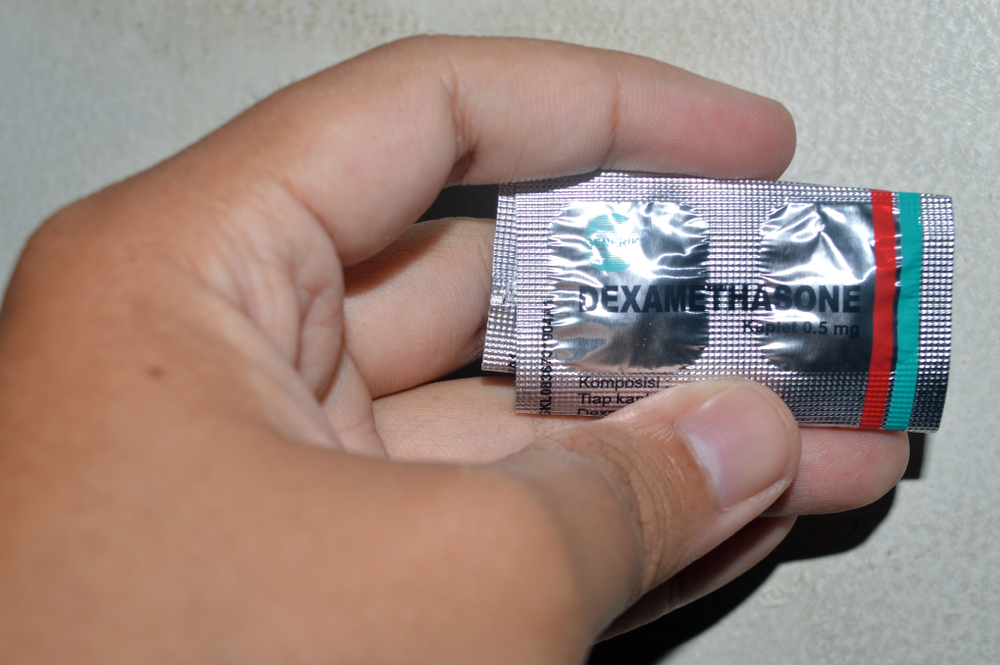 ---
New Delhi
|
Published 17.06.20, 03:09 AM
|
---
An inexpensive steroid called dexamethasone can significantly reduce the risk of death among patients with severe respiratory complications of the coronavirus disease, Oxford researchers said on Tuesday in what has been described as a "ground-breaking" observation.
The finding that dexamethasone — widely used to treat allergic and inflammatory disorders — could lower deaths among Covid-19 patients has bolstered hopes in medical circles but evoked calls for caution amid concerns that the finding is not peer-reviewed yet.
The Oxford researchers said that dexamethasone reduced deaths by a third among Covid-19 patients on ventilator, and by a fifth among Covid-19 patients only on oxygen, but did not benefit patients who did not require respiratory support.
"Dexamethasone is the first drug to be shown to improve survival in Covid-19. The survival benefit is clear and large in those patients who are sick enough to require oxygen treatment," Peter Horby, professor of emerging infectious diseases at the University of Oxford, said in a media release.
He said dexamethasone "should now become the standard of care in these patients", highlighting that the drug was inexpensive and could be immediately deployed to patients across the world.
The announcement has stirred expectations that health authorities might revise treatment protocols.
"We will examine the results and take appropriate decisions," Raman Gangakhedkar, head of the communicable diseases division at the Indian Council of Medical Research and member of an ICMR task force on clinical research, told The Telegraph.
The preliminary observations emerge from a randomised clinical trial in the UK in which 2,104 Covid-19 patients received 6mg dexamethasone once a day for 10 days and 4,321 patients received the standard care, the Oxford researchers said.
Among patients who received the standard care, the 28-day mortality rate was 41 per cent among those who required ventilation, 25 per cent among those who required oxygen alone and 13 per cent among those who did not need oxygen support.
The researchers said dexamethasone reduced deaths by about 35 per cent among the ventilated Covid-19 patients and by 20 per cent among patients receiving only oxygen but did not benefit the patients who did not require respiratory support.
The UK government's chief scientific adviser, Sir Patrick Vallance, called it a "ground-breaking development in our fight against the disease". He said the result was "particularly exciting as dexamethasone is a widely available medicine".
The results come against the backdrop of dozens of clinical trials worldwide to test the efficacy of several novel and known drugs in the treatment of Covid-19.
"Compared to some of the prohibitively expensive drugs, dexamethasone is cheap — just a couple of rupees," said Shri Prakash Kalantri, professor of medicine at the Mahatma Gandhi Institute of Medical Sciences, Wardha.
"The results of this trial do look like a David versus Goliath tale."
Doctors have welcomed the results but cautioned that they have not been peer-reviewed yet.
Some have also underlined what they say are troublingly high mortality rates among the patients in the control arm of the study.
Concerns about the lack of peer review have heightened in recent weeks after two medical journals withdrew a Covid-19 paper each, citing issues relating to the data used for those papers.
Atul Gawande, a surgeon, writer and public health researcher at the Brigham and Women's Hospital in Boston, tweeted on the announcement: "It will be great news if dexamethasone, a cheap steroid, really does cut deaths by 1/3 in ventilated patients with Covid19, but after all the retractions and walk backs, it is unacceptable to tout study results by press release without releasing the paper."
Existing treatment guidelines in India and elsewhere already recommend another steroid called methylprednisolone, doctors said.
"Most of my patients in intensive care are already receiving methylprednisolone," said Shikha Panwar, a critical-care medicine specialist in Faridabad, Haryana.
"My understanding is that patients with severe disease are receiving this across the country." In low doses, Panwar said, steroids serve as "immunomodulators" that calm the immune system piqued by the viral infection.
Raymond Savio, a critical-care specialist in Chennai, said that dexamethasone was already being used occasionally on Covid-19 patients.
But, he said, he was surprised at the high (13 per cent) mortality reported by the UK group in patients who did not require any respiratory support.
"The mortality in the control group unnerves me," said Kalantri. "The 25 per cent mortality in those who needed oxygen and 13 per cent in those who did not require any respiratory intervention is something we need to understand better. Before we extrapolate the results of the study, we must examine that the study patients are broadly similar to the patients we are treating."
Doctors said that observations across the world suggest that roughly 80 per cent of patients have mild symptoms and only around 5 per cent need critical care and ventilation.
But, Kalantri said, the strength of the Oxford clinical trial lies in its large numbers. "It is a well-powered trial — the drug is cheap, it costs just a couple of rupees, enjoys a long familiarity in the medical community and requires no complex monitoring," he said.