Love for football finds legacy of East Bengal
'I hope this partnership would be a historic one and would be good for Indian football as well'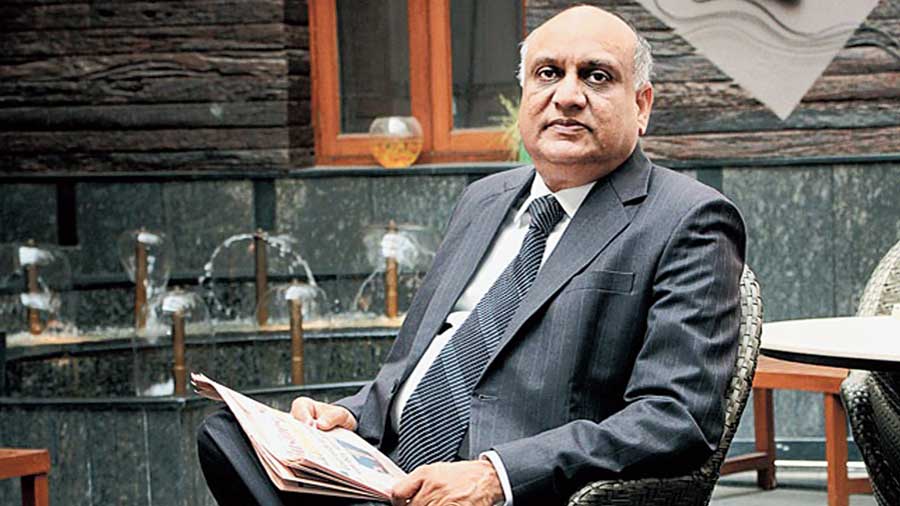 Hari Mohan Bangur, the managing director of Shree Cement
Telegraph picture
---
Published 04.09.20, 03:00 AM
|
---
For Hari Mohan Bangur, the IIT-educated managing director of Shree Cement, which has agreed to pick up a controlling stake in East Bengal, love for football began early. His father, Benu Gopal Bangur, is a life member of East Bengal, hence the beautiful game was not alien to the family of industrialists. "The love for East Bengal and football was always there," says Hari Mohan Bangur. For him, the decision to bring the century-old city football giants into the Bangur family has also rekindled boyhood memories.
In an interview with The Telegraph from Dubai, Hari Mohan Bangur reflected on his growing up years supporting the club he now has a majority (76%) stake in, his plans for East Bengal, the charm of Derby clashes and his friendship with Sanjiv Goenka, the owner of traditional rivals ATK Mohun Bagan.
Excerpts:
How did the process of becoming East Bengal's investors start?
We are into sports for a long time. We work with volleyball players in Rajasthan. It is part of our corporate social responsibility (CSR). We organise bridge tournaments in Mumbai and Calcutta every year. Football is the most popular sport in the world. When we came to know that a club like East Bengal is looking for an investor, we showed interest. The deal was finalised in a very short time. We are happy to be associated with an iconic institution like East Bengal. We just want to support the club, want it to do well. The good thing is we will be playing in the ISL from this year itself. East Bengal supporters wanted their club to participate in the No.1 league of the country and that has been taken care of. I hope this partnership would be a historic one and would be good for Indian football as well.
Why did you choose East Bengal?
My father Benu Gopal Bangur is a life member of the club. I was also a member but I have somehow lost the card. It wasn't renewed after the mid-60s. So we are East Bengal supporters from early days. I was a regular at the Maidan in the early '60s to the mid-'60s. Those days, it was not just about the Derby clash between East Bengal and Mohun Bagan. Even other league matches were charming and exciting. I, along with my cousins, used to watch 7-8 league matches every season. So the love for East Bengal and football was always there. But I would want to tell you one thing. I have not been to the Maidan for a long time. Once normality returns, I would love to visit the Maidan once again and of course my club East Bengal.
What is the exact deal?
It is a perpetual contract. Yes, there are clauses with the help of which both parties can come out of it. But if we want termination then we have to give sufficient time to the club and it is the same for East Bengal as well. But why are we talking about all this? The journey has just started and we firmly believe it will go for long.
When will the board of directors be formed and how many club representatives can fans expect on the board?
A new entity will be formed where we will have 76 per cent share and the club will have the remaining 24 per cent. There will be nine or 10 directors on the board. We will fill up six or seven slots immediately, the rest would remain vacant for now. As of now, two representatives from the club will be on the board. That has been decided.
There is a lot of surprise about your decision to invest in football. Was it a conscious decision to put money in football?
I believe football needs support from the corporate world. I never thought of investing in cricket because cricket in India does not need any support. The standard of football in the country has developed in the last five years or so. The coming five years would be crucial to reach the next level. We will do everything possible to help raise the standard of the game in the country. That will only be possible when the playing standard of club football also improves.
From now on, how would the club be run?
There will be a proper management structure in place. There will be a CEO and other professional people who would take care of everything. I am not a technical person, so how can I interfere in matters related to football? People who know the subject would take the call. Our job would be to bring the right people at the right place. But we will only look after football primarily. Maybe, in the coming days, we can take care of other sports as well.
Most of the ISL teams have a more or less settled look. East Bengal though don't have much time in hand. How would you build a strong team within a short period?
The deal was finalised on Wednesday. Give us two-three days, we will discuss every possible thing together. We will do whatever is best for the team. We'll take suggestions from the technical persons as well. I can assure all the East Bengal supporters that we will build a strong team. We will bring good foreign players and an excellent coaching staff. We know the last one year has not gone well for East Bengal, which also happens to be the club's centenary year. We would like to pay back with interest.
What is your plan for the development of the game?
Look, we have to give proper importance to youth development. Technical persons will assess whether good coaching staff or facilities are there or not, then we will take the necessary steps. If they suggest we bring foreign coaches for budding talents, we would do that without any hesitation. Our target is to create our own players. Five years down the line, if someone from the youth team performs well and finds a place in the senior team, I would be very happy. We have to follow a process and go forward according to a proper, scientific plan.
ATK Mohun Bagan is part of Sanjiv Goenka's RP-SG family and now you've East Bengal's majority stake. Would the Derby be now also called the battle between two top industrialists?
(Laughs) Sanjiv is a good friend of mine and will always remain a good friend. I do not believe football is about rivalry. On the contrary it is about friendship. The Derby always has its own charm and appeal. It will remain like that. He has come forward to support the sport and I have also done the same. We all want the game to move forward. But the rivalry between the supporters of East Bengal and Mohun Bagan will stay. That I feel is natural.