Who am I for halloween?
We bring four looks, from elaborate to easy, that you can try out on october 31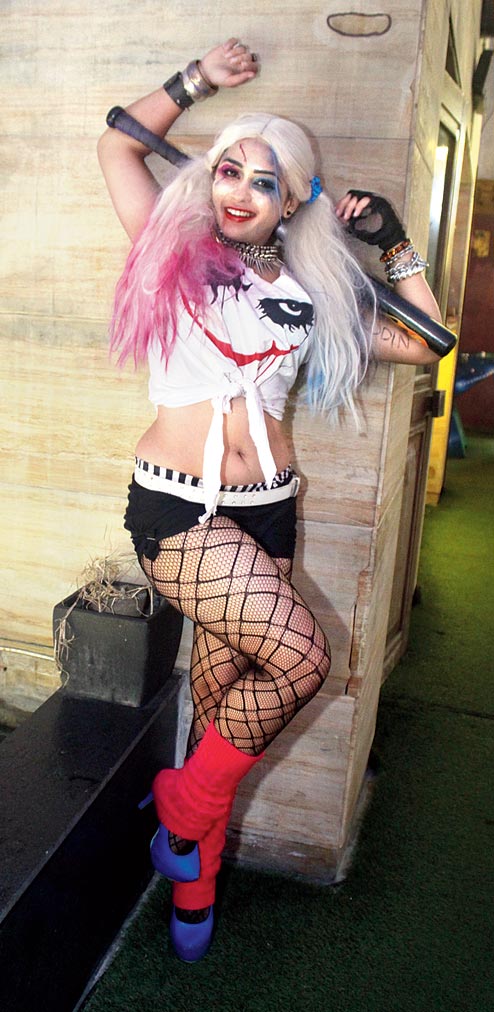 ---
Published 28.10.16, 12:00 AM
|
---
Harley Quinn
This DC supervillain, who we loved in Suicide Squad, is the standout character from this year's summer releases. "I personally like the Joker and Harley Quinn is his lover. I like the crazy element in her. She is a character you would think twice about picking a fight with," said Roshni Ali, a 24-year-old Martinian-Xaverian, who created the look with whatever she had at home.
What you need: Blonde wig, old T-Shirt (white, to which you can add red and blue paint, or just draw the Joker's face), shorts, fishnet stockings, crayons and red lipstick.
Tips: "Harley Quinn can not be pretty, there has to be an element of crazy to it," said Roshni, who got her make-up done by style artist Danielle Jones.
♦ Colour the ends of the blonde wig blue and pink (you can use crayons).
♦ Crop the white tee stylishly.
♦ Go a few shades lighter than your skin tone with the foundation for the pale look.
♦ Make sure the eye make-up is not perfect. It has to be smudged. Same for the lipstick.
♦ Draw the ROTTEN tattoo on your cheek for authenticity.
Lolita Fashion
Want to be different this Halloween? You can try Lolita fashion, which originated in Japan and is inspired by Victorian and Edwardian clothing. "I wanted to revisit my childhood. I love the Lolita clothes. It resembles what I wore as a kid," said Pracheta Banerjee, a fourth-year multimedia and animation student of St. Xavier's College who took 30 minutes to get this look together.
What you need: Wig, Lolita costume, white stockings and boots from aliexpress.com. Or you can try a DIY with any dress that is frilly, has bows and lacework and elaborate sleeves. Buy a pastel shade wig. You need coloured lenses (Pracheta's is gemstone green), Korean foundation and other make-up to complete the look.
Tips:
♦ Base make-up is very important. Use concealer to get rid of your dark circles.
♦ Apply two layers of Korean foundation, because your skin has to be porcelain-doll-like.
♦ Use black eyeliner to outline your eyes and if you have long eyelashes curl them and apply mascara thickly. If not, stick artificial eyelashes.
♦ Apply a pop pink lipstick (Pracheta used M.A.C Ronnie Red).
Poison Ivy
Harley Quinn's partner-in-crime, Poison Ivy, yet another enemy of Batman, is the other sexy yet evil character you can be this Halloween. "Poison Ivy is an eco terrorist. Like her, I am close to nature too. And my mum will never allow me to colour my hair red, so this was my chance to live my dream," said Akriti Singh, a third-year English student of Bhawanipur Education Society College, who took one-and-a-half hours to get the look together, which included make-up by Sayanti Routh.
What you need: Green tights, a swimming costume, artificial leaves, red wig, face-paint.
Tips:
♦ Apply a layer of foundation and use concealer.
♦ Highlight the entire face with a highlighter to get a comic look. Black lines on the nose, lips, jawline give an animated look.
♦ Contour cheekbone, nose and jawline.
♦ For lips, first apply maroon lipstick and then border it with black kohl and use a little bit of white face paint.
♦ Highlight the eyebrows with maroon lispstick too.
♦ On the eyelid apply a mixture of metallic green eyeshadow and matte green eyeshadow and green eye pencil on the crease.
♦ For the costume all you need is to stick the artificial leaves on the swimming costume and then pull it on over the green tights.
Sugar Skull
Take your cue from the starting scene of Spectre with this calavera, or skull make-up, an obvious choice for Halloween, since Día de Muertos (Day of the Dead) starts on the same day.
They are very intricate designs resembling the decorated sugar skulls that rule the Mexican holiday.
"One can be really innovative while doing this look. You can be both scary yet glamorous," said Justine Ann, a 24-year-old fashion blogger, who sat in make-up artist Sayanti Routh's chair for 45 minutes to get the look.
What you need: Black dress, red feather boa, black, red and white face paint.
Tips: "Focus on your eyes, nose and lips. If you want to be creative, stick crystals and studs on the face. Try to make the look both scary and funky," said Sayanti.
♦ Lips and eyes are sensitive areas so before applying the face paint, moisturise the skin thoroughly with moisturiser and primer.
♦ Be creative while painting. You can do your own pattern.
♦ Apply foundation and a dash of powder on the rest of the face.
Text: Malancha Dasgupta
Pictures: Arnab Mondal, Shuvo Roychaudhury and Koushik Saha