Abhimanyu Mukherjee's film Kirtan, starring Arunima Ghosh, Paran Bandopadhyay and Gourab Chatterjee, is a slice-of-life story of a household conflict between the daughter-in-law Manimala and her father-in-law. The story, set in a north Calcutta house, shows the conflict between traditional and new-age values, and the tussle between old beliefs and new-generation expectations.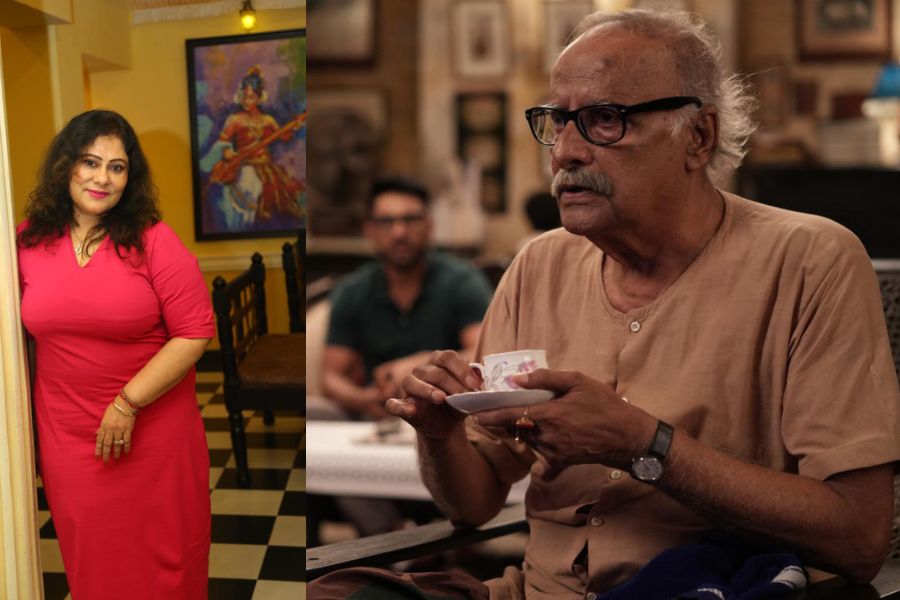 (L-R) Rupa Datta and Paran Bandopadhyay
Manimala does not want to stay in this dilapidated old house, she wants to move to a new flat. But Avinash doesn't want to leave this house because it is their ancestors' home. The quarrel escalates day by day. One day during a quarrel, a brick from the wall falls on Avinash and he has to be admitted to a hospital. Avinash returns home after recovery and comes to know from a friend that Manimala has taken care of him. After that, Avinash decides to sell this house and everyone moves to a new flat. But even after going there, the quarrel between father-in-law and daughter-in-law continues. A The Telegraph chat with Gourab and Arunima on Kirtan, which is playing in theatres now...
You shot for the film in a dilapidated house. Did the ambience of the house affect the shoot?
Gourab: The ambience of a place really does matter. It was depressing to shoot in that house but the scenes there were amazing. They are full of LOL moments.
Arunima: It is a comedy film with high-octane scenes... upon entering that house I would get sad. Also, I suffered from dust allergy.
What's your take on the subtext of the film.... the clash between tradition and modern?
Gourab: It is a simple film, which has a lot of ingredients in it like the fight between Bangal and Ghoti, which I find has always been very sweet except for the football matches between Mohun Bagan and East Bengal, where I have heard people end up fighting and breaking things. That's not done. They make fun of each other or blame each other. The old buildings of Calcutta are charming but old theatres and buildings are being razed to the ground and modern buildings are coming up in their place.
You feel nostalgic but you cannot really help it. You have got to accept things with time. The film has a take on it. It is a big part of the film. With that comes the relationship between the father-in-law and the daughter-in-law, and the son in the middle. No matter what fights we have, it is all about family. When you are a part of a family, you'll have differences. What lies within is the love, the affection you have for each other. That is the message of the film.
Arunima: I value tradition... I have a soft corner for heritage properties. I am old school in a way. I love seeing trams on the streets. But yes, if a house is about to crumble to dust, steps should be taken to walk away from it. We need the winds of change then.
What was your first reaction when you were approached for Kirtan?
Arunima: I was really happy. I have been playing these dark characters in thrillers and I needed a breather. The last comedy film I had done was around seven years ago. It was Banku Babu. Comedy was my forte during my television days, I got so much love and appreciation for doing comedy from my audience and the industry people, so it felt great to be doing a comedy film after a long time. I hope that I get more offers like this, where I can play prominent roles in comedy films.
Gourab: When Abhimanyu called, I actually started worrying. With my television shoot going on, it becomes a hassle to take out dates. Of course, I trust him as a director and a scriptwriter, I knew that it would be good work. I really wanted to and had to figure out the dates.
Why did you say 'yes' to Kirtan?
Gourab: I knew that the content was good, along with Abhimanyu's direction. I feel he is pretty much underrated as a director compared to his capacity or potential. I didn't have to think twice to say yes. He managed the dates and it worked out.
Arunima: Kirtan is really close to my heart. It is a simple family film and people will relate to it. I grew up in north Calcutta and I have seen such characters in the locality. I really enjoyed the shooting process.
Tell us about your characters.
Gourab: I play an average Bengali who is trying to make ends meet. He is ambitious but he could never move outside the city. He also balances the differences between his father and his wife. He is trying to be at peace and be on everyone's side.
Arunima: I play the perfect homemaker with anger issues... she doesn't do anything that a heroine in a film does. The house is falling apart but her father-in-law is holding on to it. He will not let go of it. My character is a Ghoti while the father-in-law is a Bangal. She has a strong value system. She would fight with her father-in-law but she won't walk out on him. If a neighbour says anything wrong against the father-in-law, she protests. She won't let anyone else talk in a demeaning way about him. My character is responsible, genuine, and very loving.
Could you relate to your character at any level?
Gourab: I understand this character. I see people around who are like him. You love everyone equally in the family and you try to balance things out. Also, you want to have your peace in the middle of any chaos.
Arunima: I could relate to her simplicity, sincerity and her fun-loving nature. During the shoot, I delivered the lines, where I fought with Paran Kaku effortlessly (laughs).
Gourab, how was your experience working with Paran Bandopadhyay and Arunima?
Gourab: Working with Paran Kaku is a learning experience. Thankfully, in my first film, Bhalobashar Onek Naam, he was there. I remember Tarun Majumdar asking me to stay on the sets and watch his scene with Soumitra Chatterjee. I watched them create magic. It is always a pleasure working with him. Paran Kaku is like a friend. He always tells me, 'Don't behave like I am a senior or elderly person'. There's so much to learn... to find humour in everything. That kind of changes your life. I realised there was nothing to overthink. From sharing the screen to the make-up room, you keep learning from him.
It was a pleasure working with Arunima. When I was in college, I used to watch her telefilms and I was a big fan. Finally working with her was amazing. Her comic timing is effortless.
Arunima: Paranda has this amazing energy. And he is so witty and has an excellent sense of timing in comedy. It was a delight to work with Paranda and Gourab.
Gourab, for films, how do you choose your roles, what is the deciding factor?
Gourab: For television, I play the leading role. But for films or web shows it is important for me to understand the weight of the character and not the screen time. It's about the importance of the role in the whole film. I can be in one scene in a film and totally go ahead with it, as long as the character has a pivotal part to play in the film.
What would you like to tell our readers about the film?
Gourab: There is an underlying love always in relationships and one should cherish that and try to communicate more.
Arunima: Kirtan is a joyride. We have made the film with a lot of love. Please watch the film in the theatres.
Location courtesy: Calcutta Retro