Top actresses put up a facade of empowerment: Tanushree Dutta
Tanushree Dutta speaks up 10 years after Nana Patekar allegedly harassed her. She tells us why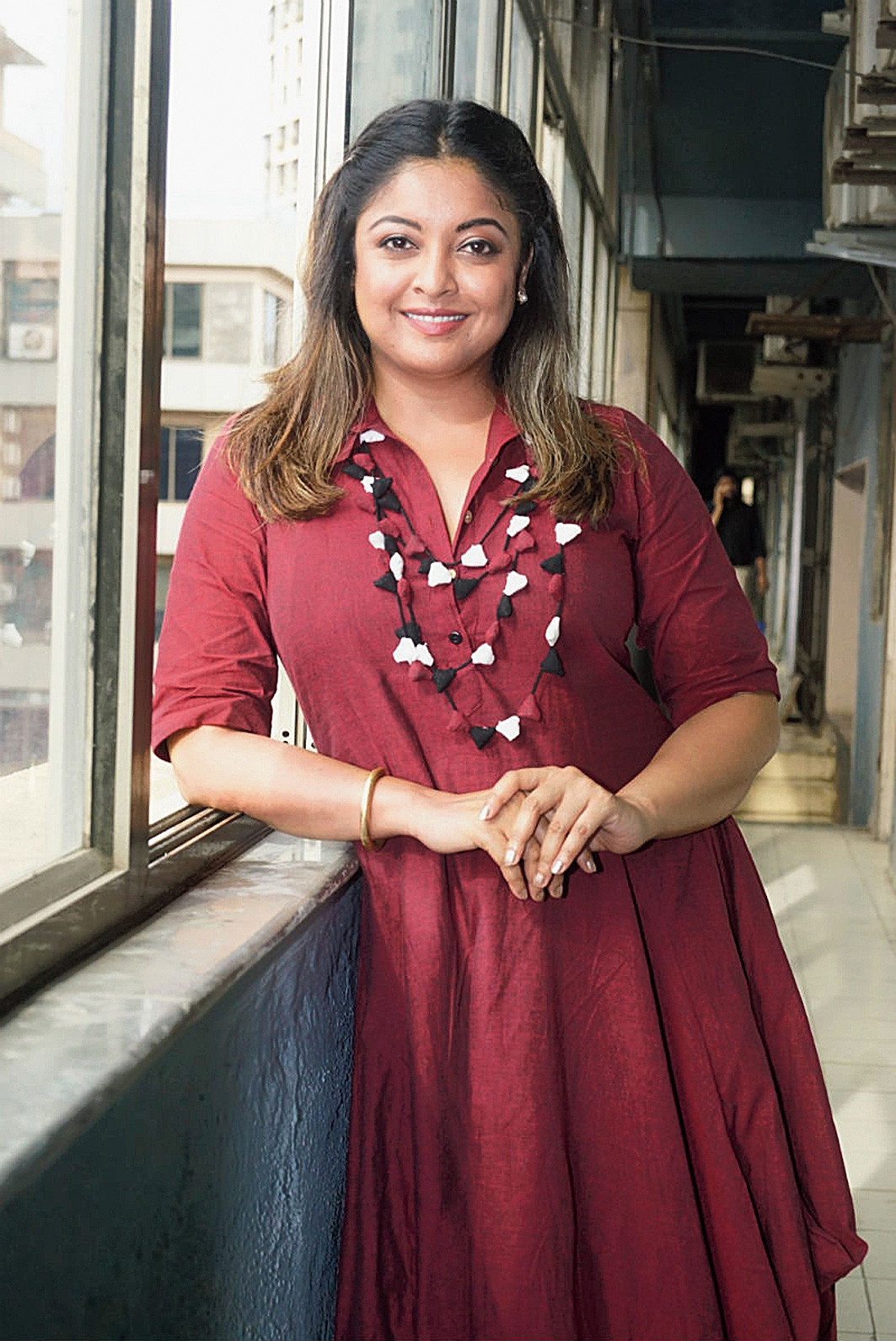 Tanushree Dutta
File picture
---
Published 26.09.18, 06:29 PM
|
---
Actress Tanushree Dutta has alleged that veteran actor Nana Patekar harassed her on the sets of a film 10 years ago. In an interview with The Telegraph, the Jamshedpur-born former Miss India shared details about the incident, which allegedly took place in 2008 on the sets of the film Horn 'Ok' Pleassss.
Tanushree alleged Patekar wanted to touch her inappropriately and insisted on an intimate song sequence. Patekar did not respond to calls or text messages from The Telegraph. When the fracas made headlines in 2008, he had categorically denied the allegation. Tanushree also alleged choreographer Ganesh Acharya, director Rakesh Sarang and producer Samee Siddiqui refused to do anything about the incident. After Tanushree refused to shoot the song with Patekar, the producer replaced her with Rakhi Sawant, she alleged. Acharya didn't respond to calls from this reporter but he denied the charge in an interview with the News18 website.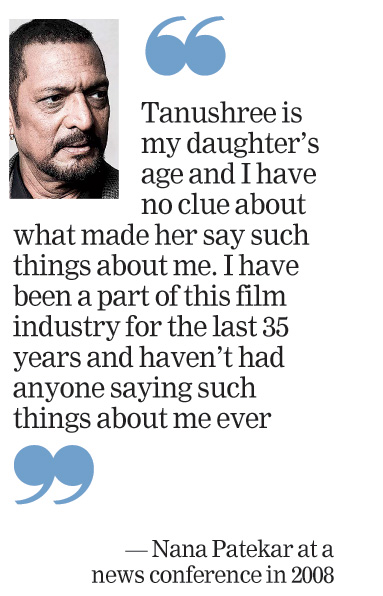 What happened after that?
Even before I could go to the police station and file a complaint, a counter FIR was lodged by Nana Patekar. They filed a complaint against my father, my spot boy and my hair dresser. The harassment continued for over a year. My spot boy and hair dresser were often called to the police station and once even put in the lock-up. The MNS staged a dharna outside my house and wanted to throw me out of Mumbai. They were supporting Nana Patekar even though he was the harasser. Dharam and jaatpaat are more important than humanity itself. There were some who supported us, there were others who were neutral, but the industry remained silent…
Has the situation changed?
Not much has changed, though there are a few people who are speaking up - those who are socially active and have worked very hard and fought against all odds to be where they are today. But people who are actually in a position of power, whose word can cause a ripple effect, have chosen to stay silent. Actresses, who are not at the top, are speaking out and bearing the brunt of it and also getting trolled. But there is another lot, in a real position of power, that puts up a facade of women's empowerment. When it comes to actually empowering women, they do nothing. The bigwigs who have the power to trigger a change are not speaking up, they didn't speak up back then. Not only that, they have continued to work with these perpetrators.
Can you tell us what happened?
I was signed up for a special song for Horn 'Ok' Pleassss. They were not able to sell the movie on the strength of the cast and so they roped me in. I had a decent name despite having worked in small budget films which did well at the box office. I agreed to do a solo song. But Nana ordered and pushed me around. I got intimidated by him. He came too close for comfort though my contract said it was a solo song and the creative control of the clothes and choreography rested with me. His proximity and behaviour was totally uncalled for. I complained to the producer and the director. Instead of paying attention to my complaint, they called me to the set and placed another demand — that I had to do an intimate step with Nana Patekar. I refused to do that step so they called the Maharashtra Navnirman Sena (MNS) knowing that it is an aggressive party. They smashed my car when we decided to leave the studio after the situation turned ugly. 
What would you say to Nana Patekar today?
I have nothing to say to him. What do I have to say to him? I am speaking about the incident to the world. Somebody who does not have the manners to behave with a woman, who doesn't understand the concept of a boundary, doesn't understand respect. When I refused to do an intimate step he had the audacity to call a political party to come and bash my car up and violently attack me. What do you say to a person like that? Who has not admitted to his mistake all these years. I am still waiting for an apology, which I haven't got all these years. And not only that, the industry continues to work with them.
Like Hollywood, will Bollywood ever boycott perpetrators of sexual harassment?
I hope they do. I hope Ganesh Acharya, Nana Patekar, producer Samee Siddiqui and director Rakesh Narang stop getting work. I had got Ganesh Acharya the job and he did an about-turn when the incident happened. He started saying rubbish about me. If he didn't understand what was going on, he could've kept quiet. Instead he chose to continue a character assassination on me. The producer and director called me names in the media and declared me paagal. All kinds of derogatory words were used against me. I want these people to stop getting work. This will set a precedent for others. Any kind of movement starts with a precedent. This incident happened 10 years ago. Any girl who thinks of speaking up, if a girl wants to report harassment, she will refer to Tanushree Dutta's incident.