What makes a successful composer duo?
Salim-Sulaiman on how they bleed into each other to make music and what lies ahead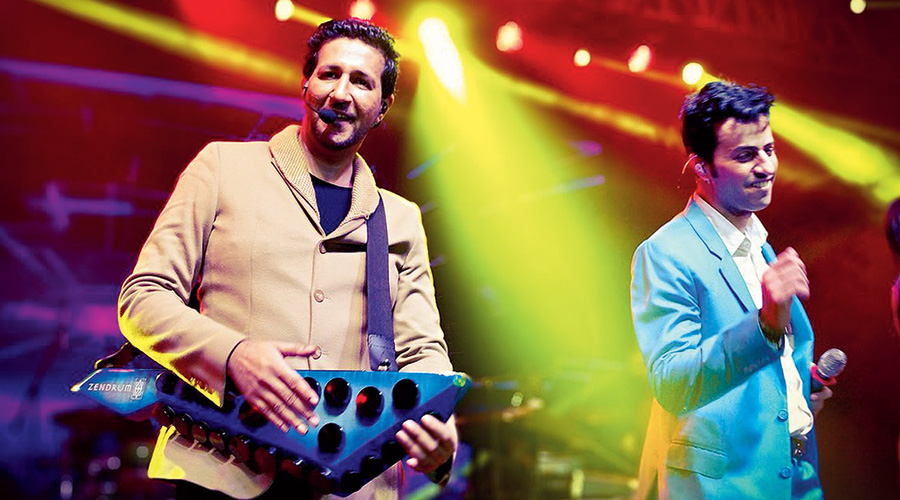 ---
|
Calcutta
|
Published 30.06.20, 10:57 PM
---
Aashaayein, aashaayein, aashaayein
Aashaayein khile dil ki, ummeedein hase dil ki
Ab mushkil nahin kuch bhi, nahin kuchh bhi
These words ring true, more so now in the times of Covid-19 as music continues to be the harbinger of hope. And to uplift spirits in a distressed world, the Ladies Study Group (LSG) in Calcutta had organised a webinar titled 'Making Music in the New Normal' featuring the incredibly talented music-maker duo Salim-Sulaiman in conversation with singer-songwriter Druv Kent. We bring you excerpts from the freewheeling chat that was kick-started by LSG president Diya Jaiswal.
Druv: Tell me how are you in these crazy times of the pandemic?

Sulaiman: We picked up our entire studio equipment and brought it home. We were working from home and released a song (Maalik mere) on Id. It's been business as usual.

Salim: We composed some singles that feature some incredibly talented young people.
Druv: As a musician, how do you channel this positivity?

Sulaiman: There's two ways to go about it. One is being positive, by saying 'Let's spend this time in doing something good'. Or one could say 'Hey this is such a bad scene all around'.

Salim: We did a few virtual concerts, a couple for the Ismaili community, which was for the global pandemic fund. We have our organisation, Zariya, which gives opportunities to folk musicians. We arranged funds for their livelihood on Ketto (a crowdfunding platform). We have been sending rations to them.
Druv: You guys have grown up around music — be it classical, Ismaili or orchestral. Give us a sense of your background.

Sulaiman: Our dad was a composer. He used to work in the Chennai film industry. He left Madras in 1962 and came to Bombay then to try his luck. It didn't work out too well for him. He also used to manufacture musical instruments. We both decided to learn the piano. I of course loved the drums, so I stuck with the drums while Salim stuck with the piano. We both learnt classical music. When your passion becomes your profession, you are never working a day in your life, you're always having fun.
Druv: Tell us about the early years, before you made it big.

Salim: We never thought of these things then. It wasn't a planned career move. We were doing music out of passion and people started noticing us. We were part of recordings that had live orchestra. I was on keyboards, Sulaiman was on the drums and percussions. Then there was a shift in technology in the early '90s where people started using keyboard sequences. Fortunately we were a bit ahead of the curve.

Sulaiman: We need to thank our dad for that.

Salim: Fortunately, we had the experience of working with renowned composers like Laxmikant–Pyarelal. So when the shift in technology happened, we started getting offers. I remember we were doing a jingle in a studio for a big commercial and it had this orchestral sound when film-maker Sanjay Gupta, who was sitting there. He offered us to do the background score in his film Hameshaa (1997). That was our first film background score. And things started rolling.
Druv: How do you creatively shape music between the two of you?

Sulaiman: It's all very fluid. Salim could come up with something melodic and I could provide the rhythm and groove but it could be the other way around. So we bleed into each other. There's no fixed format.

Salim: I will tell you how the remake of Laxmikant–Pyarelal's Mere mehboob qayamat hogi came about. He would recreate one of our compositions — Shukran Allah — and we were recreating Mere mehboob. But how do you pick one song from among so many of their gems? And all these songs were mostly sung by either Mohammad Rafi saab or Kishore Kumar saab. No one can recreate that. We thought Mere mehboob would be a decent choice.
Druv: With live music now out of our lives, can online gigs be monetised?

Sulaiman: It's not very complicated. Everything is new now but has to be tried. If it works, fine, otherwise move on to the next scheme of things.

Salim: If people book us, we can get to a venue, set up equipment, play with proper protective gear on and maintaining safe distance, and stream it for you via social media. It could be on a private server too. There are different ways to do it. It's not easy at the moment but it's doable. Humans are very adaptive, life has to go on.